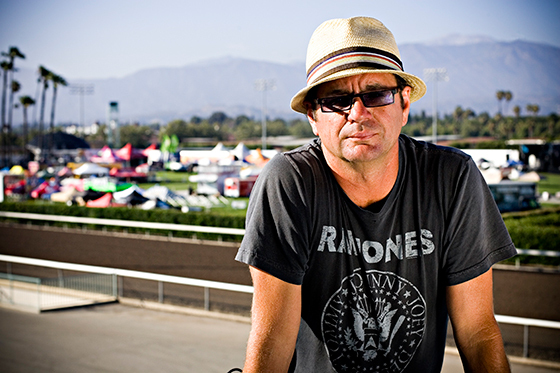 In it's 22nd year, the Vans Warped Tour has become America's longest running music festival that yearly brings together an interesting array of bands that are on the rise and also have become well established in various sub genres of rock music. Warped Tour is a place that both bands and fans alike may have gotten their first real taste of a music festival geared towards the youth, forming a bond for not only an appreciation of the music, but for social and community responsibilities. With Warped Tour lasting as long as it has, many people that have gone to the festival during its infancy are now back with their own children.
Recently, before he hits the road for the start of the 2016 edition of the Vans Warped Tour, I was able to chat with founder Kevin Lyman about this year's festival, the Warped Tour community, and about it's legacy.
What do you have in store for this year's Warped Tour?
To be honest, it's back to basics. We're looking at Warped Tour as a three part thing now: its music, philanthropy, and education. We've really focused on the music. It's a very Warped Tour lineup. You pay homage to the history where Warped came from. We got a great lineup with those bands like Less Than Jake, New Found Glory, and Good Charlotte. Having those bands out there to play with the young up and coming bands, and I think we have a great lineup with that. There's this band The Heirs, when I put them on, no one knew who they were, and a lot of people would ask 'Why would you put them on? They haven't really toured.' Someone sent me a link that Team Vogue picked them as "Band Of The Summer". It's nice to see the lineup kind of coming together, as some of those bands you might look at and you say 'Where are they going to be in eight months?' against the current bands. You see them kind of going now, you see people talking about them, and then you blend in those Motionless In White and some heavy bands, and we cut it down to seven stages this year. Sort of simplified it a little bit, if that makes sense.
Aside from the music, you mentioned about the philanthropy and education aspects. What do you have in store in those areas?
We're addressing a lot of issues that didn't really happen on Warped, but were happening in the music scene last year. I spent the summer talking to a group called A Voice For The Innocent. We came up with a program that they're going to be out on the road with us. One, to be a resource for fans. In each market, they are putting together guidebooks, so you have resources in your community that can help you if, for example, you ever been sexually abused. Also, to educate artists on how to tour. In this day in age of social media, if you decide to do something stupid, what the ramifications are in your life. HeadCount didn't have the resources to put someone on the road all summer, so I'll take up the expense on that because I think it's important that we are registering kids to vote now. Back in the day, it was Rock the Vote. They would be really, really out at concerts and involved in tours. No one was really stepping up this year and wanting to do a whole tour. Warped Tour is the place where you have to be because that's where all the kids are growing into being young adults. We're continuing our canned food drives. We have our day off in Pennsylvania where we're looking for a record turnout of artists to come in and help the community. Just getting out there and doing a show. It's just a little bit less of everything because I think sometimes too much kind of confuses the message. When you try to go out and be something for everyone, Warped has been for a specific audience for a long time, and I think we are just getting back to that.
How do you keep everything fresh after all of these years doing Warped?
About every five years, it just needs to reset itself. That's how you reset your business every five years or so. The audience, even though it's the same age and demo, what their needs are and what they're interested or how to reach them, needs to be reset. I think last year I realized you don't have to go on sale six months early, so that's why we didn't go on sale until the end of March. If early ticket sales are indicative, we're very strong. It's going to be a great summer. Kids are more last minute. They know what they want to do. They're going to find out about it. They don't have to buy their ticket early. They want to wait and see where their lives are going to be in six months. They might have to go to summer school or family might have to go on vacations. We just waited and I think that quelled because we found last year, when you get home, everything is about analytics, 0.64 of 1% of your audience was posting 80% of the negative comments. You have to look at your social media and go, you know what, I thought it was really cool to announce five bands a week when we used to do five bands a week, but the audience now, the trolls online jump on to something like because their voice can be heard every week they think it's being heard. They complain about everything. So we neutralized that by announcing all the bands at once and now doing the "90 Days to Warped" program where one day, every band gets to take over a social media and tell their story. Everyone already knows what the lineup is so you don't have the trolls. They can't sit there and go 'This is a horrible lineup. Where's this band? Where's that band?' They know who's going to be there. If they're still complaining, people are just going to ignore them.
I see that you're going to be helping the band The Ghost Inside, who had the bus accident through the Unite The United organization. Why do you think it's important to use this tour to help bands that are in need?
They are part of our community. That's how I look at it. I come from the early punk rock days. When a band was in need, we helped them out. If you were hungry and we had half of a pizza in the dressing room, we'd give you a quarter. You have to look out for your own. That's how I always preached it. That's why I'm on the board of Music Cares. We always give 25 cents of our ticket to charity ever since the inception of Warped Tour. We're going to cross our ten millionth ticket this year, so that quarter has added up through the years for different things. I just try to instill these people that it just easy to look out for each other. We just finished that auction and we raised about $20,000 for them. We'll do some other things out on the road. We already announced that they're going to be on the tour next year. First time I have ever announced a year ahead that someone's going to be on the tour. They're just good people. They're nice kids and I wish someone was looking out for us in a way when we were starting out in the business. To be honest, I've been very lucky. Through hard work, but 35 years now I've been able to do pretty much do what I love to do, especially with Warped Tour. While I'm in that position, maybe 90% of the people aren't going to do something, but maybe 10% of the people will go 'You remember when Kevin did that thing, we can do the same thing for someone else down the road'. You get to that point where you're starting to look at what are you going to leave behind. Is there a legacy? What are you going to do? I might be able to spark someone in their mind to do something good for someone else.
What do you want the legacy of Warped Tour to be?
If you look at the non-profits like To Write Love On Her Arms, they've become a big national organization from starting in that parking lot. You can go back, but people go 'What about all the bands?' Yeah. A lot of bands have traveled through that parking lot. I think there's been something that is special and I still think Warped Tour, some bands don't talk about it as much anymore, I think it gave them a little bit of grounding and a little bit of being a part of something. It's funny because a lot of parents will come to the Warped Tour because we do that "parents get in free" thing, and funniest thing is when the parents come up and go 'Hey man, I was at Warped Tour in '96. You actually threw me out'. I'm like 'Oh God', is this the moment he gets revenge? Then he goes 'and you know what? I deserved it!' I get some of that. I think at Warped Tour its evolving and we're in our 22nd summer. We'll see how many more we can do. When it ends, some people as you know will be very happy and there will be a lot of people who will miss it when it's gone.
Vans Warped Tour '16 starts Friday, June 24th in Dallas, TX and runs through August 13th in Portland, OR. Warped Tour lands in Michigan on Friday, July 22nd at the Palace in Auburn Hills. For more information and the full lineup, visit vanswarpedtour.com.
Related
Popular in the Community