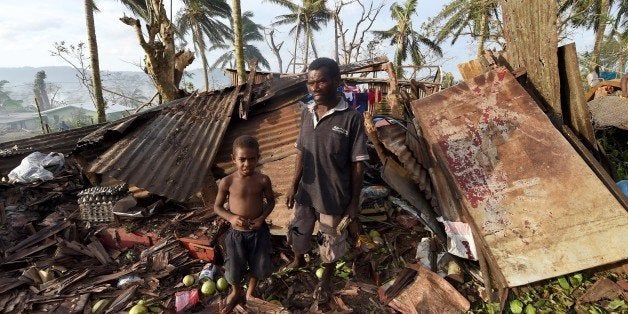 TANNA, Vanuatu, March 17 (Reuters) - Residents of the southern Vanuatu island of Tanna said they were running out of food and basic supplies on Tuesday, after a huge cyclone tore across the South Pacific nation wreaking widespread devastation but not the heavy death toll initially feared.
Relief workers were still battling to reach many of the islands pummel by Cyclone Pam's gusts of more than 300 kph (185 mph) on Friday and Saturday.
With communications cut off and reconnaissance flights revealing destroyed houses, shredded forests and damaged buildings, international aid agencies had been particularly worried about Tanna, which bore the full force of the storm.
A Reuters witness on the island of 29,000 people, about 200 km (125 miles) south of the capital, said that while damage was extensive, it appeared most of the population had survived by sheltering in schools, churches and other sturdy buildings.
"People sheltered in school buildings. We were helping one another," Ropate Vuso, 67, told Reuters in Tanna township.
"We are running short of food, water, shelter and electricity. We have no communications, we are still waiting for the people from parliament, the chief and the president, but still nobody is coming."
There were unconfirmed reports of four deaths in and around the main town of Tanna.
Daniel Dieckhaus, an adviser for USAid, said hard-hit communities were showing remarkable resilience.
"You can see them out there now, rebuilding with whatever they have," he said.
The United Nations said on Tuesday the official death toll from the cyclone was 11, revising down its earlier figure of 24, but many officials anticipate that number would rise once they are able to more thoroughly inspect the outer islands of the scattered archipelago.
"The aerial reconnaissance flights confirmed significant damage in the southern islands, particularly Tanna island, where it appears that more than 80 percent of houses and buildings have been partially or completely destroyed," Australian Foreign Minister Julie Bishop told reporters in Canberra.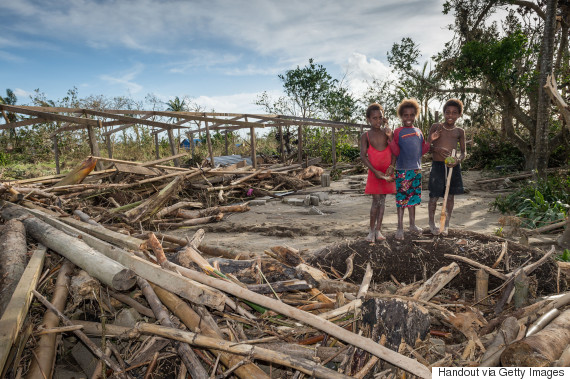 In this handout image provided by the New Zealand Defence Force, children stand around the remains of a local community centre destroyed in the cyclone on March 16, 2015 in Port Vila, Vanuatu. (MR Roderick J. Mackenzie/New Zealand Defence Force via Getty Images)
In Vanuatu capital Port Vila the clean-up was progressing after trees were uprooted and homes flattened, but there were worries about food scarcity and health after the main local food market was destroyed and the city's hospital severely damaged.
Bishop said Australia was sending a 20-strong emergency medical assistance team of doctors, nurses, paramedics and a pharmacist. They plan to set up a temporary ward in the car park of the damaged Port Vila hospital capable of treating up to 40 patients. Thousands are still staying in shelters overnight, with a 6pm-6am curfew in place to prevent looting.
The majority of locals rely on foods sold at the downtown market such as taro, island cabbage, bananas, kumara and yams for their staple diet.
Shops selling tinned food were open and stocked in the capital, but many locals do not have the money to buy them.
"We have water, but the situation is very bad because people don't have local food," shop owner Colette Calvo said. "All they can eat is food like bananas that they pick up off the ground and they can get sick."
Australia, which has already sent five planes with personnel and humanitarian supplies, dispatched another three planes on Tuesday. It also began loading its emergency response ship HMAS Tobruk, which is capable of driving onto beaches, for possible deployment. A French navy ship was also being sent from nearby New Caledonia, while a U.S Marine Corps-based Humanitarian Assistance and Disaster Relief team was also being made ready, Australian defense officials said.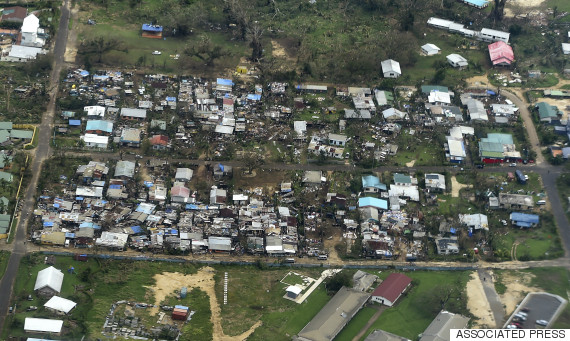 Damage to houses in Port Vila, Vanuatu is seen from the air in the aftermath of Cyclone Pam Monday, March 16, 2015. (AP Photo/Dave Hunt, Pool)
Formerly known as the New Hebrides, Vanuatu, one of the world's poorest nations, is a sprawling cluster of more than 80 islands and 260,000 people, 2,000 km (1,250 miles) northeast of the Australian city of Brisbane.
Perched on the geologically active "Ring of Fire," it suffers from frequent earthquakes and tsunamis and has several active volcanoes, in addition to threats from storms and rising sea levels.
Tourism, which accounts for about 40 percent of Vanuatu's economy, has been badly affected, with Port Vila closed to cruise liners indefinitely.
"We are keen to go back as soon as possible, given how important this industry is to the Vanuatu economy, but we won't go back until the authorities give us the all clear," said David Gray, a spokesman for the Australian arm of cruise company Carnival Corp.
Almost 200 people, most of whom were Australian tourists or workers, were evacuated on two Australian military flights. Australia had another plane on standby on Tuesday to evacuate the elderly, the sick, pregnant women and children.
Aid officials said the storm was comparable in strength to Typhoon Haiyan, which hit the Philippines in 2013 and killed more than 6,000 people. (Additional reporting by Jane Wardell, Lincoln Feast and Colin Packham in Sydney, Gyles Beckford in Wellington; Editing by G Crosse and Will Waterman)
Calling all HuffPost superfans!
Sign up for membership to become a founding member and help shape HuffPost's next chapter