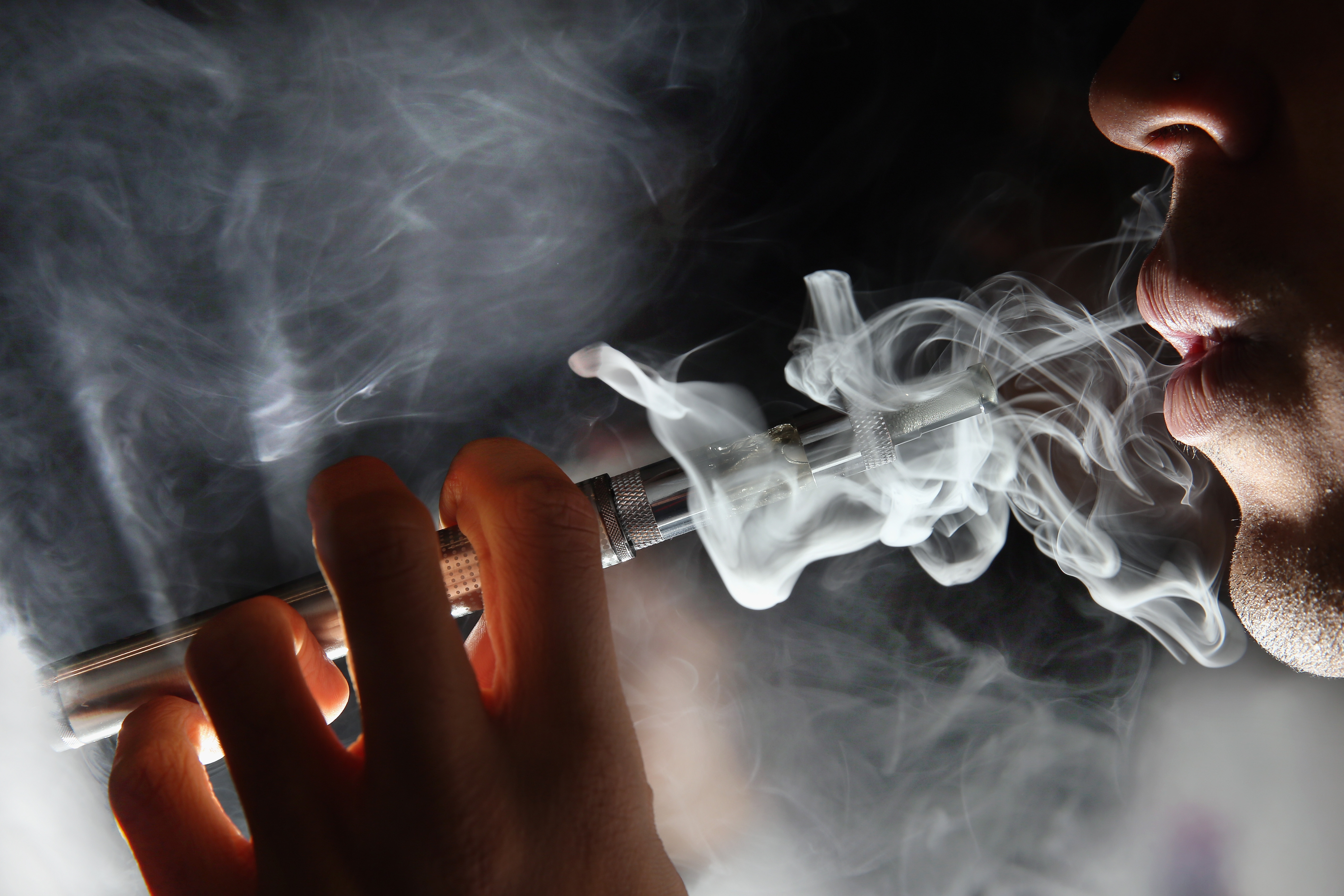 By Sasha Keenan, Naperville North
Dyamond Jones, Walter Payton
and Elise Martin, Hinsdale Central
Hinsdale Central senior Cameron Anderson didn't know what she was getting herself into when she picked up the seemingly harmless device. She said she was at a party at the end of last school year when she decided to try an electronic cigarette out of boredom.
"I really liked vaping at the time because of the intimacy we all had while sharing this one vape," Anderson said.
Vaping is the act of inhaling water vapor through a personal vaporizer or electronic cigarette--the device heats water, along with a flavor, nicotine and other chemicals, to a boiling point so that it can be inhaled. This device can act as an alternative to combustible cigarettes.
According to the Centers for Disease Control and Prevention, use of e-cigarettes by middle and high school students nearly tripled from 2013 to 2014, creating a "vape culture" among today's young people. Sherry Emery, a senior research scientist currently examining youth and adult smoking behaviors at the University of Illinois at Chicago, said she thinks that teens are attracted to vaping because it's a novelty.
"They're teenagers. They're going to do stuff," Emery said. "They think it's fun and exciting."
In Emery's opinion, vaping comes with an "artisanal creativity" that includes everything from flavor combinations and fashionable devices to vape tricks and competitions.
Anderson recalled that at the party, she was initially attracted to the games that involved vaping.
"They looked like they were having a good time doing vape tricks together," Anderson said.
Popular tricks include blowing smoke into an "O" shape and exhaling smoke through the nose. Social media sites such as Instagram and YouTube can serve as platforms for online vape-trick competitions and publicizing electronic cigarette use.
Amanda Mendez, a senior at Christ The King Jesuit College Prep, also has noticed the obsession with vape tricks.
"It's crazy--you will see so many Snapchat stories full of kids in the locker room or even the bathroom showing off tricks," Mendez said.
Tricks and novelty aside, Dean Kostopoulos, who graduated from Naperville North last spring and has several friends who vape, said the attraction isn't complicated: Teens think vaping is fun.
"Everyone feels like (vaping) is a more healthy way to smoke, but it's more for the thrill of it," Kostopoulos said. "Everybody thinks it's cool."
Not only do many teens find them cool, but e-cigarettes are also very accessible. In Illinois, a person must be 18 years of age to purchase cigarettes, both traditional and electronic. However, e-cigs easily can be obtained by teens younger than 18 from online vendors.
And e-cigs aren't just easier for minors to purchase; they're also easier to conceal. Mendez said that due to the discreet appearance of e-cigs, students rarely get caught at school. Many vaping devices are designed to look like pens: compact, shiny and inconspicuous. In fact, some devices such as Cloud 2.0 and microG are marketed as unnoticeable.
"The pens tend to be made out of the same material as ordinary writing pens," Mendez said.
According to Naperville North dean Jim Konrad, the consequences for possession of electronic cigarettes are the same as for possession of combustible cigarettes: suspension. But Konrad said he hasn't run into many issues with student use of tobacco products.
"To be honest, we don't have a lot of smoking violations here," Konrad said.
Of the few violations Konrad has witnessed, one student was actually using an electronic cigarette with parental permission as a less harmful alternative to other substances.
"If the kid is going to be using something extreme or a vapor pen, obviously we're going to choose the vapor pen as the healthier alternative," Konrad said.
Some use e-cigs because they think vaping is a safer alternative to smoking traditional cigarettes, and research from institutions like the Roswell Park Cancer Institute suggests that may be true. But according to Jidong Huang, another senior research scientist at UIC, the comparison shouldn't be between electronic and combustible cigarettes or other substances, but between teens who vape and teens who don't.
"The question is, 'Is vaping better than not using any products?' " Huang said. "And the answer is no."
Some consequences of adolescent vaping are obvious. The morning after vaping with friends at a party, Anderson said she woke up with chest pain and a sore throat. For the next month, her laugh came out as a wheeze.
"I promised myself I would never do it again in hopes that my laugh would return back to normal so I didn't sound like a broken tuba," Anderson said.
But some of the effects of adolescent vaping aren't as noticeable. According to Emery, electronic cigarettes renormalize smoking, an act that has become less and less socially acceptable over the past 20 years. In actuality, electronic cigarettes have the potential to act as a gateway to combustible cigarettes.
"It makes the act of smoking less unappealing," Emery said. "A lot of people report that while they enjoy vaping, they find themselves needing a certain level of nicotine. Vaping isn't always going to satisfy their needs."
Aside from nicotine, Emery explained that the products don't have clear standards and may contain heavy metals.
"There's a lot of variability in the safety of the components," Emery said
Beyond that concern, vaping devices are compatible with marijuana, cocaine, THC liquids and other drugs, making substance abuse easier and less publicly recognizable for teens and young adults. The devices' lack of transparency creates a danger for users who may not be completely aware of what's inside the electronic cigarette.
Despite these concerns, Emery said fewer people are worried about vaping because it seems like the least problematic of many dangerous options.
"You could kind of throw your hands up in the air and say, 'Well if (teens) are going to do something, it might as well be this,' because it is less harmful (than other drugs), probably," she said. "It's all appealing to the things teens want to do. Be creative and experiment and be a bit edgy."
This article was written by teen reporters from The Mash, a weekly publication distributed to Chicagoland high schools.
Related
Popular in the Community