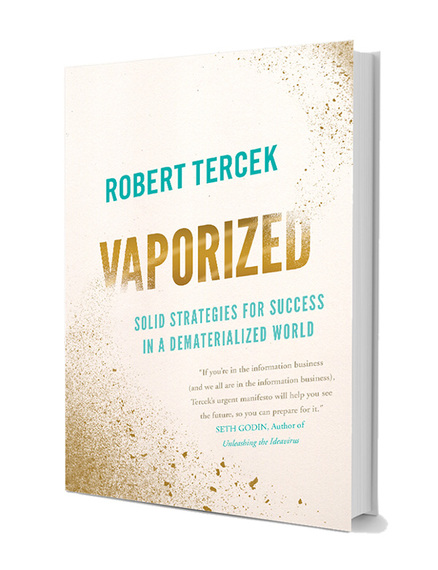 There is little doubt that the world as we know it is disappearing as technology enables a life driven by intangibles - digital technologies that put more power and control in our hands while demanding less space if any at all. Robert Tercek has taken this new reality head on in his book 'Vaporized' that examines the technologies transforming our lives and what they mean for us as individuals, entrepreneurs and corporations.
Tercek attacks these issues with refreshing candor and insights, pulling no punches as he throws cold water in the face of those more comfortable with 'business as usual.' As a whole, the book is a study of society in transformation. From the television industry to mobile to education, Tercek unpacks the disruptive impact of digital technologies, parsing out the threat and opportunities to our personal and professional lives. Particularly fascinating are his explorations of the strategies behind Google and Apples investment in the Internet of Things through devices such as wearables and smartphones, which he reveals are Trojan horses for their gold rush to own the higher prize of invisible data. The import of the book compounds as he explores the staggering implications of robotics and virtual education as the existing labor force and next generation workforce become untethered from the physical world. In doing so, Tercek shakes us out of our complacency with today's world, calling on us to prepare for a very different experience of life in the short term.
Tercek is one of those rare writers who are as prescient as he is insightful. In 'Vaporized' he straddles the future and present with ease offering clear through lines between what are otherwise confusing or competing disruptive technologies that leave every business person feeling unsure, uneasy and ill-equipped. The Vaporized or digitized future he reveals has huge implications for every industry, business and job. The book serves as a highly informative and compelling guide to the near present and is essential reading for anyone who wants to better understand the changes going on around us today, and for every business person seeking to capitalize on how changes are shaping tomorrow. Hype-free, timely, and packed with credible examples, Vaporized is a must read for those wanting to understand, shape and lead the future.
Vaporized: Solid Strategies for Success in a Dematerialized world by Robert Tercek
LifeTree Media and Kindle available
Calling all HuffPost superfans!
Sign up for membership to become a founding member and help shape HuffPost's next chapter