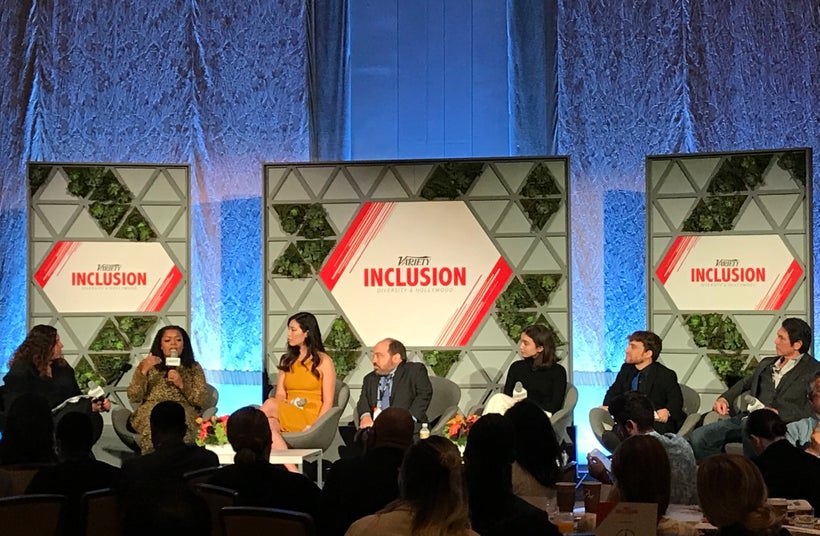 The timing couldn't have been more apropos for the Variety Inclusion Summit, held this past week in Los Angeles. As allegations continue to increase in Hollywood about sexual harassment, the topic is on many minds in the industry. The biggest question: will we see real, lasting change?
Dawn Hudson, CEO of The Academy of Motion Picture Arts and Sciences, is keenly aware of the problem and the opportunity. "It's a moment. A moment to seize now." The atmosphere at the summit was hopeful, with speakers representing a wide range of backgrounds and points of view. Harassment may be the tip of the iceberg. This conversation was meant to chip away at all layers of the behemoth, from subtle unconscious bias through tough topics like systemic racism and sexual assault. "I've slapped a lot of men," Sheila E. put bluntly.
"How do you get in there? How do you make that kind of change?" Chelsea Handler asked in the opening fireside chat with Anita Hill. The first key thing that Hill recommended: "We've got to do a better job of providing alternative content." "It's also about how our children are impacted." Actor Cindy Chu expressed the importance, as an Asian American, to "be an example for little girls who look like me."
On the flip side, we need actors like Rowan Blanchard, who even at sixteen is well aware that many girls on screen look like her. So she's using her platform to educate others about the problem. "These gatekeepers also need to hire women and people of color in the writers's room," Blanchard said. Several conversations at the event encompassed discussions around building the pipeline in all areas, from costume design to cinematography.
Geena Davis, who ten years ago founded the Geena Davis Institute on Gender in Media, did so because she found too few films that provided role models for her daughter. "It's also the person who casts extras, it's the editor… it's every level where people can have an impact," Davis said. "The simplest answer is writers." Get the writers to write into the script a diverse crowd or a diverse group of executives sitting at the table. She speaks frequently in the industry pointing out data of how underrepresented women are. Just because there's one lead female, for example, that doesn't mean the problem has been solved.
Much of the time, the diversity and #Inclusion conversation at these events involves a lot of preaching to the choir. Luckily with Variety, they have a built-in audience of readers who care about the current and future state of entertainment and media overall, so the content on the panels reflected what they're printing in their magazine and producing online. There's a good chance the content will get seen beyond the conference ballroom, into the writer's rooms and the Hollywood executive offices.
"The face of America is changing," said Lourdes Diaz, President of Univision. Jordan Peele, writer of "Get Out," put it this way: "Over time, you begin to realize that truth is what works." "The more truth you're hitting on that people haven't seen put in this way, the more successful it is." The numbers tell a clear story. In 2017, female led films made sixteen percent more at the box office than male led films. Films with a minimum of thirty percent non-white actors perform better than those with predominantly white casts.
REAL LIFE. REAL NEWS. REAL VOICES.
Help us tell more of the stories that matter from voices that too often remain unheard.
This post was published on the now-closed HuffPost Contributor platform. Contributors control their own work and posted freely to our site. If you need to flag this entry as abusive,
send us an email
.