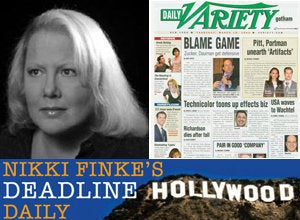 Since I did not sign a non-disclosure agreement, I am free to tell Hollywood the following: On February 27th, Neil Stiles, the president and publisher of Variety Group, called me saying Reed Business Information CEO Tad Smith was pushing him to discuss an acquisition of my site....
I can't discuss my end of the conversation (because of non-disclosure agreements I have with other interested parties). But, within a couple of days, the idea of Variety owning DHD was dead. I later learned that the trade publication's editor Peter Bart was not consulted by his overlords about the overture. Instead, he heard about it third-hand. (When axed staffer Anne Thompson wrote something nasty about me on her blog, still carried by Variety, I blurted out, "Anne, the same place that fired you is trying to buy me." Thompson immediately spilled the news to members of the Variety newsroom.)
I heard Bart was pissed. Then last week, Bart ordered up for Sunday's Weekly Variety not 1 (written by Mike Fleming), not 2 (written by Cynthia Littleton), but 3 (written by Peter) separate articles about Hollywood bloggers that focused on me. No one from Variety bothered to call me in advance.
Related
Popular in the Community