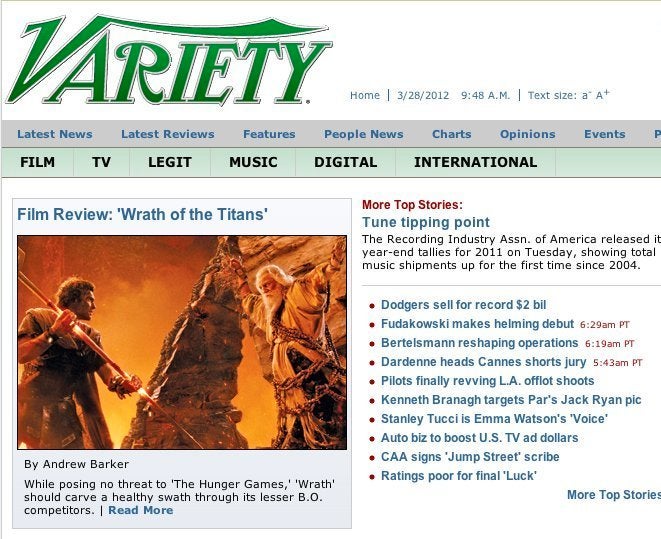 LOS ANGELES, March 26 (Reuters) - Hollywood trade magazine Variety launches a new era on Tuesday with the publication of its first weekly glossy magazine focused on in-depth, analytical stories aimed squarely at entertainment industry professionals.
A week after 80 years of daily publication ceased following a change in ownership, the new editors at Variety say the magazine will shine a "laser focus" on the business needs of Hollywood rather than moving toward the more celebrity-filled content seen on other entertainment outlets.
"Nobody is doing the smart, analytical, in-depth pieces, and data-driven product where people will come away from reading knowing something that is important about their business," said Cynthia Littleton, one of Variety's three editors-in-chief.
"That is completely missing from the landscape and that is the void that we will fill with our new print weekly," Littleton said.
Daily Variety, regarded as the bible of Hollywood for its movie and TV industry news, published its last daily printed edition on March 19, ending an 80-year-old tradition.
The business was sold last year to online publisher Jay Penske and private equity firm Third Point LLC. After re-launching the Variety.com website in March and ending its paywall, the first issue of the weekly magazine is published on Tuesday.
The more than 100-page magazine features a cover story about the business priorities and personality of new Warner Bros. CEO Kevin Tsujihara, who gave Variety extensive access in his first few weeks on the job. Warner Bros. is a unit of Time Warner Inc .
Variety also has an in-depth look at the finances of satellite radio company Sirius XM, and the fierce battle between TV companies, wireless companies and the Federal Communications Commission (FCC) over the auctioning of spectrum that is meant to free up the airwaves for better wireless Internet access.
Andrew Wallenstein, who with Claudia Eller completes the editor-in-chief trio, said the revamped Variety plans to spend more time looking at the intersection of entertainment and technology.
"This is a tremendous time for the entertainment business when you think about companies from Google to Apple to Netflix and how they are transforming Hollywood, and we are going to double down on that," Wallenstein said.
"In a marketplace that is intermingling the needs of the consumer and trade audience, you are going to see (Variety put) a laser focus on the industry and its information needs."
Lighter fare such as a partnership with satirical website "Hollywood and Swine," and the social side of show business will also be included in the magazine.
And the bizarre "slanguage", complete with phrases like "laffer" (comedy), "helm" (direct) and "ankle" (leave) that has confused and amused Variety readers for years, will remain.
"We are going to be boffo until the day we stop. That slanguage is a big part of our heritage....We will never ankle out slanguage," said Littleton.
Calling all HuffPost superfans!
Sign up for membership to become a founding member and help shape HuffPost's next chapter
BEFORE YOU GO
PHOTO GALLERY
Top 25 Magazines Of 2013