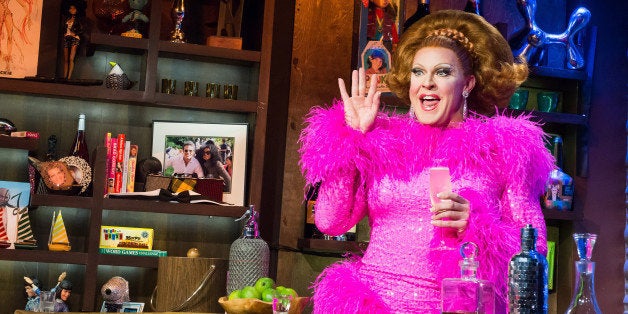 One of today's great comediennes is in fact a man. In the tradition of other celebrated gender benders, like Divine, Dame Edna and RuPaul, the man who transforms nightly into Varla Jean Merman--"the illegitimate love child of Ethel Merman and Ernest Borgnine"--has spent the better part of 20 years elevating "drag" to a peerless variety of this art form.
The character known as "Varla" is immediately recognizable, usually among the GLBT community where he has earned much of his success. With Varla, we meet a "naïve victim, with a severe wicked streak" complete with side-splitting, shockingly raunchy humor, and a set list sung operatically by a voice that could give students at Juilliard a run for their money.
On Friday, "she" returned to New York in Ryan Landry's Snow White and the Seven Bottoms (a reference to male-on-male sexual positions), playing a strictly limited engagement at Theater 80 on St. Marks Place. Proving as nimble as a yoga master, "the man behind the Merman" is bending his talent backwards this time, returning to the stage with an emasculated take on Snow White's hero(ine), "Prince Charming."
We had a chance to chat this past weekend about his career, and latest performance in Snow White and the Seven Bottoms.
"Varla? It's Steve Schonberg." "Yes, I know. How you doing?" he responds in a sensual baritone voice. That morning, Varla was nowhere to be found--with her signature soprano pitch and slight lisp. No, I was talking with her alter ego and creator, actor Jeffery Roberson, who has achieved critical acclaim on stage, film and TV, all in a dress and heels. His credits include sold-out performances of his one "woman" shows (Twice Upon a Mattress, The Girl With the Pearl Necklace), albums (Enough About Me) appearances on- and off-Broadway, and even opera (Chicago, Lucky Guy, Gian Carlo Menotti's The Medium), on film (Girls Will be Girls) and TV (All My Children, Ugly Betty, Project Runway).
This talent is expressed in Roberson's vulgar parodies of contemporary and classic songs, raunchy double entendres--envisioning outrageous sexual situations--and self effacing digs undermining Varla's generally pretty face and shapely figure. While the approach, however, is in many way similar to many other performers, it's Roberson's sharp wit, minute attention to nuance, and innocent delivery (with a wink wink, nudge nudge) that has helped him skyrocket above the rest.
Growing up a little boy in New Orleans, Roberson didn't quite dream of performing as a woman but did know he wanted to sing--something discouraged by his parents in their Southern Baptist home where, as Roberson describes, "you sing for God or you don't sing at all." Oppressed by the family's religious constraints he says, "I did want to perform in something, but it wasn't an option."
Understandably feeling out of place, and dissuaded from pursing his passions, he set his sights on New York with such an obsession that he quips, "my parents wouldn't give me a car because they were so afraid that I was going to get in [the car] and drive to New York City." It seems in that respect, they were right, as he lived there years later before returning to the New Orleans area.
By what Roberson would have us believe was an incredible turn of fate, although smelling of Varla's subtle scheming, he made his way the Louisiana School for Math, Science and the Arts. He was majoring in Chemistry but was finally set on the right path when, in a scene out of Glee, the choirmaster snatched Roberson from the hall in desperate need of a tenor (his voice has since deepened).
Having "never really sung before, ever," Roberson said willingly, "I can do it! I can do it!" From there he ended up getting a vocal scholarship to LSU and the training needed to develop the immutable vocal power that is a critical dimension to the character known as Varla.
However, it wasn't singing, but rather a job in advertising that led him to New York. There he was able to audition for the Broadway cast of Chicago, securing the role of journalist and female impersonator, "Mary Sunshine." Roberson says, "If I hadn't been in advertising, I wouldn't have been in there."
Jeffery Roberson and Varla Jean Merman are now so closely linked they're nearly Siamese twins. But, of course Varla Jean Merman didn't always exist, she was carefully crafted by Roberson in an effort to break out from the typical portrayal of lip syncing drag. It was a pursuit he now credits to the incredibly talented performers who inspired him, including Divine and Coco Peru (who later became a friend and costar in the film, Girls Will Be Girls).
It was during performances in one Kevin Maloney's "Fractured Classics" series--
celebrated plays that were edited down and cast with "people who [were] completely wrong for the part"--that Varla Jean Merman first showed a peek of her ginger coiffed head. It was during Who's Afraid of Virginia Woolf, where Varla was cast as "Honey," "[who] is supposed to be this meek, mousy person, and of course at the time I think I weighed over 300 pounds... that really helped me to develop Varla, because before that, Varla was just a crass drag queen. There really wasn't any character or much to it." Roberson went on, "I got all these laughs being very kind of stupid and ditzy, and that is where the character started to spawn from."
Nearly identical to how John Waters helped inspire Harris Glenn Milstead to become the larger than life gay icon, "Divine," Roberson acknowledged of Kevin Maloney, "even though [I was] so huge, Kevin would always cast me as this vulnerable woman, always, and I developed the character through a lot of those roles."
"Even with the comedy that I've done..." Roberson described insightfully to the root of his success, "...a lot of that vulnerability stuff, I just overplay slightly, and that's why it's funny. But it's still based in the truth."
Now, a well-established comedic star, Roberson continues to work with people who seem to inspire and help him grow as an entertainer. Such as Ryan Landry, offbeat writer, performer and both author and co-star of this current production, Snow White and the Seven Bottoms. In line with Roberson's own brand of humor, Landry's outrageously funny and prolific body of work includes titles like Mildred Fierce, Silent Night of the Lambs, Phantom of the OPRAH, and spoofs on Rosemary's Baby (a musical adaptation), Cleopatra, The Twilight Zone, among many more.
Their collaboration began in the late '90s when Landry was seriously injured in a motorcycle accident during a run of his show, Joan of Arkansas. With only three days to learn the part, Roberson stepped in for Landry and since then, they've done many shows together including the aforementioned Mildred Fierce, Phantom of the OPRAH, and a spoof on The Golden Girls.
However, Roberson admits that he was surprised when Landry approached him about Snow White and the Seven Bottoms. Roberson asked Landry why he would want to cast him in that role, "because I know you can do it." "In opera we call that a 'trousers role,'" Roberson explained, a role in which an actress appears in male clothing.
Known so well for his distinct performances and material, it's interesting to hear Roberson talk about his approach to other writers' work (including Landry, and legendary impersonator, Charles Busch). He explains that while he respects their genius, he finds ways to make it his own. He said, "A big thing I do is find bits, physical bits. I'm definitely a physical comedian in a lot of ways, and if I work with somebody who wants the material done exactly as somebody did it, I can't do that... I have to find what works for me."
However, trusting Landry's creative process in particular, Roberson says that he strategically waits to unleash the full personality that is Varla. "With Ryan, there's a very strict process... don't improvise. He wants to see it the way he wrote it, and you learn it the way he wrote it... but [then, over time] he can relax, once it's on its feet." Roberson went on, "Being a creative person, it's very hard sometimes not to [improvise], but [Ryan will] get really angry, so you have to just do it the way he wants it." However, once the show is set, Landry allows flexibility in parts lead by performers he trusts, Roberson says, "it's an honor sometimes to even be allowed to play around."
A creative genius, one of the keys to Roberson's success is most certainly that he never lets it get stale--Varla Jean Merman is a character forever in motion. "Any actor, any comedian, has a bag of tricks, and it's always a matter of not taking everything from the bag. It's adding to the bag. You have to keep adding."
Snow White and the Seven Bottoms plays Theater 80 at 80 St. Marks Place in New York City. For information and tickets, visit www.theater80.net.