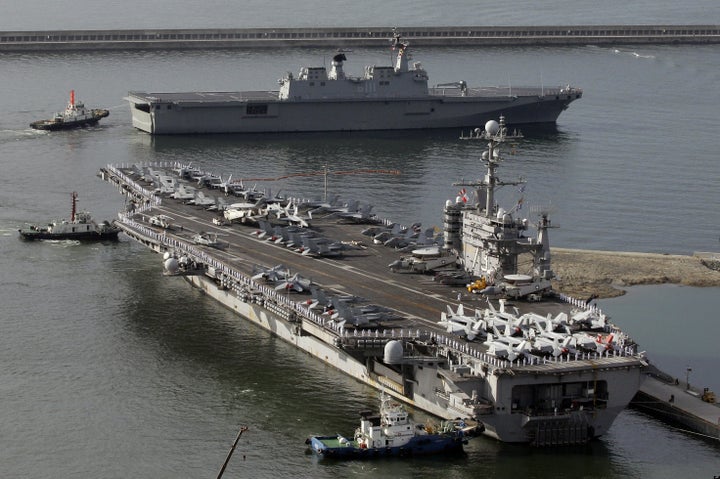 China's first aircraft carrier recently slipped from its berth with little fan fare. The start of sea trials of the 1,000 foot long flattop gained little media attention in an America that is, as usual, too caught up in its own angst to notice external threats. While financial markets boiled, the ship formerly known as the Varyag and rumored to have been rechristened "Shi Lang" sailed out of Dalian harbor to test its battle systems and scare the hell of out China's neighbors.
The story behind this boat is both entertaining and highly instructive in the ways of Chinese state capitalism and its political and business norms. The Varyag was originally intended to be the pride of the Soviet fleet and was nearly complete when the collapse of that other evil empire resulted in its abandonment at a Black Sea berth. In 1998, she was auctioned off by the Ukrainian government to a subsidiary of a Hong Kong front company, secretly controlled by the Chinese military.
Although China assured the world that the carrier would become a floating casino in Macau, America's NATO ally, Turkey originally blocked the lethal vessel's transit through the Bosphorus and the giant ship was towed in circles for more than a year. This provoked Yang Wenchang, the Chinese deputy foreign minister and other high level Chinese government officials to fly to Ankara with a reported $360 million "economic aid package" and a profitable tourism deal which secured the Varyag's China passage. The whole project was a rather stupendous investment of capital and political muscle into what China continued to assert was a casino project.
Of course, the warship never went anywhere near Maccau, and instead was sent directly to a special dock in China's Dalian harbor where it began years of extensive retrofitting with the installation of a new propulsion system, flight decks, and electronics systems. While sticking to the casino story, China negotiated to purchase a number of Russian Sukhoi, SU-33 carrier ready aircraft -- pretty odd investment for a nation with no carrier. Then, in its typical fashion, Beijing backstabbed its partner in state capitalism by committing to only a couple of planes in order to copy their design. When China announced the "new" J-15 carrier-capable fighter last year, Pravda reported, "Russia officially notified China of the violation of international agreements and promised to launch legal proceedings to defend its intellectual property." This lack of honor among thieves would be funny if the subject wasn't so deadly serious.
So when the Communist Party's puppet news agency, Xinhua now reports that "the aircraft carrier is for peaceful purposes only" we are expected to believe that China went through all that expensive subterfuge in order to conduct humanitarian missions. The fighter jets on its deck must be for entertaining folks at traveling air shows, rather than say, sinking Vietnamese ships in the disputed oil and gas fields of the South China Sea, attacking Japanese cutters defending the Senkaku islands, or providing air cover for the invasion of Taiwan.
The entire episode offers a very public demonstration the duplicity of China's ruling class and it should serve as a fair warning to those who continue to naïvely mistake its intentions and to underestimate its resolve to achieve regional military dominance and control over resource. It also provides a textbook lesson in Communist Party ethics for Western CEOs and investors who are betting their future at China's casino of state capitalism.
Related
Popular in the Community