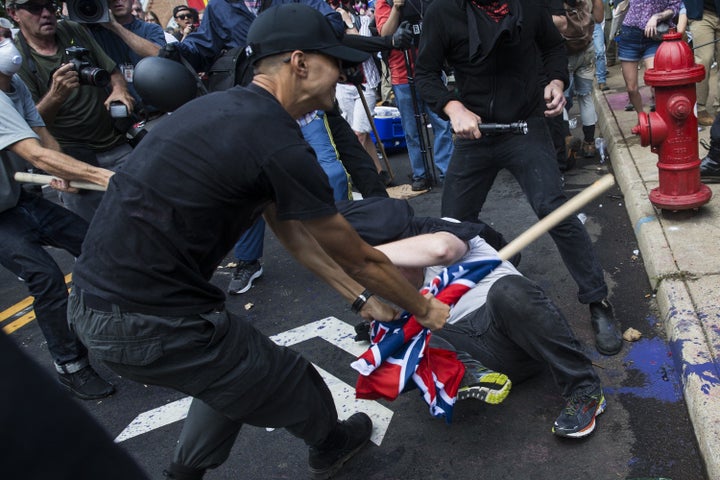 U.S. Marine Corps Lance Cpl. Vasillios Pistolis has been kicked out of the service 11 months after allegedly demonstrating with white supremacists at last summer's deadly "Unite the Right" rally in Charlottesville, Virginia.
"The Marine Corps' stance on membership in extremist or hate groups remains the same: there is no place for racial hatred or extremism in the Marine Corps," Major Brian Block wrote in a statement to The Daily News, a North Carolina newspaper. The Marine Corps did not immediately respond to HuffPost's request for comment.
Pistolis was assigned to the 2nd Marine Logistics group at North Carolina's Camp Lejeune. Marine Corps Times reported that he was booted from the service July 11.
The Marine Corps opened an investigation into Pistolis' behavior after ProPublica and PBS' "Frontline" jointly identified him in early May as one of several members of neo-Nazi organizations who also serve in the military. The report earned support from Rep. Keith Ellison (D-Minn.) in the form of a letter urging Defense Secretary James Mattis to take action.
All branches of the U.S. military prohibit members from belonging to extremist groups.
"Our strength is derived from the individual excellence of every Marine regardless of background," Block's statement continued. "Bigotry and racial extremism run contrary to our core values."
Pistolis allegedly bragged online about assaulting counterprotesters, describing a flag soaked in blood that he noted was not his own. On Aug. 12, 2017, he allegedly wrote: "Today cracked 3 skulls open with virtually no damage to myself." The same day, a car driven by an alleged alt-right supporter rammed into a crowd of anti-racist counterprotesters, killing 32-year-old Heather Heyer. James Alex Fields Jr. has been accused of killing Heyer.
Before his departure, Pistolis was sentenced to 28 days behind bars, ProPublica reported in June, after a low-level military court convicted him on charges of disobeying orders and making false statements. His pay was also docked.
Pistolis is allegedly a member of the Traditionalist Worker Party and the Atomwaffen Division, two militant alt-right groups. Atomwaffen members have been charged in five murders and a bomb plot in the past year and a half.
According to Marine Corps Times, two other Marines, Sgt. Michael Chesny and Staff Sgt. Joseph Manning, were similarly removed from the service in 2017 for ties to white supremacist groups.
Popular in the Community