Vasilopita is the Greek, traditional St. Basil's New Year's cake. On New Year's Day families cut the Vasilopita to bless the house and bring good luck for the new year. Try this easy and delicious recipe at any time... it's full of tangerine flavor.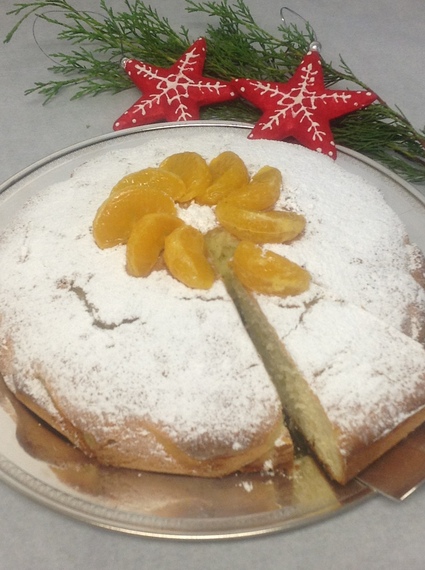 1 cup olive oil
1 ½ cup sugar
4 eggs
1 cup almonds (chopped)
400 gr. self rising flour
1 teaspoon baking powder
½ teaspoon baking soda
½ teaspoon cinnamon powder
2-3 tangerines (zest)
3 tablespoons of tangerine liquor or brandy
1 cup tangerine juice
200 gr. Greek yogurt
Mix in a bowl the flour with baking powder and baking soda. Beat olive oil with sugar very well. Add the eggs one by one and continue beating. Add the tangerine zest, cinnamon, tangerine liquor and tangerine juice and mix all together. Then add the mixture of flour, baking powder and baking soda in alternation with the yogurt little by little. At the end, add chopped almonds and mix with a tablespoon. Butter a baking tray and pour the mixture inside it. Bake in a moderate oven (175C/350F) for about 50 minutes. Let it cool for a while, sprinkle some sugar powder on the top and garnish with slices of tangerine or place paper numbers of the year coming on the top and sprinkle some sugar powder.
Tips:
If you wish, you may substitute tangerine zest and tangerine juice with orange zest and orange juice. In that case, you may substitute tangerine liquor with cognac (brandy).
You may also substitute chopped almonds with chopped walnuts according to your taste...