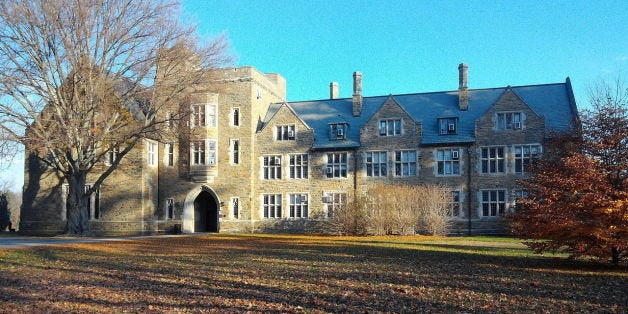 A federal judge has dismissed a gender discrimination lawsuit against Vassar College filed by a male student who was expelled for sexual assault.
U.S. District Judge Ronnie Abrams of New York on March 31 dismissed the suit, filed by former student Xiaolu Peter Yu, who had contended the liberal arts college in Poughkeepsie, New York, violated its own policies and the gender equity law Title IX in finding him responsible for sexual assault.
A Vassar hearing panel found Yu responsible for sexual assault and expelled him on March 7, 2013, based on the finding that Yu did not obtain consent before having sex with a female student. The school says someone can't consent if a reasonable, sober person can tell they're too intoxicated.
Abrams said the school's definition may include a "double standard," but that didn't help Yu's case.
"The accused's level of intoxication is not considered," Abrams said. There "may well be a double standard regarding how the school considers the intoxication level of a complainant and a respondent," but "it is not biased in gender." Vassar's policy is written in gender-neutral terms, and the school's sexual assault response training highlights that complaints can be filed by men or women, against students of either gender.
"As this case and others demonstrate, plaintiffs challenging university discipline for sexual assault have a difficult time prevailing under Title IX, as there is often very little evidence of gender bias for them to point to," Western New England University School of Law Erin Buzuvis wrote in her analysis of the case. "Yet this does not mean universities are free to throw the book at all those accused of sexual assault in order to avoid charges of under-enforcement of Title IX standards (as some Title IX critics may believe)."
Critics of campus sexual assault policies say cases like Yu's show that some schools have become so careful not to violate the rights of alleged victims that they're more likely to railroad accused men. Victim advocates and some U.S. senators vehemently dispute that claim.
Advocacy groups, led by Know Your IX, wrote an open letter to college presidents Wednesday, emphasizing a demand for fair "procedural rights for both parties, the accused and the accusing student."
The case against Vassar was similar to a high-profile lawsuit brought by a male student expelled from Occidental College, in Los Angeles. The suit claims the college determined the student violated sexual assault policy by having sex with a woman. The school said the woman was too intoxicated to provide consent. The male student contends he was just as drunk.
"In a way, I feel bad for the Peter Yus of the world," said Brett Sokolow, CEO of the National Center for Higher Education Risk Management, which provides consultant services on campus sexual assault policies.
Sokolow, whose firm wrote Vassar's policy, said every college should be very attentive its standard of incapacitation and how it's applied to both the complainant and the accused.
"Campuses ought to be more honest with their students, I think," Sokolow said. For private colleges that apply policies the way Vassar does, Sokolow continued, they should say, "We're a private college, our rule is you can't sex if you've been drinking, and if you do, we'll kick you out."
Yu plans to appeal, said his attorney, Andrew Miltenberg.
"Judge Abrams' acknowledgement of a double standard is merely one of the many particularly disturbing aspects of Vassar's treatment of Mr. Yu," Miltenberg told HuffPost. "It is difficult to reconcile Judge Abrams' acknowledgement of a double standard while sidestepping the reality of gender discrimination."
Miltenberg added that he views Yu's case as one of "federal usurpation of individual rights."
On Feb. 13, 2013, a female Vassar student reported Yu had sexually assaulted her a year earlier, according to court documents. They had been out drinking at a party and at a bar. Yu, who claimed he was then a virgin, said he asked if she wanted to go back to his dorm to have sex, and she agreed. The woman said she "either said nothing or 'no'" when she was asked about sex, according to court documents. Her recollection of what happened in Yu's dorm was "fuzzy," but she remembers having sex and "feeling helpless" and unable to object.
Both students, according to court filings, exchanged electronic messages the next day discussing how they were both "pretty drunk." Yu said he later learned students had observed them walking to his dorm and alerted campus officials because of the woman's drunkenness. In one message, the woman offered to defend Yu if he got in trouble. She later apologized for her behavior that night in a Facebook message.
Yu argued the messages showed the assault complaint lacked merit. The woman said they did not reflect that she was in a state of "shock and disbelief" and "in denial," according to court papers.
Yu's lawsuit also contended the panel that found him responsible for assault was biased against him because the woman's father is a Vassar professor and the panel was comprised of faculty members. The judge dismissed the claim, saying the school had checked panel members for conflicts of interest.
Vassar declined to comment, saying it doesn't address specific student conduct cases.
Popular in the Community