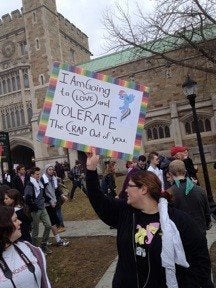 Students at Vassar College, a small, liberal arts college in Poughkeepsie, N.Y., came out in force Thursday afternoon to protest a visit from members of the Westboro Baptist Church. Vassar, or as the Kansas-based church calls it, the "Ivy League Whorehouse," has become a Westboro target because the church believes that the school promotes "the fag agenda." The church's website explains, "God Hates Vassar College for following the satanic Zeitgeist by professing the soul-damning lie that it is 'OK to be gay.'"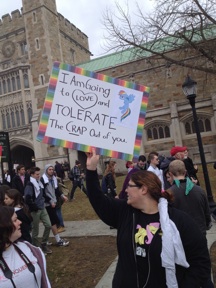 More than 500 student and community protesters rallied to meet the church protesters, of whom there were just four. The church members, looking like refugees from the Philadelphia Mummers Parade, were kept away from the students by the Poughkeepsie police, who had to shut down the four-lane road in front of the college. They danced around waving anti-gay signs while the students chanted slogans and formed a human love chain.
The protest was part of the church's Hudson Valley road trip. Earlier in the day they were scheduled to protest the funeral of Army General H. Norman Schwarzkopf at the U.S. Military Academy at West Point, N.Y. The church claims that "soldiers are fighting for the right of fags to marry -- the same sin for which the Lord destroyed the world with a great flood."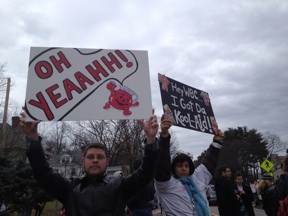 The Vassar students used the church's appearance as an opportunity to raise funds for the Trevor Project, an organization that provides crisis intervention and suicide prevention services to lesbian, gay, bisexual, transgender and questioning (LGBTQ) youth. To date, they have raised over $100,000 for the organization.
Calling all HuffPost superfans!
Sign up for membership to become a founding member and help shape HuffPost's next chapter