In my freshman year at Vassar College, I remember seeing this senior with very, very long, very straight blonde hair, flying every which way, hair first, rushing 'round the Drama Department, here, there, and everywhere.
Who was this whirlwind? It was Meryl Streep in The London Merchant. I was on the promotion crew. Later that year, she went from onstage to backstage as head costume designer for Tennessee Williams' Camino Real. A real flair for costume design, too.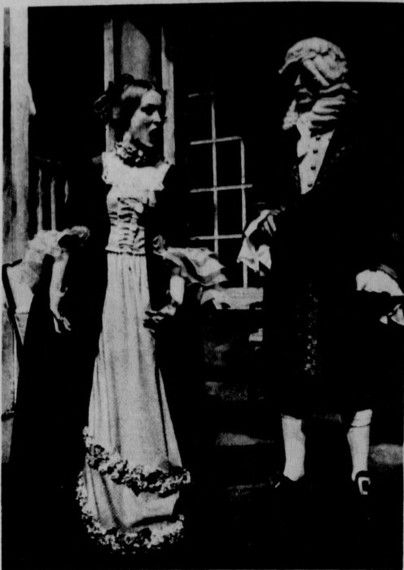 Meryl Streep, Drama Dept. Chair Prof. Evert Sprinchorn in The London Merchant. Photo Credit: Miscellany News, Vassar College Archives, March 5, 1971
Flash forward, years later, it seems as if I am still back at Vassar on the promotion crew for Meryl Streep as I write this blog, publicizing her latest dramatic work, Ricki and the Flash, but this time, seeing Meryl in a darkened movie theater on a Wednesday afternoon, rocking away with Rick Springfield, always a heartthrob. Remember him from the ABC-TV soap, General Hospital?
Note that "Ricki" in the movie's title, refers to Meryl's character, not Rick's.
In the opening scene of Ricki and the Flash, Meryl, looks 21 again, as if she were back onstage at Avery, a former riding amphitheater, converted to house Vassar's Drama Department. Is it the lighting, the makeup, her genes, director Jonathan Demme's brilliance, who knows? But whatever magic Meryl's got to make her look this way, every woman alive wants it.
Meryl Streep... as you've never seen her before! Watch the trailer for Ricki and the Flash now, and see it in theaters this August!

Posted by Ricki and the Flash on Wednesday, May 6, 2015
Meryl Streep as Ricki in
Ricki and the Flash
(2015).
Meryl sings her own songs and learned to play electric guitar for this film, working with Neil Young and co-star Rick Springfield. A very talented lady, she's not just about that high leg kick, though it was impressively high as any Radio City Rockette's executed sitting in a beauty salon swivel seat, explaining the facts of life to her suicidal daughter.
Ricki and the Flash. What a love story. A beautiful love story. With beautiful people.
I cried with joy. Playing her age in the film, Meryl has two gorgeous men fighting over her, who are her age. Not boy toys. One from long ago in her storied career, Kevin Kline, the other brand-new, Rick Springfield. Not saying who gets the girl, if anyone.
Who would have thought 60-somethings stealing glances, and other things, would be on-screen sexy? It is. And they look great doing it.
Not to forget the strikingly, splendid Sigma, a Standard Poodle, who takes a liking to Meryl's Ricki, showing us the importance of second chances and fresh starts.
Meryl's real-life oldest daughter, Mamie Gummer, plays Meryl's daughter, arguably her best performance to date. This is Mamie's third movie with mom. Heartburn (1986), writer Nora Ephron's roman a clef with Jack Nicholson, and Evening (2007), are the other two.
A lady sitting in front of me in our nation's Heartland, said to a friend as they were exiting the theater, "They couldn't have picked a more perfect actress to play Meryl's daughter. She looks so like Meryl." "That's because she is Meryl's daughter," I said, butting in. "Oh, really? I didn't know. And what a terrific young actress, she is. Really captured the essence of that role."
Not just Meryl's daughter who is in this film. A song of son, Henry Wolfe, "For the Turnstiles" is in it, too. The movie soundtrack is available from iTunes.
Operatic-voiced Tony winner, Audra McDonald (Porgy and Bess on Broadway, ABC's Private Practice), plays the new wife of Meryl's ex-husband, Kevin Kline. Their last turn together, was in Sophie's Choice, for which Meryl received her first Academy Award for Best Actress in 1983. The chemistry between Kevin and Meryl? They've still got it. Ricki and the Flash not unlike It's Complicated, where Meryl is juggling two men, ex-husband Alec Baldwin and her architect, Steve Martin. Also, shades of her Oscar win for Best Supporting Actress in Kramer vs. Kramer (1979), where, too, the role of a wife and her child is explored and whether to stay or go.
Don't miss the on-screen spat between Meryl and Audra McDonald in Ricki and the Flash. It's priceless with Audra McDonald fully clothed, and Meryl wearing little more than a huge flag tattoo on her back.
That's all I can say without spoiling it.
Wonderful screenplay by Juno writing whiz, Diablo Cody. A great movie for the entire family, ages 13 and over. A real pick-me-up.
You may even want to go more than once.
Lonna Saunders is Class Historian for Vassar's first coeducational class and may be reached at lonna2@msn.com.
Calling all HuffPost superfans!
Sign up for membership to become a founding member and help shape HuffPost's next chapter