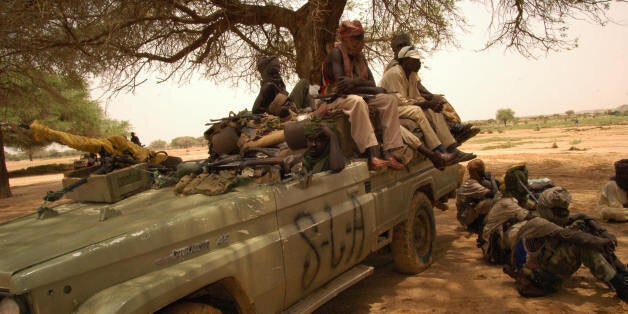 On February 11, 2016 the New York Times published my brief and summary account of the current crises in Darfur, most particularly the extension of Khartoum's genocidal counter-insurgency campaign to the west--from "East Jebel Marra" in North Darfur to the Jebel Marra massif itself, in the very center of Darfur (the eastern tip of Jebel Marra juts far into North Darfur). Fighting today remains undiminished and some of the implications and consequences of this onslaught, which began in earnest in mid-January 2016, are already clear.
UN figures suggest that many tens of thousands of people--overwhelmingly children and women--have already been displaced, many to harsh areas with little or no humanitarian relief capacity. Some 40,000 have fled to East Jebel Marra, the site of so much genocidal violence over the past three years. Others have fled west and south. Radio Dabanga (see below) reports that by the third week of January, "At least 60,000 people from 40 villages around Soreng in Rokoro locality in Central Darfur, fled their homes." The UN reports that altogether almost 50,000 civilians were displaced in January alone. We may be certain certain that well over 100,000 civilians will have been displaced by spring planting season, and thus unable to grow critically needed food.
Because Khartoum allows no journalists or human rights reporters into areas of fighting in Darfur, and because humanitarian access to Jebel Marra has so long also been denied by Khartoum (as has access for UN/African Union "peacekeepers"), we must gather our news from sources in the Darfuri diaspora, most prominently the remarkable Dutch-based news organization Radio Dabanga. Just a few of the recent headlines from this daily news source must compel us to ask why the UN, or the international community independently of the UN, does not compel humanitarian access. Some of the dispatch titles speak for themselves, but I have excerpted a few key sentences from some:
Aerial bombardments, long-range artillery, and heavy weapons were used during the attacks on villages in Jebel Marra: Leiba, Niama, Kara, and adjacent settlements. A still unknown number of civilians were killed by bombs or shelling. Hundreds of villagers have scattered and taken shelter higher up in the mountains, a witness informed Radio Dabanga. "Their humanitarian and health situation is dire," he explained on the phone.
Eleven children reportedly died of malnutrition while taking shelter in one of the highest peaks in Jebel Marra, at the end of January. Three women died at childbirth. Returning militiamen spark fear among residents in western Jebel Marra.
• February 10, 2016, 'Sudan air raids target displaced, block trade in Jebel Marra'https://www.dabangasudan.org/en/all-news/article/sudan-air-raids-target-displaced-block-trade-in-jebel-marra
• January 24, 2016, Darfur: Strafing continues in Jebel Marra war zone
About 100 villages west of Golo and south of Kotoronek have been abandoned too, multiple sources reported from the western part of Mount Marra. They could not give more information because "moving around is too risky because of the continuous bombing and shelling," one of them said. They reported that the majority of the villagers fled high into the mountain, "where they must be suffering dire humanitarian conditions." The sources said that all the roads to the mountain are still blocked. "The markets and shops are closed, so no one can buy flour or sugar," a resident of Golo noted.
Three children were killed and five others were wounded following aerial bombardments on villages in Darfur's western Jebel Marra on Monday morning. The area of Golo, in the upper part of Central Darfur, has been under attack by the Sudanese Air Force since Saturday.
These are but a few snapshots of the suffering and destruction that has gone largely unreported by international news agencies, excepting chiefly Agence France-Presse (AFP) and those who have picked up AFP's two dispatches.
The UN in New York has been especially tepid, as have Western governments; this sends a clear signal to Khartoum that it can continue with genocidal counter-insurgency warfare without paying a significant price. It is a signal that has been sent continuously for over a decade, as countless UN resolutions are flouted, UN/AU peacekeepers with Chapter 7 authority are abused, obstructed, and murdered, and humanitarian access is entirely at the discretion of a regime notorious for using the manipulation of relief aid as a weapon of war.
"[The displaced of Jebel Marra] are basically in need of everything." The surge in violence "has seen, as a result, the worst civilian displacement that we have seen in the UN in the past decade" in the Jebel Marra area, where there were also heavy clashes in previous years. (emphasis added)
An inevitably invidious but necessary comparison with Syria forces a difficult question on Western governments and news organizations: Why are you essentially ignoring a catastrophe that on any human or humanitarian scale must be seen as comparable to that in Syria? None of the answers speaks well of how policy and news attention is apportioned.
[Eric Reeves, a professor at Smith College, has published extensively on Sudan, nationally and internationally, for the past seventeen years. He is author of Compromising with Evil: An archival history of greater Sudan, 2007 - 2012 (September 2012)]
Related
Popular in the Community