Barely a week after meeting with Pope Francis and promising to read the pontiff's 184-page encyclical on climate change, President Donald Trump earned scorn at the Vatican over his decision that the U.S. would exit the the Paris Agreement on combating climate change.
Trump made the announcement in the Rose Garden at the White House Thursday afternoon. Hours earlier, Bishop Marcelo Sanchez Sorondo, head of the Pontifical Academy of Sciences, responded with harsh word to reports that the president would deal a major blow to the global effort to protect the environment.
The Paris accord, agreed on by nearly 200 countries in 2015, aims to cut the emissions the vast majority of scientists believe contribute to global warming. The U.S. previously committed to reducing its own emissions by 26 to 28 percent by 2025.
Sanchez Sorondo said he believed the U.S. oil lobby was behind Trump's decision to pull out of the pact.
A withdrawal "would not only be a disaster but completely unscientific," he said. "Saying that we need to rely on coal and oil is like saying that the earth is not round. It is an absurdity dictated by the need to make money."
Trump has said he believes climate change is a hoax touted by the Chinese to compromise U.S. manufacturing. In his Rose Garden remarks, he termed the the Paris accord "very unfair, at the highest level, to the United States."
Pope Francis may have been trying to sway the president's stance on the issue by giving him a copy of his 2015 encyclical, "Laudato Si." The papal letter makes the case that climate change is inherently a moral and spiritual issue that disproportionately affects the poor and the marginalized.
The encyclical outlines Francis' staunch belief that the environmental crisis facing the world is caused by human activity, and that the world's leaders must act swiftly to confront what he called a "global problem with grave implications."
"Humanity is called to recognize the need for changes of lifestyle, production and consumption, in order to combat this warming, or at least the human causes which produce or aggravate it," Francis said in the encyclical.
Francis also criticized local and national governments that refuse to address the long-term consequences of climate change and focus instead on short-term political gains.
The U.S. Conference of Catholic Bishops released a statement Thursday condemning the president's withdrawal decision as "deeply troubling."
"The Scriptures affirm the value of caring for creation and caring for each other in solidarity," Bishop Oscar Cantú, chairman of the groups Committee on International Justice and Peace, said. "The Paris Agreement is an international accord that promotes these values. President Trump's decision will harm the people of the United States and the world, especially the poorest, most vulnerable communities."
Before You Go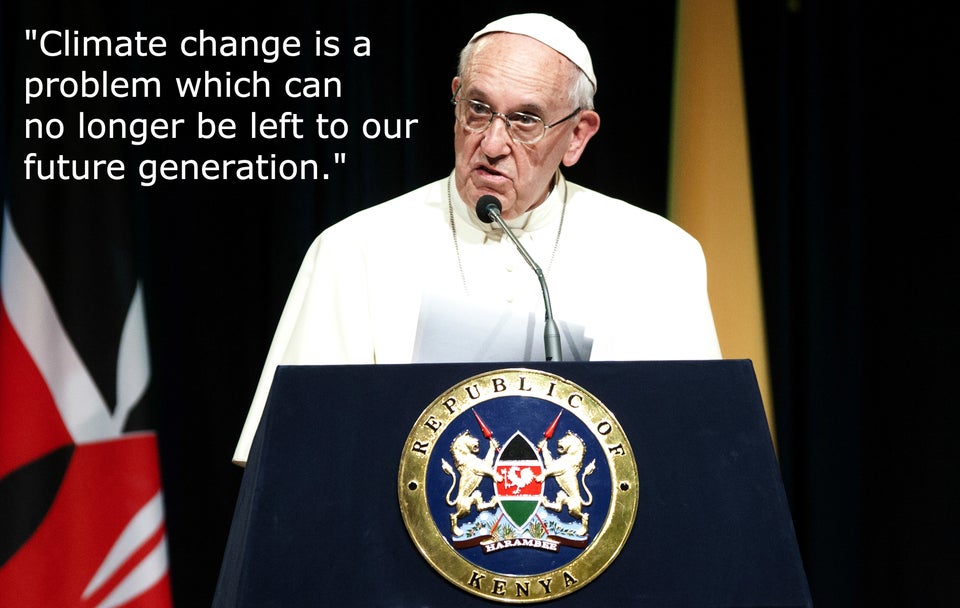 Pope On Climate Change
Popular in the Community