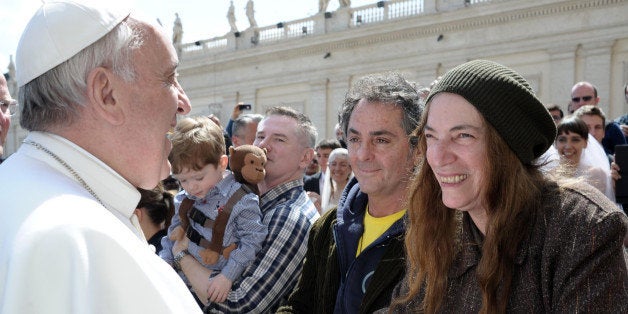 LISTEN TO PATTI SMITH TALK ABOUT THE VATICAN CHRISTMAS CONCERT AND HER OWN SPIRITUALITY
Sources close to Patti Smith confirmed to The Huffington Post that she will be performing at the Holy See's Christmas concert this year.
The iconic rock star is one of 18 acts scheduled to take the stage at the Conciliation Auditorium in Rome on Dec. 13 for the Vatican's annual Concerto di Natale.
Anthony DeCurtis, Contributing Editor at Rolling Stone, who is working on a biography of Lou Reed, said the invitation made sense:
"The person who did this really understood how Catholic imagery and atmosphere is woven into Patti Smith's work; and the life or death urgency her work represents -- it's about salvation and redemption."
Portosalvo, a Catholic association, has asked the Archbishop of Naples to ban Smith from performing at the Basilica of San Giovanni Maggiore, reportedly calling it "blasphemous."
Smith met the Pope in person in St. Peter's Square last year, saying afterwards that the pontiff was "very interesting" and that she "liked him a lot."
Although the unlikely pair speak different languages and use different mediums, the Pope and Patti Smith are connected by a dedication to creating peace and justice in the world. During a concert in Chicago's Humboldt Park earlier this year, the rocker ranted against corporate greed and war while singing her song "People Have The Power."
"We do have the power!" Smith told the audience during the Chicago show.
"Our governments, our corporations would like us to feel defeated, but we have it with our numbers if we use it. Don't forget it! People, you can change the f*****g world! Take heart, don't give up! Globally unite for peace! It's not f*****g corny; it's what we f*****g need!"
Other stars in the lineup include Sister Cristina, the singing nun who stole the top prize at Italy's "The Voice."
Before You Go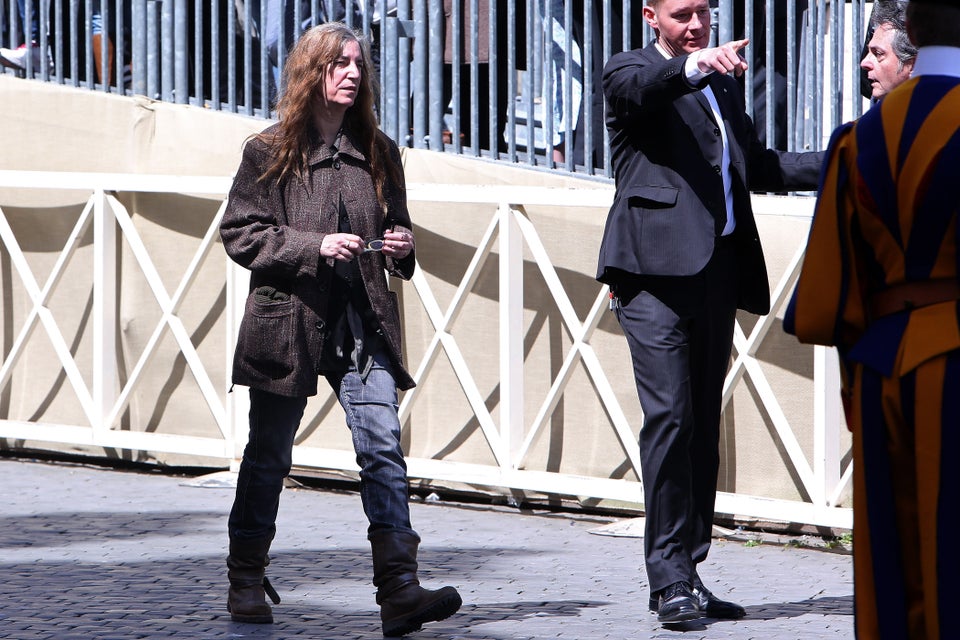 Patti Smith Meets Pope
Popular in the Community