L'Osservatore Romano is reporting that Goldman Sachs is indeed Doing God's work, and His Former Holiness Joseph Ratzinger has confirmed the unsolicited hostile takeover. Writing under his pen name Benedict XVI, Ratzinger verified that total control of the popular religion has been transferred to Goldman Sachs and His New Holiness Lloyd Blankfein. Ratzinger added, since they now own the place, they should be doing the work.
Blankfein ¬whose firm is a wholly-owned subsidiary of S.P.E.C.T.R.E, will be trading in his current designation "No.1" for the more worshipper-friendly Nom de Plume of Lloyd Almighty.
While terms of the takeover remain undisclosed, sources confirm the deal includes several million followers, approximately 400 acres of real property surrounded by Rome, the land under Yankee Stadium, and assorted relics ¬ including the recently renamed "Shroud of Goldman."
In his first public statement, Lloyd Almighty issued the following:
"Blessed Are Those Who Ask For Nothing For They Shall Receive It In Abundance.

Blessed Are Those Who Are Merciful For They Are Unsuitable For Employment At Goldman Sachs.

Blessed Are The Goldman Sachs Market Makers, For They Generate Commissions Whether Clients Win Or Lose.

Blessed Are The Foreclosed Of Homes For They Provide Goldman Sachs Some Really Good Deals
[and]
Blessed Are The Meek Who Inherit The Earth, For the Mineral Rights Are Not Included, And Goldman Sachs Will See Them In The High Court To Challenge Any Inheritance."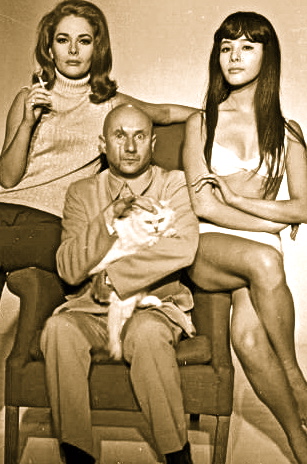 Shroud of Goldman: LLoyd Almighty, center
Popular in the Community