World powers announced on Tuesday that an agreement had been reached with Iran to limit the country's nuclear activity -- and the Vatican was quick to applaud the deal.
"The agreement on the Iranian nuclear program is viewed in a positive light by the Holy See," Vatican spokesperson Federico Lombardi said in a statement.
"It constitutes an important outcome of the negotiations carried out so far, although continued efforts and commitment on the part of all involved will be necessary in order for it to bear fruit."
Negotiations for the final deal lasted nearly two years. This week, representatives from Iran, the U.S., the UK, France, China, Russia and Germany met in Vienna, Austria, reaching an agreement on July 14..
In December, Pope Francis delivered a message to the Vienna Conference on the Humanitarian Impact of Nuclear Weapons. He said nuclear weapons should be "banned once and for all" to secure peace and wellbeing for all present and future generations.
The pontiff also decried nations' spending on nuclear weapons, which he said squandered resources that should be spent on "areas of integral human development" like education, health care and the fight against poverty.
The Obama administration announced in April that a framework for the deal had been negotiated in Lausanne, Switzerland that would eventually prevent Iran from producing a nuclear weapon.
Pope Francis responded to the announcement in his Easter message on April 5, saying, "In hope we entrust to the merciful Lord the framework recently agreed to in Lausanne, that it may be a definitive step toward a more secure and fraternal world."
Pope Francis has recently pushed the moral argument against nuclear weapons to a new level, not only against their use but also against their possession. Today there is no more argument, not even the argument of deterrence used during the Cold War, that could 'minimally morally justify' the possession of nuclear weapons. The 'peace of a sort' that is supposed to justify nuclear deterrence is specious and illusory.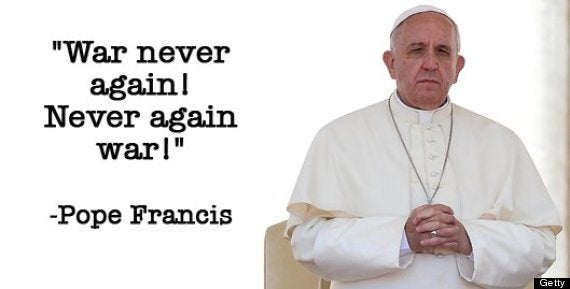 Give Peace A Chance
Support HuffPost
The Stakes Have Never Been Higher
Related
Popular in the Community