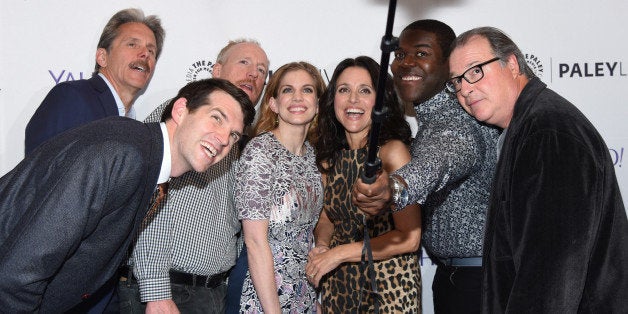 The Meyer administration has landed in the Oval Office. On Sunday's Season 4 premiere of "Veep," we will see what a Selina Meyer White House really looks like. But before her crew takes over as the nation's policy honchos, several members of the cast participated in a panel on Tuesday at New York City's Paley Center for Media, where HitFix critic Alan Sepinwall moderated a discussion about how the show comes together and what to expect from the new episodes. (The Huffington Post has seen the first few, and they are uproarious, particularly with guest stars like Patton Oswalt and Michaela Watkins in tow.) Get ready for the show's regal return with some facts you may not know about its creation:
1. The cast knows how bad these characters are at their jobs.
"She's not a great judge of character," Julia Louis-Dreyfus said of Selina. "Or a great judge in general. So I think it stands to reason that she might surround herself with nincompoops."
But they must be good at something, right? Selina knows how to shake the hands of "normals" quite adeptly, while Dan is a superb brown noser. Sue may be the only one who's completely competent, though. Sepinwall asked each actor to name the thing at which his or her character most excels:
Matt Walsh (Mike McLintock): "Eating, denial and taking a bullet for Selina."
Timothy Simons (Jonah Ryan): "Jonah's best qualities, at least he thinks, would be a very charming way. He is a charmer. He does actually have a good understanding of the Internet. Although I feel like this is the first season he is really good at choosing, while out on the campaign trail, which menu items will be the most popular to the locals. He's actually good at that."
Kevin Dunn (Ben Cafferty): "He does the three D's: delegates, deflects and drinks."
Gary Cole (Kent Davison): "Math, graphs and little else."
Sam Richardson (Richard Splett): "Politeness. Professional politeness."
Anna Chlumsky (Amy Brookheimer): "I think Amy is the opposite. Bossiness. Strategizing, she's good at strategizing. Whether or not they're actually good strategies remains to be seen, but she can do them. She can make the strategies!"
2. Julia Louis-Dreyfus has "never been on a show that preps this way."
The cast receives completed scripts, but before shooting any of the material, they spend "days" improvising the physical comedy. That includes everything from mannerisms and facial expressions to the way certain jokes land. Sometimes lines or plot beats will change in the course of rehearsals, and from there some of the best "Veep" one-liners are born. Some -- like Jonah telling Selina's daughter in Season 1, "You know, I can see right through your shirt. Is it designed that way?" -- are spontaneous. Others are unintentional, like the Season 3 episode "Special Relationship," in which Selina and her crew visit London. While Selina is asked at a press conference to defend a fat-shaming blog her personal trainer (Christopher Meloni) wrote, Mike and Gary accidentally demolish a costly china tea set at the British Foreign Office. As it turns out, the moment wasn't planned -- Tony Hale, who portrays Gary, backed up into the tea set and Louis-Dreyfus urged him from the sidelines to "keep going." But Hale is notorious for struggling to stifle laughter mid-scene, and in the episode he turns his back to the camera to conceal his amusement.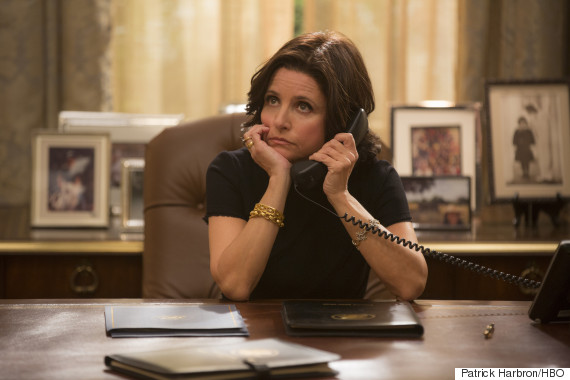 3. The cast preps guest stars for the insults pelted at their characters' physical appearances.
In the first scene they shot with Dan Bakkedahl, who plays Ohio governor Roger Furlong, Selina tells his character, "Don't you patronize me with your no-jaw. You, Congressman No-Jaw!" Craig Cackowski, portraying the aide who replaces Sue while she's testifying at a hearing about government efficiency, had to endure being called "a baby with a beard" and a "grinning fucking Ewok." But if the principal players can dish it, they can take it, too -- especially Simons, whose Jonah is easily the series' most ridiculed character. Each cast member named his or her favorite insult from the show:
Louis-Dreyfus: "'Jolly-green jizz face.'"
Chlumsky: "'That's like trying to use a croissant as a fucking dildo.'"
Dunn: "I don't know if it made the show, but 'Herman Cuntster.'" (Simons also mentioned the line's alternate joke: "Cunter S. Thompson.")
Walsh: "A lot of them go to Jonah. I think I said that Sasquatch raped his mother and he was born."
Simons: "'Unstable piece of human scaffolding.' Other people have been insulted on this show. Certainly we can think of one. In the first season, my wife was pregnant, and one of the jokes they put in was, when [Amy] had to take that pregnancy for Selina, Dan says, 'Oh shit, is that Jonah's kid? They're going to be pulling that kid out of you in shifts.' And I remember thinking, 'That's a really funny joke. Oh, fuck, my wife is actually going to be having my child. That's going to be uncomfortable.'"
4. The cast is "astounded" when they film something that predicts real-life political events -- and it happens a lot.
In the Season 4 premiere, for example, Selina's teleprompter goes out during the middle of an important speech. The episode was shot months ago, and the same thing happened to Sarah Palin in January when she improvised a bizarre rant about "the man" and how "status quo" is a Latin phrase. In the pilot, Selina is aiming to make federal buildings more green. Louis-Dreyfus pointed out that Nancy Pelosi did the same thing "a couple of weeks" after they shot the episode and "caught all sorts of shit for it." "Veep" showcased a government shutdown days into the 2013 government shutdown. And "robust," a word that played a big part in a speech Selina is prepping in Season 3's London episode, became a buzzword in the national-defense portion of Rand Paul's presidential candidacy announcement just a few days ago.
5. How does the cast feel the Meyer administration compares to Jed Bartlet's on "The West Wing" and Frank Underwood's on "House of Cards"?
Gary Cole, who portrays Kent, is the best source for that question, as he played Vice President Bob Russell on "The West Wing." "I would say it's another planet with the same furniture," he said of Selina's White House.
HuffPost also asked some of the cast members on the red carpet what each of them thought of the fictional administrations:
Simons: "Only because Underwood is a murderer, I would put Selina second, basically because Jed Bartlet is America's greatest president."
Walsh: "[The Bartlets and Underwoods] seem to have their shit together, and they seem much more eloquent than our group. They could do monologues that are Wikipedia entries. Everybody was always talking about historical chunks that you could find on Wikipedia. 'The baseball mitt, it was invented by ...,' and then they'd run for 30 seconds. We don't have that ability."
Cole: "I confess I'm not that familiar with 'House of Cards,' although I've seen a bit of it. I actually worked in the Bartlet administration. Clearly there's a large gap there between idealism and cynicism."
Dunn: "I think the Meyers have a lot more fun. The possibilities are really kind of endless. The amount and the depth of the doo-doo she can step in is really kind of astonishing."
6. Louis-Dreyfus and Hale were so exhausted while filming the bathroom scene in Season 3 that they didn't speak between takes.
One of the show's signature scenes hails from the final moments of last season's finale, in which Selina and Gary howl with laughter in a bathroom after Selina learns the president is stepping down and she is about to become POTUS. When Sepinwall mentioned the scene, the Paley Center audience broke out in applause.
The nosebleed Gary suffers was in the script, but most of the other details were born organically. "How Selina reacted to getting this news was hard to come by; it was hard to find," Louis-Dreyfus said. "We sort of approached it like somebody getting bad news and all of a sudden you're just focused on a tie -- when something almost catastrophic happens in your life, and the way your brain works, it just shifts to another track." Louis-Dreyfus and Hale began to rehearse the scene in the corner of a bathroom near their rehearsal space. The actress said the energy required to maintain the duo's rollicking laughter was "demanding." "In between takes, we didn't say anything because we were wiped."
Louis-Dreyfus also fondly recalls visiting the props truck to discuss what items she and Hale would pull out of the bag he carries containing Selina's essentials. There, they decided a magnifying glass and a book on bicycling would be among the random assortment Gary keeps in that coveted satchel.
7. It may be time for Selina to get back on the dating horse.
"We allude to something," Louis-Dreyfus said of Selina's romantic life in Season 4, before joking, "But the next season, I'm going to have so much sex."
8. Republicans think the show is about Democrats, and Democrats think the show is about Republicans.
"Veep" doesn't clarify what political party Selina belongs to, which allows much of Washington, D.C., to assume they aren't the targets of its comedy. The cast spoke of meeting current and former White House staffers over the course of the show's run. Louis-Dreyfus had lunch with Joe Biden, and when she arrived, one of his staff members told her, "I just want you to know I'm the Dan Egan of this office." The cast also attended the White House Correspondents' Dinner in 2014, where "not only every party, but every individual politician [thought] the show is about everybody else but them," Simons said.
9. Selina's new bob haircut has a distinct purpose.
"I'm very aware of the fact that female politicians are scrutinized for their look, and if there's a change to the look -- or even if there isn't a change to the look -- that seems to be what most people are interested in talking about, often, instead of, maybe, the legislation they're trying to put forth," Louis-Dreyfus -- who would welcome a "synchronistic" presidential bid from Hillary Clinton or Elizabeth Warren -- said when asked about the short hairdo Selina unveiled at the end of Season 3. (Apparently even fictional female presidents endure such treatment. Gawker's headline the morning after the haircut's debut read "The Only Thing We Should Talk About Is Selina's New Haircut on 'Veep.'")
"So I thought that would be fun: Let's change her hair and see what comes of it," Louis-Dreyfus continued. "And if it looks good, great. And if it looks bad, great, we'll make hay with that. And it looked crappy and we made hay with it for a number of episodes. That wig is going to be transitioned out by about Episode 4 of this upcoming season. There's only so much of that you can look at."
"Veep" premieres April 12 at 10:30 p.m. on HBO.
Before You Go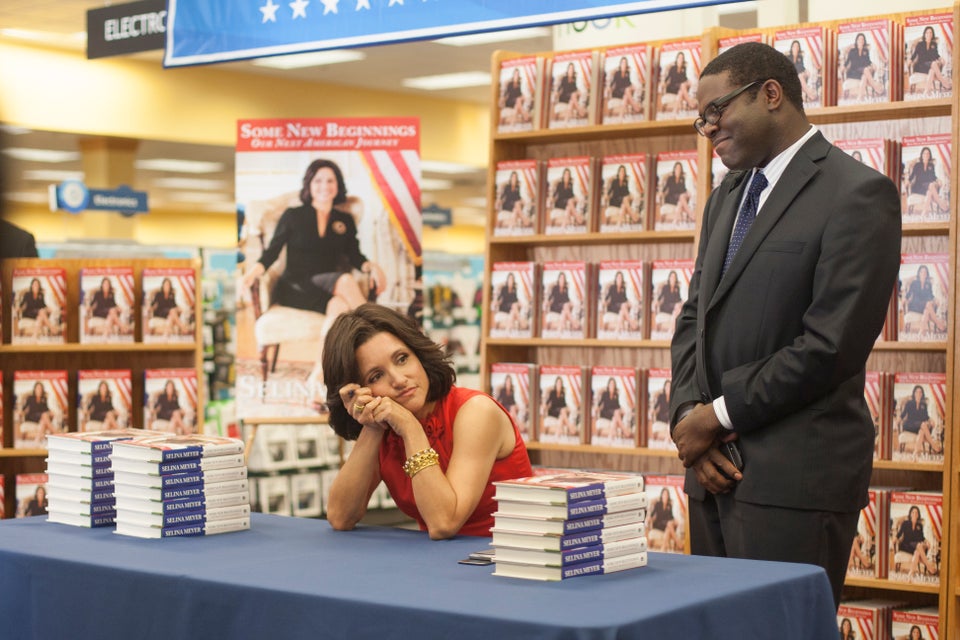 Veep
Popular in the Community