 WASHINGTON -- In recent years, Rep. Paul Ryan (R-Wisc.) has increasingly held himself to a higher standard than the rest of Congress when it comes to what he considered wasteful federal spending.
Ryan emerged as one of the harshest critics of President Obama's stimulus bill. He rose to greater prominence for his forceful stances against earmarks -- imposing a moratorium, pushing for transparency, and urging higher ethical standards.
The anti-earmark stance was not without risk: It led him to link up with his then-liberal counterpart in the Senate, Sen. Russ Feingold, in proposing legislation for a presidential line-item veto that would target "bridge-to-nowhere" style earmarks in 2007.
"We have to drain the earmark swamp," Ryan was quoted as saying in a Milwaukee Journal Sentinel story. By the end of that year, Ryan had signed a pledge that would sever links between campaign donations and earmarks.
It's a tough standard to live up to. And one that not even Ryan could maintain.
Ryan has pushed for earmarks around the same time he started complaining about the practice. He also lobbied for stimulus money while objecting to President Obama's spending bill. And in at least two instances involving the Department of Transportation, Ryan has pushed the interests of companies whose members have given him campaign donations, according to records obtained by The Huffington Post.
Steering transportation funds, or weighing in on regulations, is one of the most direct ways a congressman can exert influence. Ryan is certainly not the only politician to attempt to influence the DOT over its decision making. But the fact that Ryan was willing to go to bat on behalf of campaign donors drives against the narrative Ryan has long claimed -- that he is a special kind of politician, more saint than sinner.
Ryan's spokesman said the newly minted vice presidential nominee has done nothing improper. "The folks who have contributed to Congressman Ryan over the years have done so because they support his vision and agenda, not the other way around," Brendan Buck, Ryan's spokesman, said via email.
In 2004, Ryan wrote Norman Mineta, the Secretary of Transportation, on behalf of the chemical company PPG Industries. The company's PAC has contributed $6,750 to Ryan's campaign coffers from 1998 through 2012. Ryan began by saying he was "writing to share the concerns" of the company over a proposed rule concerning the transportation of hazardous materials.
What were those concerns? The proposed rule would give the DOT and OSHA combined jurisdiction over hazardous materials. But the industry wanted OSHA to stay out of it.
Ryan expressed no opinion other than PPG's own about those nettlesome regulations. "In their current form, PPG Industries believes that the new regulations are confusing, may be inconsistent with existing federal law and may lead to conflicting and possibly onerous regulatory actions by local authorities," Ryan wrote in his August 10, 2004 letter to Mineta. "I would like a further explanation of how the DOT plans to meet various concerns that were raised by the shipping and receiving industry and the businesses that utilize their services."
Two months later, Ryan got a response from Mineta. The transportation secretary said a final decision on the rule had been delayed multiple times due to industry concerns and was still up for consideration. He then emphasized the regulation's importance in clarifying responsibilities and oversight concerning worker and environmental hazards. The provisions would also provide national standards "for the transportation of hazardous material in commerce that are consistent with Federal hazmat law and with the statutes authorizing the hazardous materials regulatory programs administered by OSHA and EPA."
The rule went into effect in 2005.
In a statement provided to HuffPost, a PPG spokesperson wrote: "In general, PPG believes in participating in the governmental process in the nations and communities in which it operates. This commitment includes participating in the political process, from engaging government officials to educating employees. PPG's U.S. political action committee is fully funded by voluntary contributions, and disbursements are made to political candidates and parties as approved by the PAC's contributions committee comprised of PPG executives."
The company's spokesperson went on to write that "PPG runs its businesses using sound environment, health, safety and product stewardship practices, and communicates with the public and support the communities in which it operates."
In 2007, Ryan, along with the Wisconsin delegation, wrote DOT to affirm support for Milwaukee-based Midwest Airlines' application for two slots at Ronald Reagan Washington National Airport. "The award of these slots," Ryan wrote, "will allow the airline to provide much needed capacity in the important nonstop Milwaukee-DCA market."
Ryan pushed for Midwest to get slots in two letters to DOT in 2008. Midwest, by then, had only been awarded backup status. Again, DOT rebuffed Ryan.
In 2007 and 2008, Midwest executives gave Ryan $1,450 in campaign contributions, records show.
Midwest has since merged with another company. It now flies under the Frontier name. That company did not respond to a request for comment.
In 2009, when car dealers in Ryan's congressional district were upset over inefficiencies with Obama's "Cash for Clunkers" program, Ryan wrote a letter to Secretary Ray LaHood asking to hear what steps he might be taking to "alleviate the administrative gridlock and technical errors currently facing this system."
The National Auto Dealers Association is a top contributor to Ryan, pouring $68,500 into his campaigns. In total, the automotive industry has donated $290,350 to Ryan's campaigns.
LaHood did not respond to Ryan's complaints -- at least not in writing.
Paul Blumenthal contributed reporting.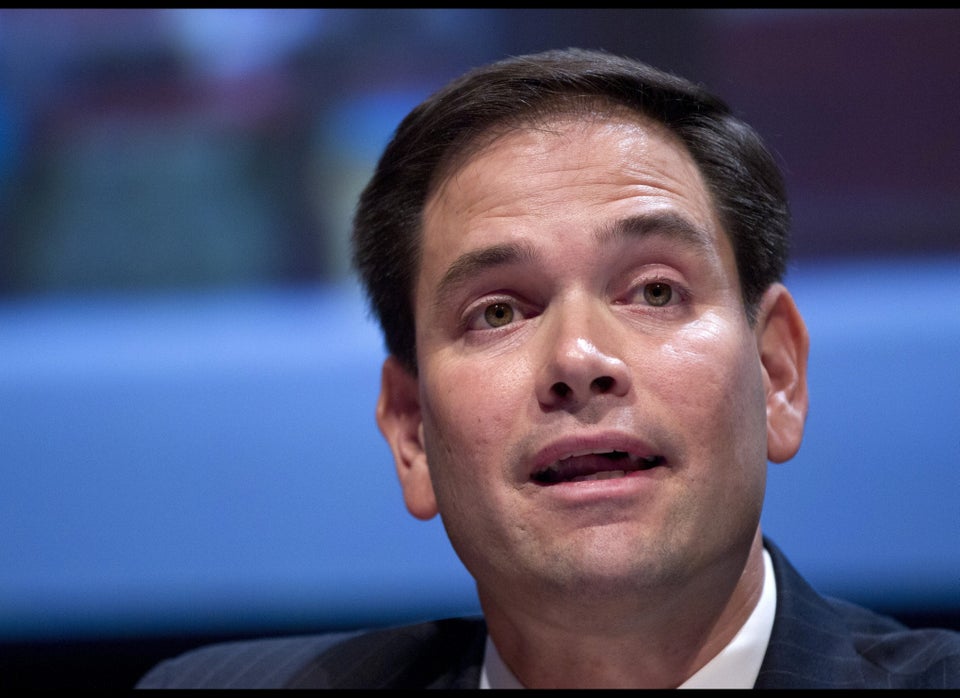 Political Reaction To Mitt's VP Pick