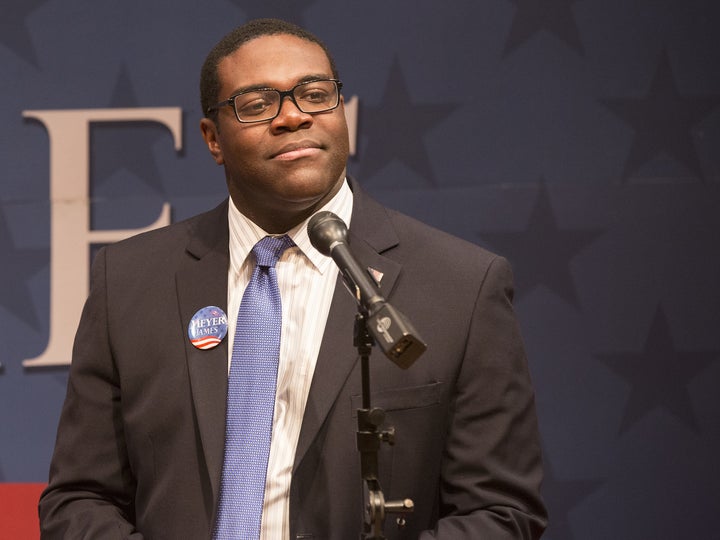 If we tried to do this, what's happening in the world, on our show -- it'd be like, "Well, it's fake-o. No way. That's not real."
HBO's "Veep" has become the latest in a long line of TV shows and movies to receive the self-important applause of people within the Washington D.C. establishment for accurately depicting exactly what it's like.
But whereas "House of Cards" portrays D.C. as a the sort of calculating, backstabbing world of darkness that makes conspiracy theorists drool, "Veep" goes for the more believable buffoonery angle, as Selina Meyer (Julia Louis-Dreyfus) and her bumbling team trip over themselves while trying to complete the latest task at hand. And D.C. can't get enough of it. 
"People in D.C. are always like 'This is the real depiction. That's what it really is like. You guys nail it,'" Sam Richardson, the actor who plays Richard Splett, said during a conversation with The Huffington Post.
"They're always like 'Oh my god. That's just like this person. And that's just like this person. And that's just like this person,'" he laughed. "And I'm like 'Who are you in it?' 'Oh, I'm -- I guess I'm the handsome one.'"
Richardson doesn't believe the purpose of "Veep" is to depict exactly what would happen in the real D.C. in any particular situation, but rather, to work within "the vein of what's possible." The question is, would "Veep" even seem believable if it tried to pull what's been going on in the real 2016 presidential election?
"If we tried to do this, what's happening in the world, on our show -- it'd be like, 'Well, it's fake-o. No way. That's not real.' Kind of like, 'Make it real a little bit.'"
In Hollywood speak, Richardson is having something of a moment right now. The actor's role as Richard T. Splett -- OK, we don't know why we said "T"; his middle name is John -- was made permanent for Season 5. And what's more, Meyer promoted him over his much-maligned boss, Jonah Ryan (Timothy Simons), after she discovered he has a doctorate focusing on recount procedures in the West, as well as a back-up doctorate in veterinary medicine, to the surprise of everyone.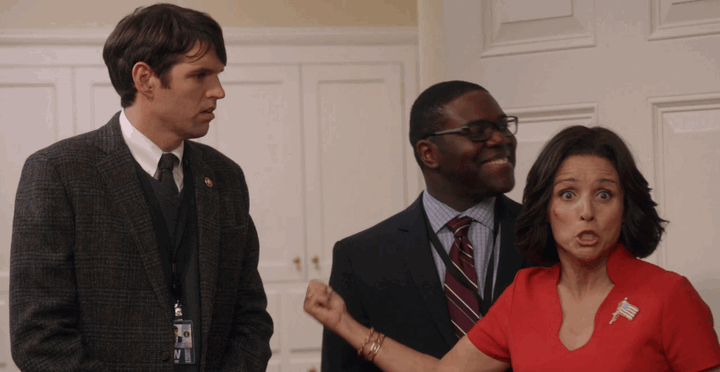 The moment Jonah Ryan finds out Richard Splett is now his boss.
Richardson's been getting a growing amount of attention for portraying the character. Recently, he received a personal letter from Tom Hanks telling him that he binge-watched the show from his hotel room in Budapest and almost passed out from laughing too hard at Splett. 
"I'm an everlasting fan of yours. I'll want to see you in everything you do, so please hurry up," Hanks wrote. 
"It's amazing! It's amazing! It's the nicest thing," Richardson said of the letter, which he had framed.
Richardson said Splett is modeled a bit after Ricky Gervais' character David Brent in the British version of "The Office" -- the difference being that while Brent wants to be "liked and respected," Splett wants to be "liked, and also he wants to show everybody that he likes them." That small piece of empathy differentiates Richard from the rest of the me-first world of "Veep," offering an occasional respite from the selfishness of the people surrounding him.
A lot of Richardson's lines in the show are improvised, since he is typically asked to end scenes with one final joke after the final joke, also known as a tag. That improvisation is natural to Richardson -- he comes from the "Second City" school of comedy -- but it's also at the root of what makes the show feel so natural. He gives a lot of the credit for that to the cast's fearless leader, Julia Louis-Dreyfus.
"Julia uses the term tszuj it up  -- kind of make it a little sloppy to make it natural, you know?" he said. "You don't say the exact line, you just say what that omen is, kind of, like, feel it."
Richardson was quick to pay his respects to Louis-Dreyfus loudly and often during our interview. At different points, he called her "straight-up hilarious," "the realest and down-to-earthest and the nicest person," "the funniest person" and "a master." (Unclear if he did this to make sure he remains on the show.) Louis-Dreyfus, he added, is meticulous, coordinated and purposeful in her movement, but rarely frustrated -- something Richardson has tried to embrace.
"Honestly, it is like a master class watching her and performing with her in scenes," he said. "And I'll say, the camera can capture so much, but watching some of this stuff in person, it's like holy shit, she's amazing."
Richardson, it must be said, seems very happy. He laughed a lot during our chat, even at my bad jokes. He seems genuinely in awe of the luck he has recently had, even though he has really earned it, working hard to make comedy his full-time job since he was a young teenager. But here he is, currently working with his best friend Tim Robinson on their very own Comedy Central show, "Detroiters," which is set to air in January. He has upcoming roles in multiple movies, including "Neighbors 2" and "Ghostbusters," to boot. But for now, it seems like Richardson still can't get enough of his time on the set of "Veep."
"Theres always going to be an element of like theater when you're there watching it live, which is the greatest thing to do as a cast member on the show because you get to watch the live theater of the brilliant performers in the middle of these scenes."
"And then, as Richard," he added, "I get to cheat a little bit and be, like, smiling at it."
"Veep" airs Sundays at 10:30 p.m. EST on HBO. 
Calling all HuffPost superfans!
Sign up for membership to become a founding member and help shape HuffPost's next chapter
BEFORE YOU GO
PHOTO GALLERY
14 TV Shows Netflix Should Remake