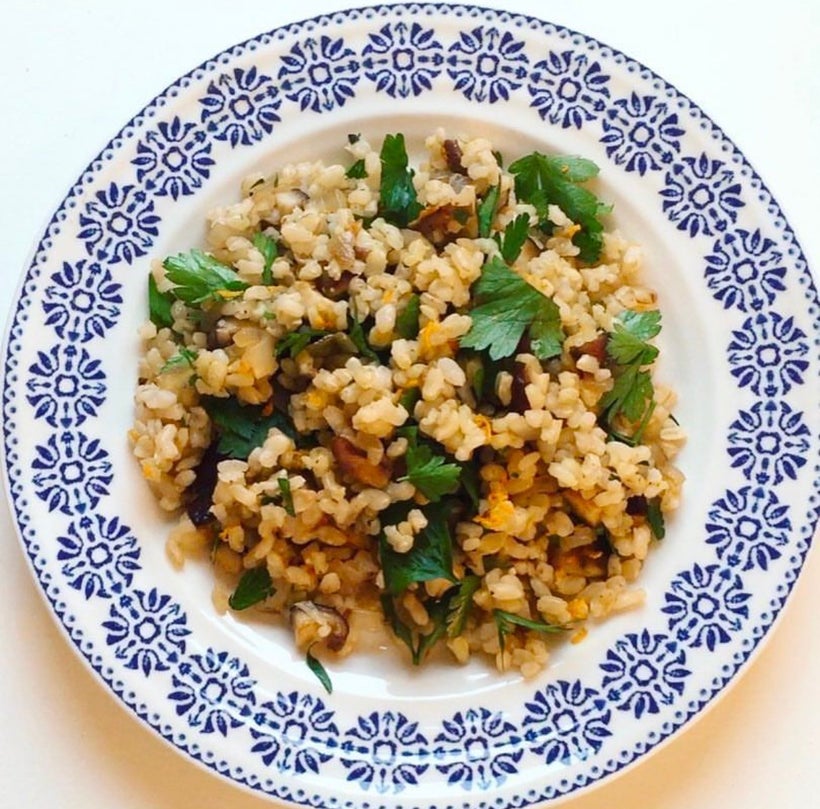 Do you think kitchen essentials are usually universal? They're not, especially if you are vegan (or vegetarian). A lot of members of this community can be quite particular when eating with their carnivorous loved ones. The menu is different, and they don't like to use the same pots, containers or even utensils (some feel it contaminates their food). Do I consider myself to be a vegan, or even a vegetarian? Sometimes, but that's another article. I will say this; Because of dietary restrictions and concerns, I keep separate pots for different things, and understand the need to bring my own cooking gear (and sometimes food) to the situation. There are times of the year when it is difficult to eat with friends and family. Those times include summer (think grilling and picnics), and the holidays. During the holidays, when most family members are dining on ham, turkey and everything in between, what's a non-meat eater to do? Cranberry sauce and salad does not a holiday meal make. Here are kitchen essentials for you to create flawless and yummy holiday dishes and a few recipes to share.
Portable Cooking Essentials:
A Grill: Yes! That's correct, a grill. Vegan grilling is one of my favorite things to do. It's also a great addition to a pop-up party in the summer (or any season). During the non-summer months, I invite my peeps over for an indoor vegan chill and grill. I plan a soiree based on a specific place (think Tahiti Nights, Boogie Down Bangkok,), where we grill the night away. I have gone through several George Foreman grills over the years, until I decided to step up my game. I recently got an electric grill by Coyote Outdoor Living. Yes, it was more expensive and yes, it was totally worth it. I feel like the queen of the grill when I bring along (or bring out) my electric portable grill. This grill is stainless steel with a teflon-coated cooking area. It heats up to 550 degrees and works great on a counter top or with their built in pedestal.
A Blender: Not any blender, a Vitamix! There are other brands that are less expensive, but are they the same? Heck no! There is a reason why most cooking shows we marvel at use Vitamix; It is because it's simply amazing. If you are like me and like to bring your kitchen essentials with you, the traditional Vitamix can be a bit cumbersome (I live in NYC and rely on public transportation). Now, Vitamix offers a series of personal blenders that fit very comfortably in an overnight bag. It still packs the high power performance that Vitamix is known for, in a personal size machine great for travel. The main blending container is 40 ounces, and the travel cup container is 20 ounces.
A Pot: Not just any pot but a very, very, special pot This is a slower cooking, searing, steaming, cup cake baking kick ass all-in-one pot! It's the Ninja Multi Cooker. It offers the convenience of a stove top to saute veggies and cook grains. It also slow cooking savory soups. It is great when space is an issue, but you still like to cook and eat healthy food. Perfect for bringing yummy vegetable soups to the relatives house for holiday meals, or cooking in a college dorm.
A Spiralizer: If you are a vegan or vegetarian and miss the days of spaghetti and meatballs, this will help. This portable hand-held machine allows you to create pasta and noodle dishes using just vegetables. The Original Spiralife Vegetable Spiralizer is a great way to mix a lot of yummy veggies together in a noodle form. Add a tomato or pesto sauce and you've created a masterpiece. Your kids will have no idea their pasta is actually vegetables.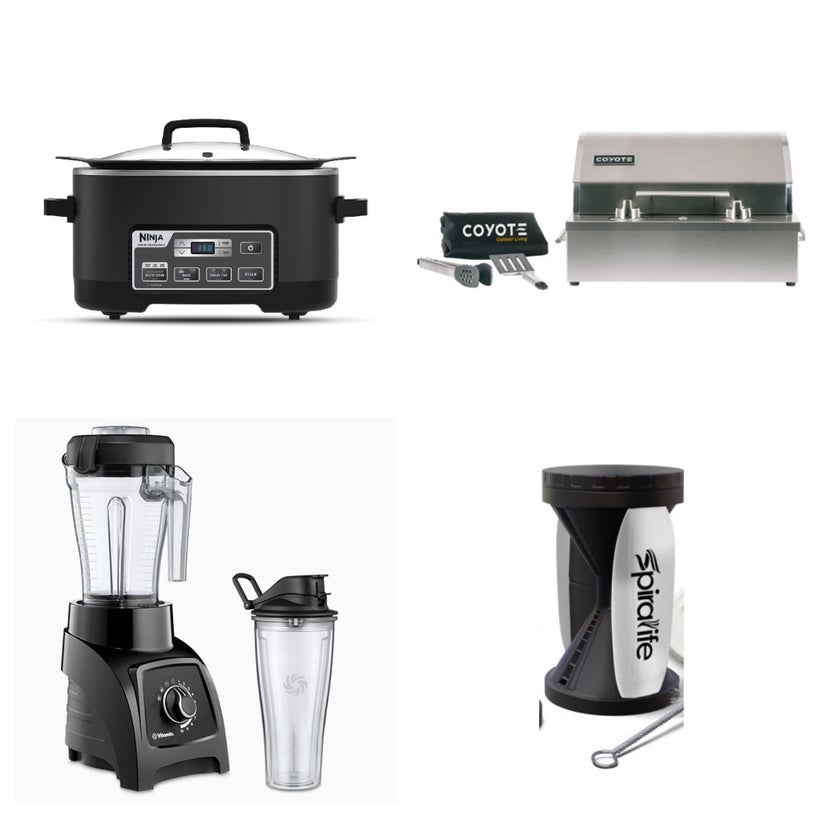 There are some great recipes, on and offline for vegan and vegetarian cooking. I love the book Eat Pretty by Jolene Hart. The recipes are amazing and the mind, body, beauty connection is an added treat. Everyone has to eat. Why not eat well and look good.
Zucchini Zoodles: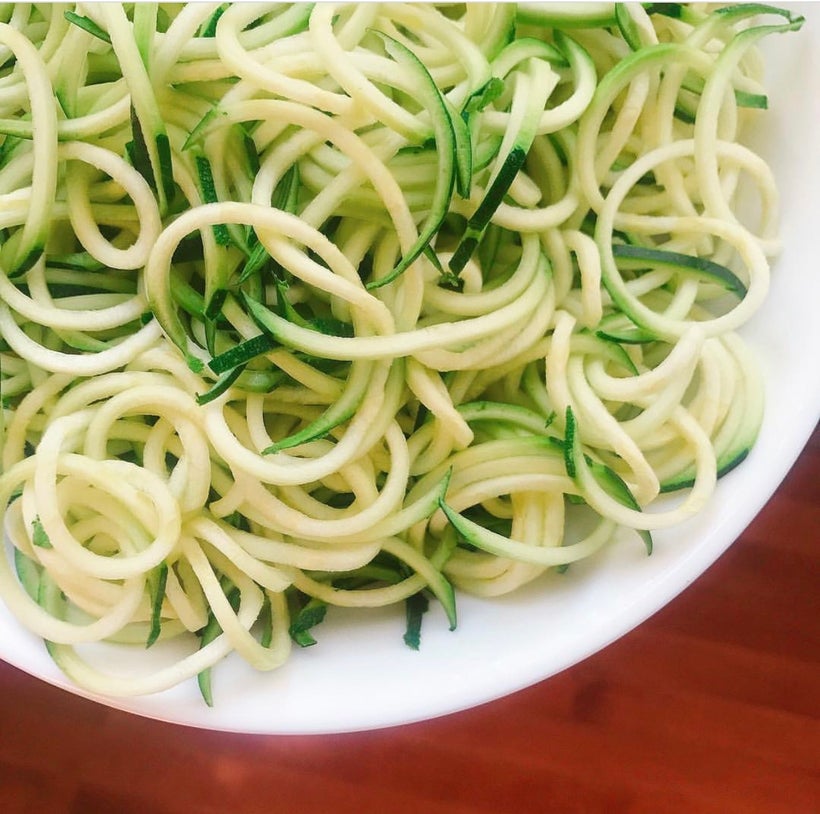 Grab your spiralizer for this simple but delicious dish. Try it with your favorite pesto, sauce or veggies. Jolene Hart shares some facts on zucchini and beauty:
Zucchini is a great source of magnesium, a mineral that calms nervous function and helps us relax, and one that so many of us are deficient in. Eat your noodles and get good Z's.
Baba Ganoush: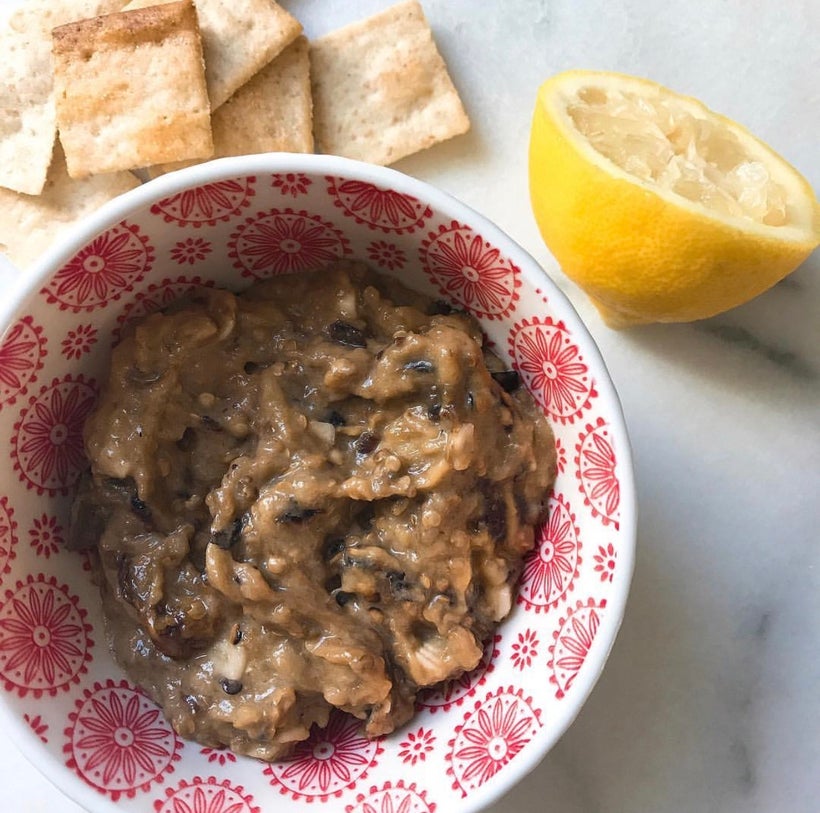 Jolene says ( and I agree) "this dish look 'LOOKS MEH, TASTES DIVINE" Traditionally the egg plant is roasted but, an electric grill works also. Grill a halved eggplant under the until soft, mashed it up with tahini, lemon, fresh garlic and Himalayan salt.
Here are some facts about eggplant and beauty from Jolene.
The skin of eggplant is packed with anthocyanin pigments that support healthy collagen and skin elasticity. And eggplant offers a natural compound called chlorogenic acid that fights aging free radical damage. It's also a natural diuretic, flat belly food.
With fall here, and the holidays approaching now is a great time to pre-plan your vegan and vegetarian dishes. All you need to be successful are the right cooking essentials, fresh organic fruits and vegetables and a hearty appetite. Enjoy!
Blogger Disclaimer: I am not affiliated with nor have I received any monetary compensation or products for any of the companies mentioned. They were mentioned to create an experience based on the topic. All opinions are my own.
Calling all HuffPost superfans!
Sign up for membership to become a founding member and help shape HuffPost's next chapter
This post was published on the now-closed HuffPost Contributor platform. Contributors control their own work and posted freely to our site. If you need to flag this entry as abusive,
send us an email
.