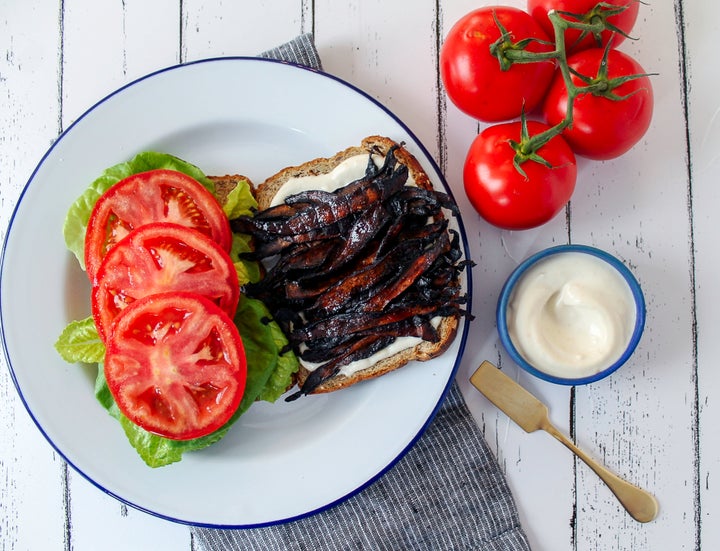 A vegan BLT can be a hard sell for meat lovers, because how can you mess with bacon? Believe me, as a bacon enthusiast I understand, but hear me out before you write this off as another fad recipe.
As the future of food moves toward more plant-based diets (even José Andrés agrees), we have to start looking at what's on our plates and make better food choices to help our planet. And if it helps our waistlines along the way, then it's a win-win.
For HuffPost's sandwich month, I knew I wanted to create a plant-based recipe that vegans and non-vegans alike could enjoy and feel good about eating.
There's a lot of bad vegan food out there with highly processed ingredients you can't pronounce. Things like vegan "cheese" or vegan "meat" might look healthy, but they're actually giving veganism a bad name. This BLT uses wholesome, real ingredients that would make any nutritionist proud.
The main star of this sandwich is the mushroom bacon. It's smoky, salty and a tad sweet. I thinly slice Portobello mushrooms and marinate them in a mixture of soy sauce, liquid smoke, smoked paprika and maple syrup to replicate a bacon flavor. I then use my oven as a dehydrator to dry out the mushrooms, making them crispy like bacon while still maintaining a little bite.
Equally as important is the mayo. I used an unlikely suspect to replace the egg yolks in a traditional mayo ― aquafaba. Aquafaba is the liquid you normally drain from a can of chickpeas. When mixed with oil, Dijon and lemon juice, it transforms into a velvety vegan mayo. It's delicious and animal-friendly. When shopping, look for chickpeas in a BPA-free can if possible.
The rest of the components are pretty standard: good crunchy lettuce, ripe juicy tomatoes and vegan bread. Most store-bought bread is vegan, but just check the label to make sure it doesn't contain any honey.
So the next time you're craving a BLT, save a pig and choose a 'shroom. Get the recipe below.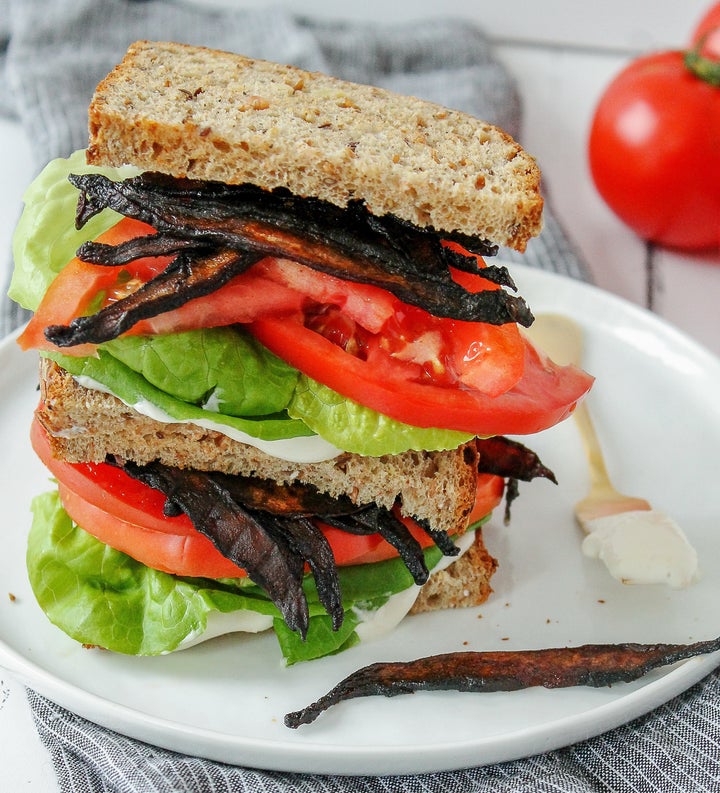 Vegan BLT
2 large Portobello mushrooms, thinly sliced

2 tablespoons soy sauce

2 tablespoons neutral oil (I used avocado oil)

2 tablespoons vegan Worcestershire sauce

1 tablespoon maple syrup

1 tablespoon liquid smoke

2 teaspoons smoked paprika

1 teaspoon garlic powder
1/4 cup aquafaba (the liquid from can of cooked chickpeas)

1 teaspoon creamy Dijon mustard

1 tablespoon lemon juice

1/2 teaspoon kosher salt

3/4 cup natural oil (I used avocado oil)
4 slices vegan bread, toasted

2 tomatoes, sliced and seasoned with salt

Bibb or romaine lettuce leaves
Make the mushroom bacon: In a small bowl, mix together soy sauce, oil, Worcestershire sauce, maple syrup, liquid smoke, smoked paprika and garlic powder. Pour over sliced mushrooms and marinate for at least 2 hours or overnight.
Preheat oven to 200 degrees Fahrenheit. Place mushroom slices on parchment-lined baking sheet in single layer. Cook for 80 minutes, flipping halfway through. They will crisp more after they've finished cooking.
Make the mayo: Add aquafaba, Dijon, lemon juice and salt to a tall jar or cup. Using an immersion blender, blend on high for 30 seconds until combined. With the machine still running, slowly drizzle in the oil until it reaches a thick, mayo-like consistency. Add more oil, 1 tablespoon at a time, if needed to make thicker. Refrigerate for at least 20 minutes before use. It will last up to 1 week in the fridge. If you don't have an immersion blender, you can also make it in a small blender, such as the Magic Bullet.
Assemble the sandwiches: Generously spread vegan mayo over all 4 slices of toasted bread. Add lettuce, tomato and mushroom bacon. Top with remaining slices of bread and cut in half to serve.