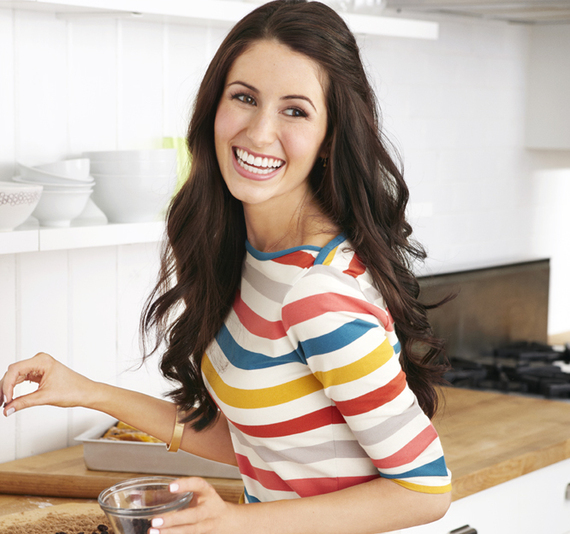 Chloe Coscarelli makes going vegan just peachy: a best-selling cookbook author and an award-winning chef (it all began with those luscious vegan cupcakes on Cupcake Wars), she shares her summertime inspiration with fresh peach cocktails, vegan appetizers, and brings her wholesome, plant-based food to the table at her new restaurant by CHLOE in NYC.

Stephanie Kordan: Since your Cupcake Wars success with vegan cupcakes, you've brought vegan cooking to the mainstream audience. Did that inspire you to take it further with your new restaurant concept, by CHLOE?
Chloe Coscarelli: It's exciting to see vegan food gain such an incredible following. People are seeing that it can be fun, colorful and most importantly, tasty. After winning Cupcake Wars, I published three successful cookbooks, and felt it was time to throw on my chef hat again. So I put together ideas for a vegan restaurant menu. I'm thrilled that by CHLOE has been so well received.
SK: The restaurant opening last July (in New York City's West Village) had a line down the block for your fresh, fast vegan food (some say it's the vegan answer to Shake Shack). Did you ever imagine yourself having such an impact on the vegetarian culinary scene?
CC: It's hard to imagine exactly where your career path will take you but I certainly always dreamed of making a difference in the world through food. The vegan culinary space is a growing and changing industry, so it's fun to be part of the innovation.
SK: Before this flurry of success, did you ever have moments where you wondered if things would work out?
CC: I still do! You always have to stay on your toes and constantly reflect and improve along the way. It's an ongoing process that teaches me something new everyday.
SK: Has vegetarian cooking always interested you? What was your "aha" moment?
CC: Yes! I've always been intrigued by delicious alternatives to meat and dairy. It's a fun and exciting cuisine that makes great use of color and fresh ingredients. The "aha" moment had to be when I realized that you can use avocado on anything as nature's butter.
SK: What inspired you to create recipe pairings with peach cocktails for the recent Belvedere event in Los Angeles?
CC: There are so many fun events you can either host or attend during the warmer months. Whether it's a backyard barbecue, a ladies brunch or a cocktail party by the pool, I made sure the dishes [at the Belvedere Peach Nectar event] worked for any occasion. We did an easy appetizer of bruschetta, a main entrée of grilled pizza, a decadent brunch option of French toast and a light, but still luscious Olive Oil Cake for dessert. It's a well-rounded menu that complements the brightness of the peach cocktails.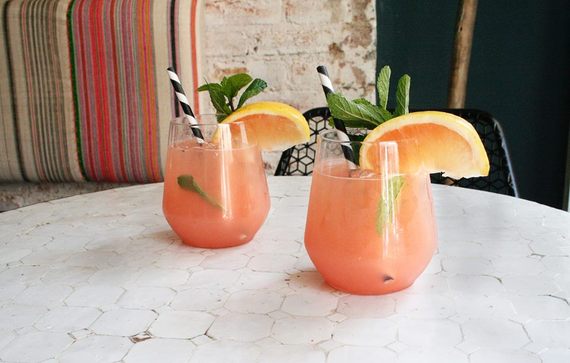 Enjoy Chloe's cocktail for Belvedere vodka at home:
1.5 oz Belvedere Peach Nectar
.5 oz Lillet Blanc
.5 oz Fresh Grapefruit Juice
.5 oz Fresh Lemon Juice
1 bar spoon Apricot Preserves
Shake all ingredients with ice and strain into a chilled coupe glass. Garnish with a grapefruit twist. Pair with something juicy, such as tomato and peach bruschetta.