Vegans might think they're safe at bars as long as they don't order anything containing cream, honey or egg whites. (That means no Grasshoppers, no Black Russians, no Drambuie, Brandy Alexanders, no Pisco Sours and no eggnog.) Actually, it's not that easy.
Some of the most famous and popular cocktail ingredients either include hidden animal products or were processed with animal products, which renders them vegan-unfriendly.
Vegans are, after all, special-needs drinkers.
A key ingredient in Bloody Marys is Worcestershire sauce, and a key ingredient in Worcestershire sauce is anchovies. The sauce sneaks into other cocktails, too -- such as Prairie Oysters, which contain no b but do include what amounts to fish sauce.
Most conventional white sugar is refined using "bone char" -- that is, charred animal bone. This puts a lot of liqueurs, rums, simple syrups, gommes and other sugar-based options out of vegan bounds.
Honey is the main ingredient in several beverages, including Yukon Jack and Irish Mist. Other beverages, such as Benedictine, include small quantities of honey -- but for vegans, even a little is too much. Honey itself is an ingredient in such cocktails as the Zoom and the Brooklynite. Lots of liqueurs -- such as Cointreau, Chartreuse, and Grand Marnier -- are made from secret recipes that probably include conventional (thus bone-refined) sugar -- and who knows what else?
Wine is traditionally processed with egg whites. Japanese sake is traditionally filtered with gelatin. Beer and ale are traditionally clarified -- "fined," in industry parlance -- with isinglass, a gluey substance made from fish bladders. Red beverages -- including Campari and Tropicana Ruby Red Grapefruit Juice -- are often colored with cochineal, aka carmine, a dye derived from insects.
How could beer not be vegan? Here's how: Beverages made through the fermentation of plant products must be filtered to remove tiny bits of plant matter. This filtering, aka fining, is typically performed with fish-bladder isinglass or egg whites, although some companies now choose vegan alternatives such as bentonite clay, silica gel, diatomaceous earth and Irish moss, a seaweed product also known as carrageenan.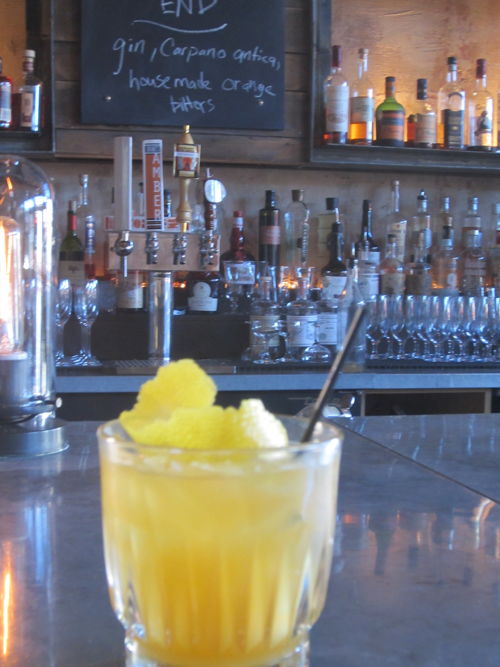 When customers started demanding vegan drinks at Revival Bar + Kitchen (depicted above) in Berkeley, California, bar manager Nat Harry knew she was in for some serious research. Her first stop was Barnivore.com.
"The more you look into this, the more you think: Uh oh," Harry said.
To be on the safe side, and in keeping with its own craft-bar principles, Revival makes its own carmine-free grenadine and simple syrups using char-free Florida Crystals organic sugar. Harry stocks many vegan-safe spirits including Willett Kentucky bourbon and Absolut vodkas.
When Joel Baker first became bar manager at San Francisco's century-old Crescent Hotel, whose brick-walled, velvet-couched Burritt Room (depicted below) is one of the city's most romantic film noiresque hideaways, he learned the hard way that vegan cocktails aren't as easy as they seem when a customer sadly handed back to him a glorious herb-inspired concoction he had devised that contained honey.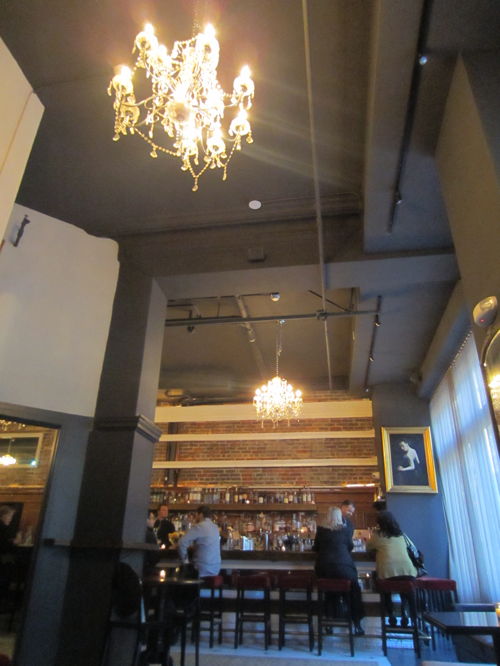 "I can't drink this," she said. So he whipped up something else. The Burritt Room, too, stocks a wide retinue of vegan-safe spirits such as Dolin vermouth and Square One organic vodkas.
It's a learning process -- which more and more bar managers are now undertaking.
Finding safe components "is a brand-by-brand specific process," said Alicia C. Simpson, author of Quick and Easy Vegan Celebrations.
"Many people assume that vegans don't drink. They don't understand veganism as an ethical choice but think it is more of a health-conscious way to eat -- so oftentimes people are surprised that vegans drink at all," Simpson says.
"Most vegans already have their preference for a particular brand or type of alcohol just as omnivores do and will politely decline if they are presented with a cocktail that contains an ingredient they don't drink. If you're looking to find a substitute for milk in a cocktail recipe -- a White Russian, for example -- any non-dairy milk works well. Try soy, almond, or rice milk."
Images courtesy of Anneli Rufus and Kristan Lawson.
Calling all HuffPost superfans!
Sign up for membership to become a founding member and help shape HuffPost's next chapter