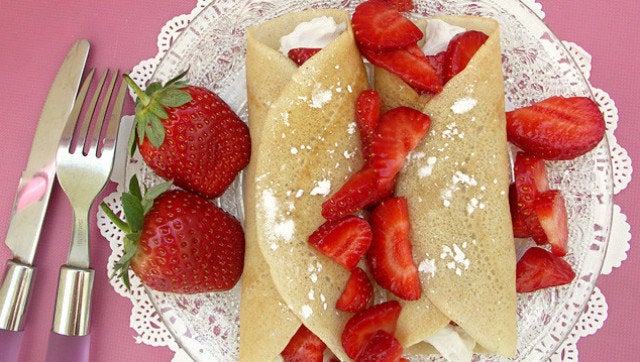 recipe and photos by Sarah Hornik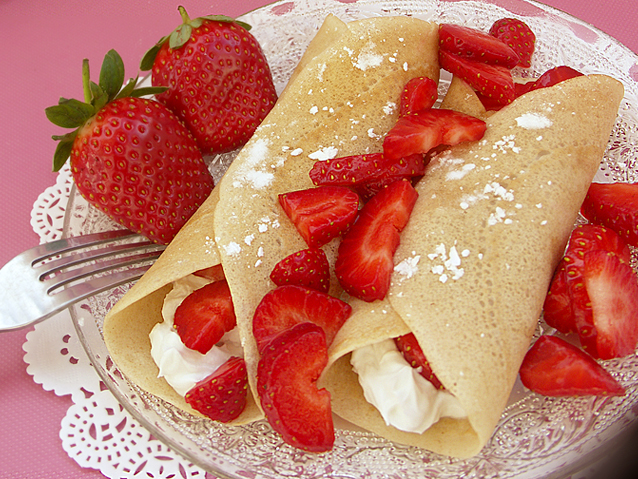 A long time ago, in a faraway land, I met a guy who was going to be the love of my life, I was sure of it. Unfortunately, he wasn't. It happened in Brisbane, Australia, the summer of 2008 (it was the dead of winter Down Under). When I got back, it turned out the intellectual divide was wider than the geographic one. It was kind of sad at the time - like waking up from the sweetest dream that is shattered to pieces. Today, as I try to explain what happened to myself or to others, I blame romance. It's the cozy and mind-numbing romance... like sitting on the porch in the light of a full moon, having a picnic with a cockatoo in the Royal Botanic Gardens in Sydney, or taking a stroll down the beach by the Pacific on a Saturday morning, with an obligatory stop at the crepe stand. Strawberries, whipped cream... maybe you really don't need anything else to fall in love, at least for a while.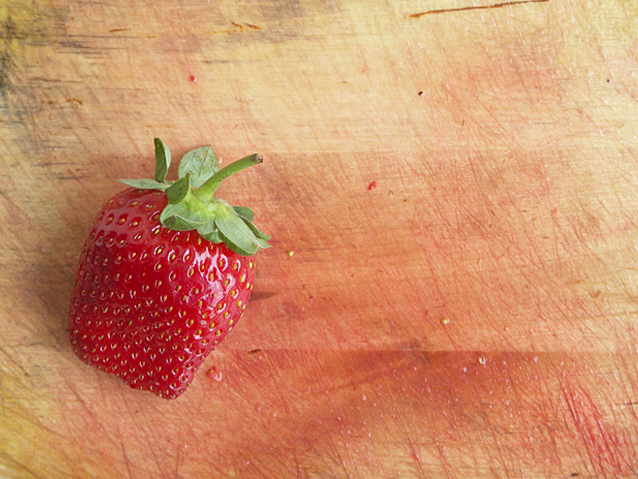 OK, you can laugh. If you knew me you might ask what happened to cynical Sarah. She's still here, and she knows you are every bit as thrilled as she is to discover that strawberries and cream crepes can also be totally vegan, and unimaginably delicious. So take a moment. Conjure up those ultra-thin and golden crepes... with cool whipped cream and the gentlest hint of coconut... sweet and juicy strawberries... You've got to admit it makes you feel romantic. Are you up for a recipe?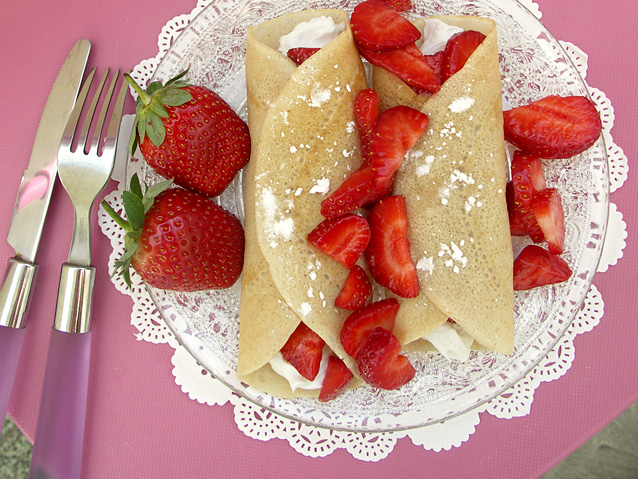 Ingredients (8-10 crepes):
1 cup flour (I used half all-purpose and half spelt)
1 cup coconut liquid (I'll get back to this in a minute)
2 tablespoons oil
2 tablespoons sugar
1/4 teaspoon salt
1 teaspoon baking powder
1/2 cup cold water
1 teaspoon vanilla extract
Oil for frying
Filling ingredients:
Coconut cream - the creamy part from one container (I'll get back to this as well, in a minute)
2 tablespoons powdered sugar
1 small basket of strawberries (about 1/2 pound), cleaned and sliced
Garnishing (optional): powdered sugar, more strawberries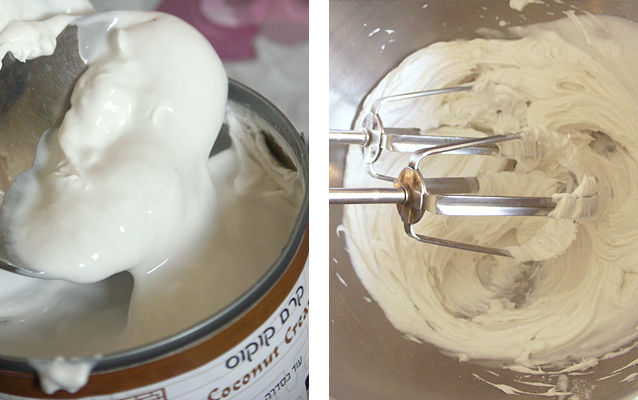 So, about this cream thing...
I for one am not a big fan of non-dairy cream - I don't like the taste and I don't like the concept (the ingredient list has more words starting with an E, than an English dictionary), so I've always looked for a vegan alternative. I've heard rumors that you can whip up the creamy part of coconut cream, but I have to admit I had my doubts. I'm so happy I decided to give it a try, because the cream comes out perfect... thick, creamy, and with a tinge of coconut flavor.
So how do you do it? First, you put the container of coconut cream (not the low-fat - I used the 21% fat) in the fridge overnight. When you take it out, open it very carefully, without turning or shaking it. What happens is the cream part separates from the liquid and floats to the top. You spoon it out and put it in a bowl, add 2 tablespoons of powdered sugar and whip it like any other cream.
Hey, don't eat the whole thing. You need it for the crepes! We'll use the coconut liquid left in the container in making the batter.

Instructions:

Mix all the batter ingredients really well - preferably in a blender or with a hand mixer - and refrigerate for thirty minutes.
Heat a bit of oil in a frying pan. When it's hot, pour the batter with a ladle (about 1/2 a ladle per crepe) and shake the pan immediately to spread the batter. When the top side is totally dry and produces little bubbles (in 1-2 minutes), carefully flip the crepe. The other side needs much less time, around 10-20 seconds at the most. The first crepe might break, or may not look very appealing, but don't worry - the others will look much better. Follow the same instructions until you finish the batter.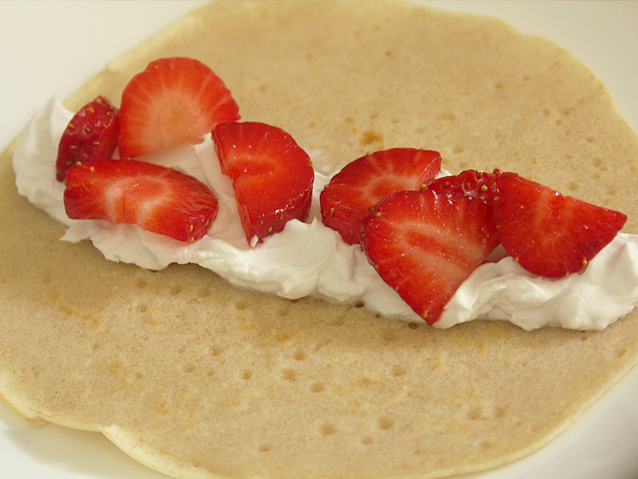 Plating:
Put the crepe on a plate, add a spoon of whipped cream in the middle and some strawberries on top, and then fold the sides in. Garnish with powdered sugar and/or slices of strawberries.
Serve immediately.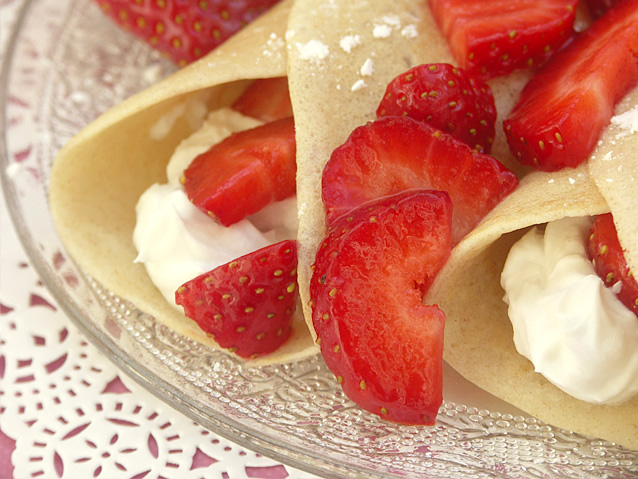 Translation from Hebrew: Inga Michaeli