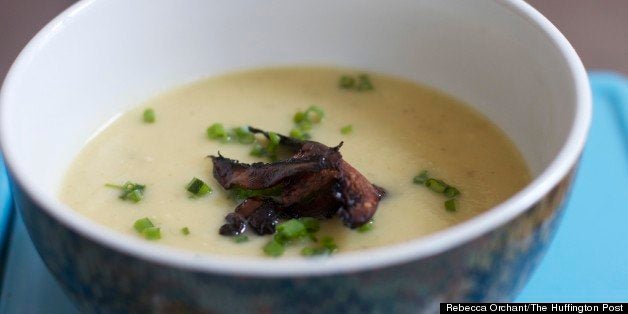 At this point in our lives, we're pretty sure we all have at least one vegan. Maybe a best friend. Maybe an in-law. We love these people, we know they are just like us, but -- and we're being brutally honest here -- thinking about cooking a whole meal for them can strike fear in the hearts of us cheese/butter/bacon eaters. It's okay. They know. But at some point, you're going to have to cook them a meal, so it might as well be delicious for everyone.
One of our favorite vegans, personal chef Emma Gonzalez, sat down with us to talk vegan food, and what to worry/not worry about when you cook vegan food. As an added bonus, she also fed us. I was first introduced to Emma's cooking when she started doing a weekly vegan bar food pop-up in my neighborhood. Vegan bar food? The thought intrigued me. Week after week, Emma proved to a confirmed old cheese proselytizer like me that vegan food can not only be satisfying and delicious, but also totally decadent. Although Emma's pop-ups are no longer happening, she's begun to concentrate more fully on her at-home personal chef business. Yes, that means she will come to your house and cook you delicious things.
The vegan dinner party menu that Emma put together for us covers all your bases. It tastes great, looks beautiful, fills you up and even includes some indulgences like fried food and dessert. Check out Emma's tips, tricks and recipes below, and know in your heart that you know what to eat when a vegan comes over.
HP: What do you wish people who invited you over to dinner knew?
EG: Food is such a personal thing; don't assume that because I'm vegan, I'm judging you! I eat more than salad. Also, a lot of the things you eat as a non-vegan, are actually vegan! Making plant-based food doesn't have to be complicated or flavorless. Also, if you've made an effort to cook animal-free food, I'll be so delighted, I'll love whatever it is (as long as it's not naked lettuce and three cherry tomatoes. Nobody likes that.)
HP: What's the one ingredient you can't live without?
EG: Equipment-wise, a food processor is my magical key to deliciousness. You can completely transform ingredients by pureeing them. Also, check out nutritional yeast. In addition to providing B vitamins, it lends a savory richness. Thicken sauces, sprinkle on popcorn, or mix it with ground walnuts, salt, and onion powder for an AWESOME topping to use like parmesan.
HP: When you build a vegan menu, what are some things you take into consideration?
EG: Balance is the goal. So, a mix of textures, flavors, temperatures and nutrients is important. A sprinkle of nuts or fresh herbs can turn a good dish into a great one. If something is too spicy, temper it with a little sweetness. Not that every meal needs to be super-healthy, but I do try to keep health in mind. Will people feel good when they've left the table? Will they have eaten protein, iron, vitamin C, etc.? Will they feel heavy and lethargic, or satiated and energetic? Maybe that sounds annoying, but I want guests to be up to a game of charades after dinner, so I need them in top form. [*Ed Note: Emma is definitely really great at charades, she means this.]
HP: What's the worst vegan option you've ever been served?
EG: Once, I tried to eat at Cracker Barrel on a road trip (It was the South. I love gift shops). After I explained my dietary situation, the very frustrated server told me that they had brown rice, but when he brought it to the table, it was actually white rice, cooked in beef broth. I should have brought trail mix with me on that trip. I felt like a weenie.
HP: What do you think surprises people most about your food?
EG: I don't use mock-meats, which some think of as necessary to meat-free cooking. I think people are often surprised that my food is hearty and satisfying. They forget it's vegan! Also, preparing vegan meals doesn't have to be totally restrictive. Instead of dwelling on what not to eat, celebrate all the wonderful, colorful, healthy things you have to work with!
We can't make perfect choices all the time, but everyone has an issue that they stand up for -- a choice they make, to feel like less of a jerk about being alive. I choose not to support the inhumane and environmentally destructive practices of factory farms (which, to be fair, you can totally do while still eating the right animal products). I'm vegan, and it makes me happy. While I don't believe that everyone needs to eliminate animal products altogether, I do think we can all stand to eat more vegetables! What to eat is a big, ever-changing topic. Open the discussion with a plate of something delicious!
We couldn't agree more. Check out Emma's delicious dinner party menu below!
This story appears in Issue 66 of our weekly iPad magazine, Huffington, in the iTunes App store, available Friday, Sept. 13.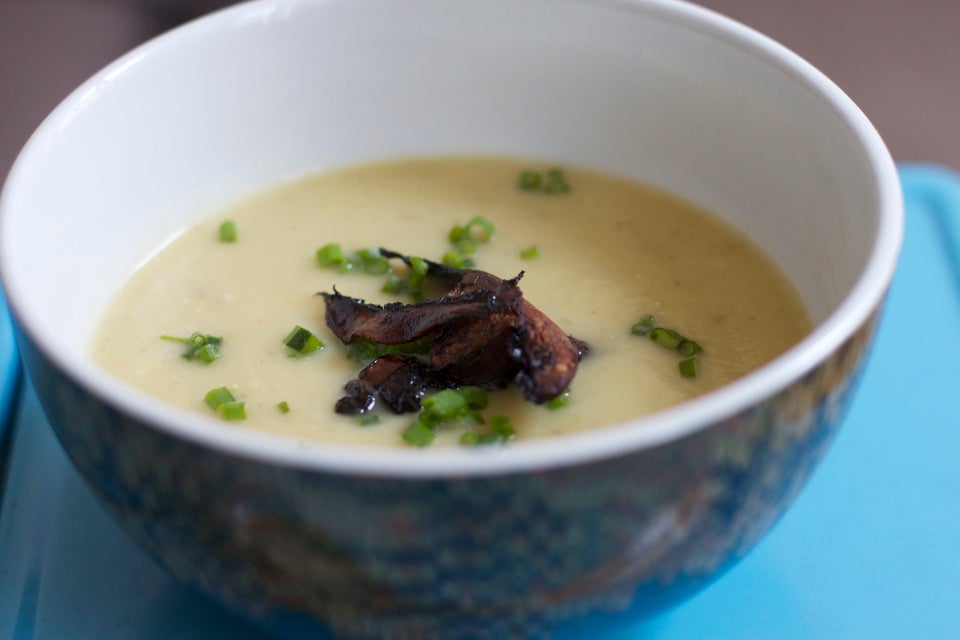 Vegan Dinner Party Menu