After I decided to go vegan several years ago, I found that many people in my life were perplexed as to what I would eat. Friends never knew what to make when they invited me to their house and often simply wondered exactly what I subsisted on every day. No matter how much I tried to explain that it wasn't that complicated, I still felt a certain wonder coming from them whenever I'd say that I just had a delicious meal.
The thing is, I often noted, vegans eat everything non-vegans eat -- but subtract the meat, dairy and other animal products. My friends were still confused. I'd get questions like, "But can you eat popcorn?" Of course I can eat popcorn, I'd say, it's not an animal product! Nonetheless, my communication obviously wasn't working.
Enter the age of the Internet. Social media makes it easier to share things than ever before, and in this vein, I decided to take my problem to Facebook. Instead of having to explain what I ate, I decided to just create photo albums documenting my meals and snacks and let people see for themselves. This wasn't novel -- several of my vegan friends had done this, so I thought I'd hop on the micro food-blogging bandwagon.
For me, it worked out tremendously. Not only did friends who had shown no interest before in my diet suddenly get curious about the vegan lifestyle, but I also had people commenting on photos and albums and saying really nice things about how delicious the food looked! I started having a great time on Facebook and had friends tell me they had begun to look forward to my "This Is What Vegans Eat" updates. Most of my photos were taken completely informally, just iPhone shots, but it turned into something great.
Now that I work at The Huffington Post, I wanted to share some of my favorites. I've blogged before about finding a vegan mate and dispelling common misconceptions about vegans, so why not food? I think many people forget that vegans are just like non-vegans -- we like to eat a variety of foods and love traditional favorites and comfort foods just like anyone else. Very few of us were raised vegan, so at some point, we did make a lifestyle switch. When you first go vegan, it's common to have cravings left over from the pre-vegan days, and it's fun to try to "veganize" old favorites.
So check out my slideshow for some traditional meals and treats gone vegan.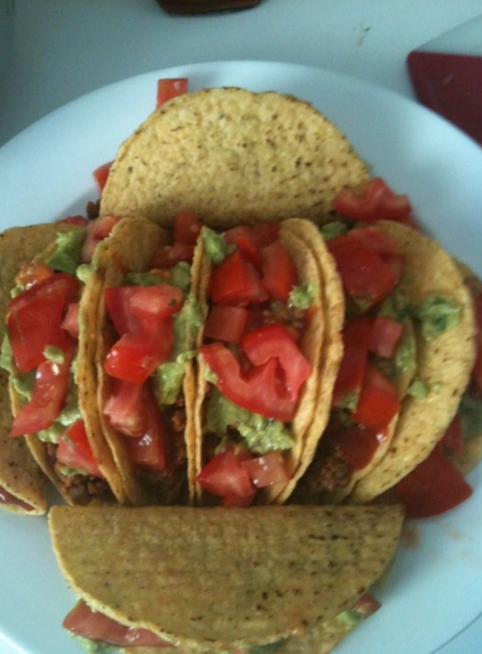 This Is What Vegans Eat
For more by Anjali Sareen, click here.
For more on veganism, click here.
Related