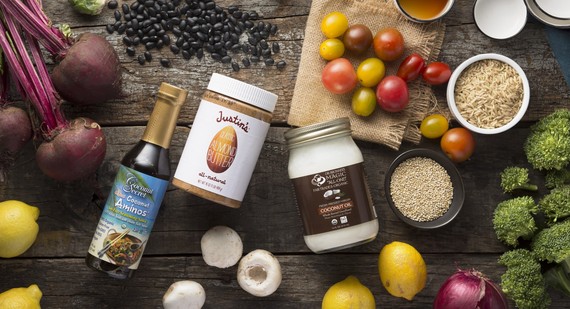 Photo credit: Paul Delmont, Thrive Market
By Michelle Pellizzon for Thrive Market
So you're considering going vegan. You're totally ready to say "buh-bye" to your weekly pint of cookie dough ice cream, but is your pantry prepped for your new way of eating?
Chances are, if you're thinking of making the move to veganism, you've done your research on the health benefits you can reap from following a plant-based diet: You'll be eating foods that are less processed, you'll have lowered chemical exposure, and you'll probably eat more nutrient dense foods.
But if you're going for a full-fledged vegan diet, you'll need a few things on hand to help ease your transition -- especially if you were a meat-lover before. Don't let your lack of vegan prep sabotage your chances at eating cruelty-free. We've gathered up the pantry staples you need to make your move to a meat- and dairy-free world a total snap.
Nut Butter
Nut butters make the perfect filling snack for vegans. Full of healthy fats and protein, almond butter on celery or pecan butter on an apple makes a deliciously rich treat that can fuel your body for hours. Look beyond good ol' peanut butter and try other types of nut butters like almond, pecan, and cashew butter.
Beans
Beans are a life-saver for vegans. Packed with protein and fiber, they're the perfect choice to replace meat in meals. To best absorb nutrients from beans, rinse them in water first. You can also try sprouting them in water the night before you plan to cook.
Rice
Rice is an inexpensive and tasty way to turn a pan of cooked veggies into a full-blown meal, and it's naturally gluten-free. Brown rice is excellent for its fiber content, but really any type of rice is 100-percent approved for a vegan diet.
Quinoa, Amaranth, and Millet
Step out of your comfort zone and try a grain that's new to you! Quinoa is loaded with quercetin, a flavonoid that has been proven to have anti-inflammatory, anti-depressant, and cancer-fighting effects. Amaranth and millet are similar in nutrient profile to leafy greens like kale and swiss chard, so these grains make an excellent meal on their own or mixed into a stir fry.
Maple Syrup or Agave
Honey is off limits on the vegan diet because it's technically an animal byproduct (yep, honeybees are animals too!), so try something plant-based to sweeten your meals. Maple syrup is a good option if you want a stronger sweet flavor, and agave can be a little less aggressive and more subtle in it's sweetness. Drizzle over rice crackers with almond butter for a quick dessert.
Aminos
Aminos are a cooking must for any rookie vegan--they instantly add that delicious umami flavor of soy or tamari sauce to any dish. If you're staying away from soy, try coconut aminos. They taste slightly sweeter, but they're a great substitution for high sodium soy sauce! Bonus points: As a vegan, cooking with aminos can help your body create protein a little faster.
Xanthan Gum and Potato Starch
Use these ingredients to thicken up soups, salad dressings, and smoothies without adding any animal byproducts. Without eggs or dairy, some recipes won't come together or ever reach the consistency you want. Adding a scoop of either of these natural thickeners to vegetables will create a hearty soup ASAP.
Coconut Oil
Coconut oil is the MVP of a vegan diet. Because of its high smoke point, coconut oil is actually safer than most other cooking oils. It also works wonders as a spread over vegan baked goods (seriously, you won't believe its not butter...)
B Vitamins
A vegan diet can be super healthy, but just like any eating plan, you can develop deficiencies if you're not eating a well-rounded diet. Keep B vitamins on hand for days when you don't eat as well as you should have. Some B vitamins can only be found in animal byproducts, so you'll need to supplement for optimal health.
Remember that vegan doesn't necessarily mean boring. Your diet is going to be chock-full of fresh fruits and veggies, and having these simple ingredients on hand in your home will help you transform a plain old salad into a gourmet dinner.
You Might Also Like:
Support HuffPost
A No-B.S. Guide To Life
Related
Popular in the Community