I always look forward to the Fourth of July because relatives come to visit us for three days and we just hang out, swim, look at the ocean and watch the fireworks from my back yard!
My brother-in-law surprised me last year with a great story that has come to be known as 'The Oatmeal Story.' He said that after eating oatmeal for breakfast at my house the summer before, he went home and started eating oatmeal for breakfast every day (This was big because he'd always skipped breakfast entirely before this). One year later, he had lost 15 pounds! And this was the only thing he had done different!
Well, a few days ago, while making plans on the phone for this year's trip to Maine, he told me another great development: He has expanded his repertoire to include a fruit and vegetable smoothie, which includes one of my favorite go-to veggies, kale. He also said he's been frequently cooking brown rice and vegetables and vegan entrees. Though he still eats a little meat, he eats it less frequently and in small portions compared with what he used to eat.
And then I just about fell out of my chair when my 180-pound, 6-foot-3 Maine Maritime graduate called himself "vegan-ish," a word coined by Kathy Freston, meaning that you are moving toward a more plant-based (or vegan) way of eating.
So what does a plant-based way of eating look like on Independence Day weekend? At my house, it will include a bounty of fresh food, including Maine-grown beans, beautiful whole-grain salads, vegetable salads and lots of other fresh vegetables and fruit, some from my own garden, some from the Farmer's Market.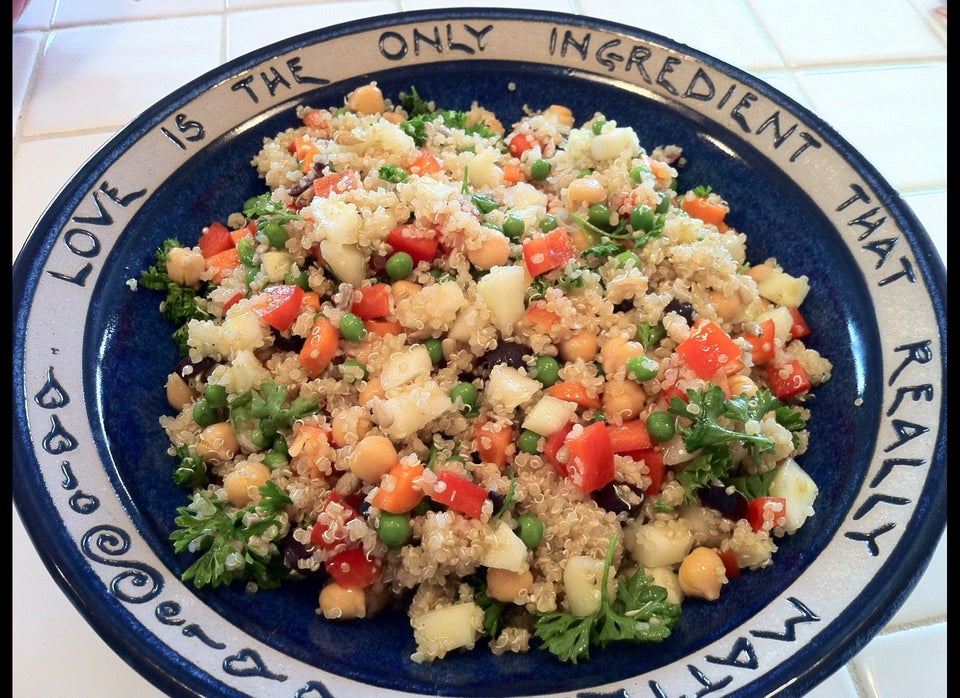 Delicious, Healthy Whole-Foods Picnic ideas
Summer is officially here. Enjoy celebrating in a healthy, delicious way! (And I'll be eagerly awaiting word on what my brother-in-law is up to next!)
Try the following beautiful dish, for starters:
Summery Quinoa Salad
Quinoa is a protein-rich grain native to South America and it's really a seed, cooked like a whole grain. It only takes 15 minutes to cook, unlike brown rice, barley or other whole grains, which take about an hour. So it's a quick and easy favorite of mine.

2 cups cooked quinoa
1 red pepper (and/or carrot), diced
black olives, diced
1 zucchini
1 cup cooked (or canned) garbanzo beans
1 cup peas
¼ cup sunflower seeds
¼ cup parsley
¼ cup lemon juice
¼ cup wheat-free soy sauce or ½ teaspoon sea salt
¼ cup olive oil

Toss ingredients together and enjoy with steamed greens and a soup if desired.
Serves 6.