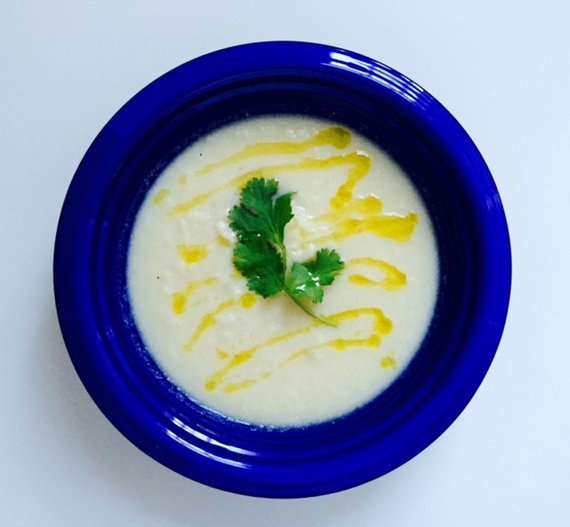 I am a big fan of cauliflower mashers-a wonderful healthy substitute for real mashed potatoes. However, I recently had the opportunity to try cauliflower soup for the first time and now I cannot get enough of its comforting delicious taste.
When it comes to eating healthy, it is important not underestimate the nutritious power of cauliflower. This cruciferous vegetable is an excellent source of antioxidants like vitamins B6, C, and K. Its fiber and choline content may help improve our heart and brain health. Cauliflower also contains the cancer-fighting phytochemical, sulforaphane. Studies increasingly show that sulforaphane may alter estrogen metabolism and protect the body against estrogen-mediated cell damage associated with the development of cancer. With more studies like these, cauliflower will surely climb to the top of the superfood list.
This cauliflower soup recipe is nutritiously easy. The apples and coconut milk provide just the right amount of sweetness. It goes well with any sandwich or salad; I often serve it as a meal by itself with a slice of whole grain crostini.
Whether you prefer to eat your cauliflower raw, mashed, steamed, or roasted, you are consuming a powerhouse vegetable with an array of nutritious benefits. Cauliflower's cruciferous family also includes: broccoli, cabbage, bok choy, kale, collards, broccoli sprouts, broccoli raab, kohlrabi, mustard, turnip, radish, rocket and watercress.
Time to get your vegan roasted cauliflower soup on!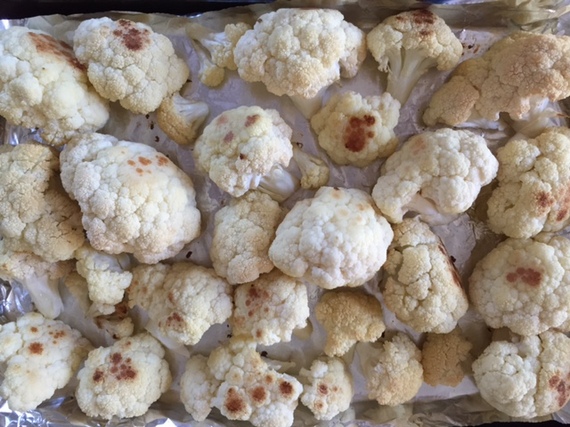 2 heads of cauliflower, cleaned and dried
3 apples, cleaned, peeled, and sliced
3 cups coconut milk
1 quart vegetable stock
extra virgin olive oil, to taste
salt & pepper, to taste
cilantro sprigs, garnish
Directions

1. Toss cauliflower in olive oil, salt, and pepper.
2. Place on a baking sheet lined with foil and roast in the oven at 350 degrees for 20 minutes or until golden brown.
3. In a stock pot place cauliflower, vegetable stock, coconut milk, and sliced apples.
4. Bring them to a boil and simmer until cauliflower and apples are soft.
5. Remove the pot from the heat and purée.
6. Garnish with oil and cilantro.
*This recipe is adapted from the Nittany Lion Inn (Whiskers Pub) in State College, PA.