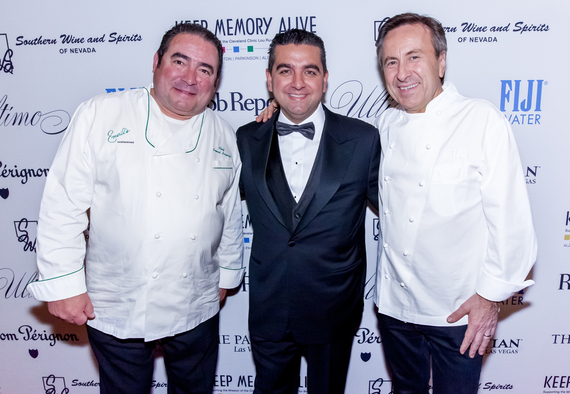 Emeril Lagasse, Buddy Valastro, and Daniel Boulud hit the red carpet (photo courtesy of The Venetian Las Vegas).
What happens in Vegas probably won't "stay in Vegas" once the world catches wind of the city's recent food and entertainment achievement featuring three of the world's most popular culinary celebrities. This month, The Venetian Las Vegas rolled out the red carpet for acclaimed chefs, restauranteurs, and event co-hosts Emeril Lagasse, Daniel Boulud, and Buddy "The Cake Boss" Valastro and launched Ultimo: A Weekend of Excellence. Experiencing Ultimo is rather like being on the guest list of the most lavish party of the season, except that it lasts for an entire weekend and includes more "bet you can't top this" ideas than a Kardashian think tank. Thankfully, this Sin City venue was offering royal-inspired, not reality show-inspired, experiences.
Ultimo's champagne and caviar kick-off was followed by a stately dinner for 174 in the property's iconic Grand Colonnade. The menu, prepared under the direction of Lagasse, Boulud, and Valastro, was a seemingly non-stop journey into culinary perfection. From Boulud's wild pheasant torte and Lagasse's winter veal stew with luscious root vegetables and white truffles to Valastro's 10-tier royal wedding-like cake, the experience felt more like Versailles than Vegas. "It's a great celebration," said Lagasse, who also hosted the farewell truffle brunch at his acclaimed Delmonico Steakhouse.
Sebastien Silvestri, Ultimo creator and The Venetian/The Palazzo food and beverage V.P., oversaw a team of 20 planners, 70 chefs, 80 waitstaff and sommeliers, and 6 winemakers from all over the world to make "the ultimate Las Vegas weekend" happen. How did the extraordinarily lavish event come to be AND appear so seamless? "You've got to believe in your team," says Silvestri, who describes his team as "the best" and his chefs as "the best of the best."
Not surprisingly, the event included fascinating recreational opportunities that rivaled the three days of outstanding food options. Guests were treated to couture fashion moments, luxury race car driving opportunities, spa treatments, and even a "Cake Boss" encounter. Participants appeared to be sufficiently wowed including comedian and television host Loni Love who documented some of the highlights for an upcoming segment on Ellen (The Ellen Degeneres Show).
Still, it was the synergy of the celebrity chefs that served as the glue for this memorably unique Vegas weekend. "It's magic", said Boulud about Ultimo. "I'm very proud to participate in this very, very special event." Admitted Valastro about the culinary trio, "We all have a lot of respect for what we do, and I think when we come together and join forces, we're a force to be reckoned with."