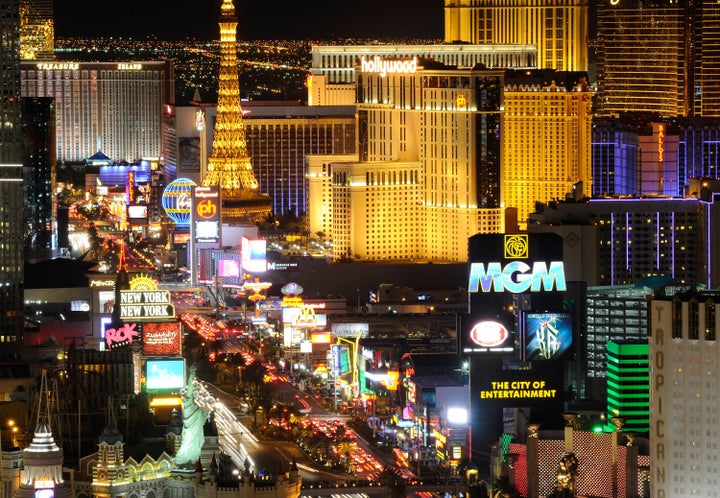 Is it possible that a major motion picture released as recently as 1995 depicting the transformation of a major American city is already woefully outdated? In the closing moments of Martin Scorsese's Casino, we see the implosion of iconic landmarks of old Las Vegas and the debris swept aside to make way for the mega properties of the future. Goodbye Sands and the Rat Pack, hello Mirage and Siegfried & Roy. Yet by Las Vegas standards, those sparkling hotels of the early 1990s are already beginning to fossilize and feel somewhat passé. They have been eclipsed by a galaxy of chic newer properties such as Bellagio, Venetian, Wynn, Palazzo, and the ultramodern Aria and Cosmopolitan. Vegas construction is like Jennifer Love Hewitt's dating life -- a perpetual cycle of buildup, demolition, and more buildup.
I get it -- Vegas is not for everyone. But for millions more, Vegas has us under some sort of hypnotic spell. Sure, the local economy has staggered in recent years, with record home foreclosures and unemployment, but Vegas tourism may finally be bouncing back. According to the Center for Business and Economic Research at the University of Nevada-Las Vegas, the city's occupancy rate in pre-recession 2007 was 90 percent, with an average hotel room costing $132. In 2010, the occupancy rate was down to 80 percent, and the average room cost plummeted to $95 -- a 28 percent decrease. Combined with 16,000 newly constructed hotel rooms since 2007, these lower occupancy rates and lower room costs, and the ensuing discounts and deals, brought more than 37 million visitors to Las Vegas in 2010, a notable increase from the 2009 level.
For those who have never experienced Las Vegas revelry, or haven't returned in years, any existing preconceptions or prejudices may be amiss as "Sin City" continues to evolve and reinvent itself. Sure, there are constants. Gaming will always be the paramount draw, and the, uh, "personal entertainment industry" continues to thrive in southern Nevada, albeit technically illegal in Las Vegas and surrounding Clark County. For those seeking an affordable feast, there are myriad billboards directing you to the all-you-can-eat buffets and $5.99 prime rib.
But Las Vegas Boulevard, also known as the Strip, is now bracketed by some of the most lavish and fashionable resorts in the country. What a difference 20 years can make. Just across the street from the Mirage -- built for a then-gaudy $630 million in 1990 -- stands the Venetian, built a decade later for $1.5 billion. And a few doors down stands Vegas' latest creation, the towering and sleek new Cosmopolitan, with a price tag of nearly $4 billion. Step inside, and you can see just how much Vegas has revolutionized. Celebrity chefs and Michelin stars are ubiquitous throughout these resorts, and most of the be-feathered showgirls have exited stage left, replaced by Cirque du Soleil, Broadway-quality productions of Phantom of the Opera and Lion King, and megastars such as Celine Dion and Garth Brooks.
That doesn't mean that Vegas is verboten to anyone without an American Express black card. There are endless hotel, restaurant and entertainment options to fit almost all budgets. Vegas hotels are like the Kardashian sisters -- they keep popping up, they're always trying to one-up each other, and no one is quite sure how many of them there are. Just find the resort that is right for you. For anyone looking to maximize their Vegas visit, here are some (hopefully) helpful suggestions.
Ask For More. Like many tourism-dependent destinations, quality customer service is sacrosanct in Las Vegas. The objective of any hotel, restaurant or casino host is to make the experience both memorable and distinct. They want you and your wallet back. Asking for more is low risk, high reward. It takes about five seconds to ask a desk clerk at check-in if they have a suite available for the same rate as a regular room. If you've been losing (or winning) serious money at the slots or table games, ask a casino host to set you up at the buffet or other restaurant. Like everything else in Las Vegas, the odds are not in your favor, that anyone will say yes. But they also can't say yes if you don't ask.
Beware the Toughest Game. That is the expectations game. Those who saunter into a casino expecting to beat the house are already losers, burdening themselves with stress and disappointment on every roll of the dice and draw of the cards. Breaking news -- most people lose money in a casino! Further, the notion of "What Happens In Vegas, Stays In Vegas" also applies to the money you came to gamble with. As a blackjack dealer put it while taunting a player in Vegas Vacation, "You don't know when to quit, do you Griswold? Here's an idea: Why don't you give me half the money you were going to bet, then we'll go out back, I'll kick you in the nuts, and we'll call it a day!"
Look around -- the astounding excess you see in Las Vegas is testament to the tens of millions of visitors who arrive each year believing Lady Luck is on their side. But Mata Hari would be more like it. I'm not advocating gambling abstinence here. On the contrary, prying me from a craps table is like trying to pry a musket from Charlton Heston's fingers. As with Disney World, simply be prepared to lose whatever cash you came with. And if you're not careful, it can happen quickly.
My advice -- find a game and strategy that will help you make your gambling funds last as long as possible. You may or may not win any money, but you can learn to lose it at a much slower rate. Start with the basics. Understand that in most cases, putting money in a slot machine is akin to throwing it out of a window. Know when to hit or stay in blackjack. Learn how to play the pass line on a craps table (mathematically the best bet you can make in a casino). Ask a dealer for advice. Leave your ATM card in your room. Above all else, manage your own expectations.
If You Can't Beat Them, Join Them. Nearly every casino has what is referred to as a "Players Club," complete with membership cards the casino uses to track your gambling, much like the card your grocery store uses to track your food purchases. Joining is free, and each time you sit down at a slot machine or a table game, you swipe your card, informing the casino gods of the duration of your gambling and your average bet. Based on your level of play, you'll be "rated" by the casino, earning "points" and increasing your eligibility for free or discounted hotel stays and other rewards. But every club is different in terms of how it rewards players. The general rule is, the more upscale the resort, the longer you need to play and the higher minimum bet required before you are eligible for any "comps." Another virtue of these clubs is the mailings and emails you'll receive that will include discounts, coupons and other special offers. Even if you don't receive a comp room, moderate gambling may make you eligible for a discounted rate (often called a "casino rate") on your next visit. Join the club!
Take a Walk on the Quiet Side. Las Vegas Boulevard is America's flypaper, entrancing us with flashing neon and faux worldly architecture, including the Eiffel Tower, New York skyline, Egyptian pyramids, and canals of Venice. The Strip has it all. Whether your name is Rockefeller, Spears or Snooki, or you're an average Joe like me, there is something to intoxicate everyone, and lodging on the Strip places you within the epicenter of a 24/7 adult playground unrivaled anywhere in the world. Yet there are alternatives to tethering yourself to the blazing lights and raucous atmosphere, and when I tell people that my wife and I go to Vegas for quiet, relaxing vacations, they often look at me as if I have a third eye.
Explore some of the "off-Strip" properties that are popular among locals. Less than 20 minutes from the airport or the Strip, these upscale resorts have sizeable casinos, quieter pool decks, and a wealth of casual and fine dining options. The M Resort, just south of the Strip, Red Rock Resort in nearby Summerlin, and the Green Valley Ranch Resort in adjoining Henderson, are among the poshest resorts in Vegas and believe it or not, because of location, may be more affordable than their Strip competitors. They offer all of the amenities (and more) of the large Strip properties, but without the masses of humanity that can sometimes be wearisome, if not suffocating.
Some other quick pointers:
• Throughout the Strip there are several locations of "Tix4Tonight" where you can purchase same-day show tickets for up to 50 percent off, including the most popular shows on the Strip. Gold mines!
• Hotel rates throughout Las Vegas are significantly cheaper Sundays-Thursdays than they are on Fridays and Saturdays.
• Men, if you're holding a fistful of casino chips, and a beautiful woman approaches you and asks you to buy her a drink, you may think you've got game. Trust me, you don't. See discussion above about "personal entertainment" options.
Las Vegas can be a place to rest, release or revel. There are so many options that tailoring a vacation to your budget and personal preferences is not rocket science. Just remember these words of warning from Scorsese's Ace Rothstein: "In the casino, the cardinal rule is to keep them playing and to keep them coming back. The longer they play, the more they lose, and in the end, we get it all". Bank on it.