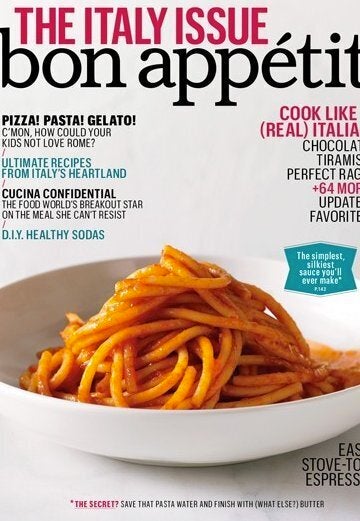 Yes, there were the requisite celebrity chefs. There were events large and small that ensured attendees would get up-close and personal with the culinary stars and their cuisine. And, going into Vegas Uncork'd by Bon Appétit that is what I expected -- food, wine, celebrities. Like everyone else there I got what I expected but I and all the others got a lot more. We got an education and it was wonderful.
Of course, the meals served were, in themselves, an education. Whether it was an ingredient commonly used or one that was unusual, people often wanted more information on the ingredient itself or its preparation. Many of those in attendance were more than just garden variety foodies. They were serious about every aspect of food, from choosing to preparing to eating.
When asked, a large number of the people at Vegas Uncork'd by Bon Appétit said they read the magazine regularly and that is what drew them to the event. They came from across the country and across the border. Older, younger, couples, singles... they were there to enjoy the bounty of food and of knowledge.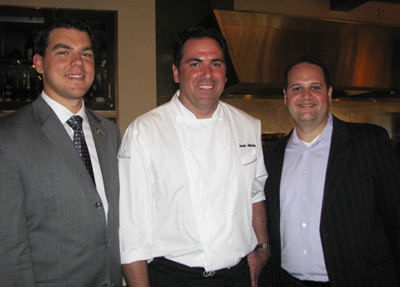 For example, Michael Mina in the Bellagio hosted one of the three "Wine Immersion" events. It was called "A Chef, A Sommelier and the Cheesemonger." Here, in a tasting and discussion led by Steve Olson, wine and spirits consultant for Bon Appétit, the "three Jasons" -- (in photo from left) Jason Johnston, executive sous chef of Bellagio; Jason Smith, wine director and Master Sommelier of Bellagio and Jason Donnelly, an import from Murray's Cheese Shop in Manhattan -- took their audience on a tour of regional cheeses and regional wines.
Olson noted that "Americans will never eat cheese the way they do in other countries because we're a health-conscious nation" always aware of such factors as the cholesterol found in abundance in many cheeses. It was made clear that cheese, is absolutely not about slices wrapped in plastic or wheels.

So, the experts set out to teach us what's important to know. Olson acknowledged that, "It is true that 70 to 80 percent of cheese matches are made with white wine and after-dinner cheeses go with sherry or port."
The reason for this is that regional foods like wines and cheeses tend to be developed in concert with each other. A vintner living in the Piedmont region of Italy is likely to eat local cheese, like Brunet, a creamy, lovely confection on hand for the audience to sample with the right wine.
When it ended, a woman at our table who had come by herself from New Mexico had been very excited to see Andrew Knowlton, the magazine's Restaurant and Drinks Editor come into the room. She jumped up from the table, grabbed her camera and got a photo with him. When she came back she said, "I feel like I know these people. I read what they write. I take their suggestions and I'm so grateful to have the opportunity to be here with them."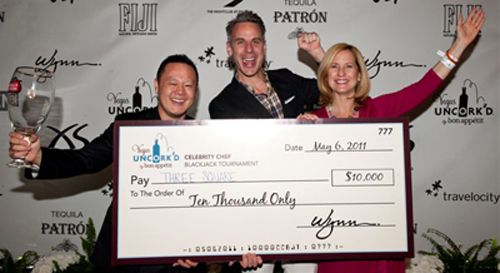 There was a further opportunity to "be with them" when, in the late-night event on Friday, attendees gathered at the pool at Encore to watch the celebrity chefs square off in a blackjack tournament. (This is Las Vegas, after all.) Jet Tila, playing on his home turf where his restaurant, Wazuzu, is located, came out the winner. He defeated chefs Akira Back, Rick Moonen, Paul Bartolotta, Kim Canteenwalla, Tom Colicchio, Carlos Guía, René Lenger, Shawn McClain, Mary Sue Milliken, Bradley Ogden, Charlie Palmer, Joël Robuchon, Julian Serrano, Alex Stratta, José Andres and David Walzog. The $10,000 prize was presented to Three Square, the Las Vegas food bank In the photo at right, Tila and Bon Appétit Editor-in-Chief Adam Rapoport present the check the Three Square's CEO Julie Murray.
An absolute abundance of wine, cheese and just about every other edible imaginable was on offer at that evening's Grand Tasting, the centerpiece event at Vegas Uncork'd by Bon Appétit that took place outside by the pools at Caesars Palace. Almost 3,000 people lined up for tastes of the offerings of Las Vegas' most renowned chefs -- among them Tom Colicchio, Guy Savoy, Joël Robuchon, Charlie Palmer, François Payard -- and most prized restaurants. With so many restaurants and such a bountiful offering of food, the air was full of "oohs" and "aahs" and the question, "Did you taste this?" was overheard in conversations all evening. The evening, by the way, was highlighted by award-winning chef Hubert Keller's talents as a DJ. The crowd loved it.
Andrew Knowlton was the magazine's host the next day at the Encore for "Viva Las Vegan!" the event that proved unequivocally that vegan food can be satisfying to even the fussiest epicure and accessible to just about every level of cook.
Before the chefs took center stage, Knowlton introduced Steve Wynn who, now following a vegan regimen, is bringing vegan choices to the restaurants on his properties. He talked about the environmental and humane reasons for not eating animals and seemed to be genuinely excited to introduce v(egan dishes into his hotels.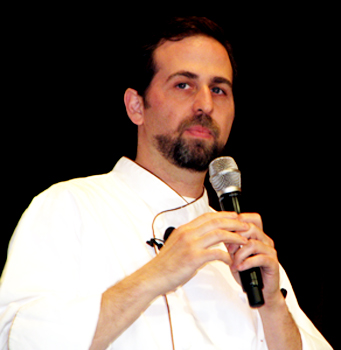 After Wynn's welcome, Tal Ronnen (photo left), vegan chef to celebrities like Ellen DeGeneres (who had a crew on-site filming the event) and Oprah Winfrey, and author of The Conscious Cook: Delicious Meatless Recipes That Will Change the Way You Eat took over as host, introducing the Encore chefs who were to give cooking demonstrations. Ronnen serves as consultant to to the Wynn organization in the creation of vegan recipes in the restaurants in the property.
Those who demonstrated the vegan additions to their menus wereAlex Stratta of Stratta, Jet Tila of Wazuzu, Kim Canteenwalla of Society Café, Mark LoRusso of Botero; David Walzog of Lakeside Grill and SW Steakhouse. The chefs' step-by-step preparations were projected onto a large screen so guests could follow the prep process.
Being not too well-versed (or, until this event, not too interested) in vegan cuisine, to me, the big surprises were cashew cream, the food called by Tal Ronnen "the magic ingredient that makes it easy to live without dairy," and agave syrup as a replacement for sugar. The chefs used these to great effect.
In fact, everything at Vegas Uncork'd by Bon Appétit was done to great effect. It was fun, interesting, fulfilling and, of course, filling. Only 51 weeks or so until the 2012 Sixth Annual event. I now join the others who said this year that they cannot wait for next.
Photos of "The Three Jasons" and Tal Ronnen © Ellen Sterling; Photo of the check presentation at the blackjack tournament byTom Donoghue. Used with permission.
Support HuffPost
A No-B.S. Guide To Life
Related
Popular in the Community