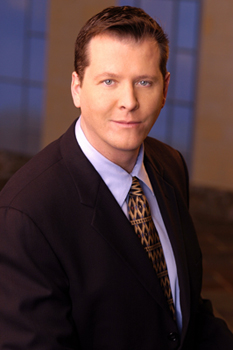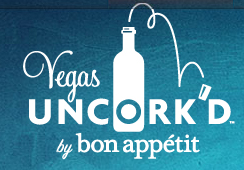 Rob O'Keefe (left) knows whereof he speaks when, speaking of Las Vegas in 2004 and 2005, he says, "We were trying to advertise our way into culinary credibility and we learned that advertising wasn't the best way to do that."
O'Keefe had worked in advertising for several years as a brand development expert for companies including Intercontinental and Fairmont Hotels, Southwest Airlines, Hallmark and Sprint. He was involved in the launch of Las Vegas' "What Happens Here Stays Here" campaign. (And, yes, that's correct. It was, O'Keefe responded with an emphatic "no!" when asked, if the phrase is 'What Happens in Vegas stays in Vegas.'")
With the tremendous influx of superstar chefs and their restaurants Las Vegas began experiencing six or seven years ago, the Las Vegas Convention and Visitors Authority (LVCVA) thought it would be right to advertise the city's culinary riches. But, as noted above, that didn't work. So, O'Keefe found another way and, each year, this idea proves more and more successful.
The idea -- a large food and wine festival highlighting Las Vegas chefs -- came from the LVCVA and O'Keefe, who managed that account at the ad agency R & R Partners, championed the cause. In fact, he resigned from his job and has become executive director of the event.
Recalling the beginning, O'Keefe says, "We started to plant our flag in the ground as the most exciting culinary destination in the world. We had chefs and restaurants and we needed to attract clientele. A lot of people still had the mindset of the 99-cent shrimp cocktail."
"But," he continues, "even though everybody liked the idea, nobody thought it was possible because if you want to pull off something like this you have to get the major [hotel] properties to work together. The competitive spirit here is higher than any other town. There was Bellagio, Wynn, Caesars and Mandalay Bay. It took a lot of talking -- slow, methodical, persistent talking."
"In naming it," O'Keefe says, "we wanted a way to express ourselves without having 'food and wine festival' in our name. We realized that the notion of popping the cork spoke to the epicurean food and wine audience, so it became Vegas Uncorked."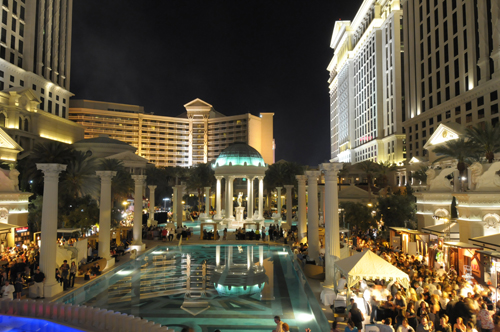 "Then, we wanted a major magazine partner and approached Gourmet, Food and Wine or Bon Appétit A title sponsor was found and, now, it is officially known as Vegas Uncork'd By Bon Appétit. ("Uncork'd" is written with the apostrophe replacing the "e" because the designer who did the logo replaced that letter with a wine cork as show in the logo at right.)
"Among the thing that makes Vegas Uncork'd different from other events here is the fact that we kept it small," O'Keefe notes. "Las Vegas judges events by the number of people who attend and the city is used to tens of thousands."
The first Vegas Uncork'd by Bon Appetit five years ago had 18 events. This year there will be 24. According to O'Keefe, "It is very difficult to produce Vegas Uncork'd. Each event is a different experience. We have to define the core experiential aspect of each event that people will take away. About half of our ideas start off as 'what if's? What if we do this ... or that?' The thing that never changes is that people are always looking for an intimate event. It's their opportunity to get to feel they know the chefs."
"For example, Tom Colicchio did a Mother's Day event for us two years ago. He was back in the kitchen plating food. The guests loved that and that's the feeling of intimacy we want every event to have."
Statistically, O'Keefe says, "Seventy-five percent of ticket buyers last year were from out of town. Of those, 12 percent were from out of the country."
Compared to similar events held elsewhere, O'Keefe tries to keep ticket prices moderate because, "to come here people have to travel. We have sponsorships and get support from the LVCVA so we can do that.
"People will pay to pursue their culinary passions even in the recession," he says. "We're fortunate that is true."
This year's Vegas Uncork'd by Bon Appétit runs May 5 through 8. Each year the celebration of food and wine kicks off with a ceremonial "Saber-Off." This year it will take place in front of the Bellagio and, as soon as Chef Julian Serrano cuts the cork off a bottle of champagne with a saber, the famed Bellagio Fountains will come to life.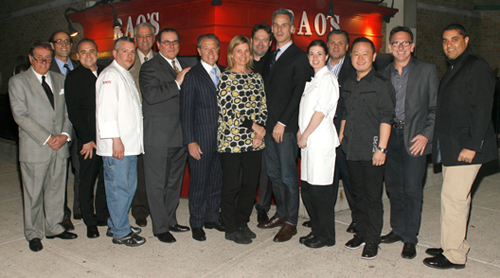 Among the events are a dinner at Rao's, a late suppers at Colicchio's CraftSteak and at Hubert Keller's Fleur, Master series luncheons with Joël Robuchon, Michael Mina, François Payard, a "Viva Las Vegan!" event, a celebrity chef poker tournament to benefit the Three Square Food Bank, events with Guy Savoy, Bradley Ogden, Akira Back and Martin Heierling and even more.
Rob O'Keefe, clearly proud of this premier culinary event, says, "People come to Vegas Uncork'd by Bon Appétit year after year. About 25 or 30 percent of the people actually keep in touch with us throughout the year. "
"And those satisfied patrons," he added, "help us spread the word so, each year, we're more successful than the last."
To check out this years schedule and to buy tickets, visit the Vegas Uncorked Bon Appétit website.
Bottom right: Las Vegas chefs gathered at Rao's in East Harlem for a private celebration commemorating Vegas Uncork'd by Bon Appétit's milestone fifth year. Among those attending were (from left) Frank Pellegrino Sr., Frank Pellegrino Jr., Jean-Georges Vongerichten, Dino Gatto, Ron Straci, Paul Bartolotta, Julian Serrano, Mary Sue Milliken, Claude Le-Tohic, Adam Rapoport, Nicole Grimes, Francois Payard, Jet Tila, Rick Moonen, Michael Mina. Credit: Sylvain Gaboury/PatrickMcMullan
Photos: All photos courtesy of Vegas Uncork'd By Bon Appèttit Photo of Rob O'Keefe (top) courtesy of Vegas Uncork'd By Bon Appétit; Bottom left: The Grand Tasting at the Garden of the Gods at Caesars Palace in 2011 is an annual part of the event. Photo courtesy Darrin Bush/Las Vegas News Bureau;

Related