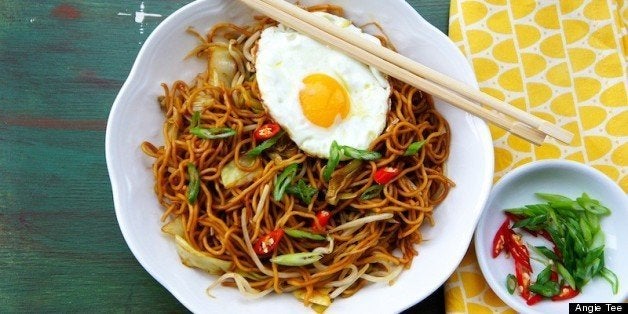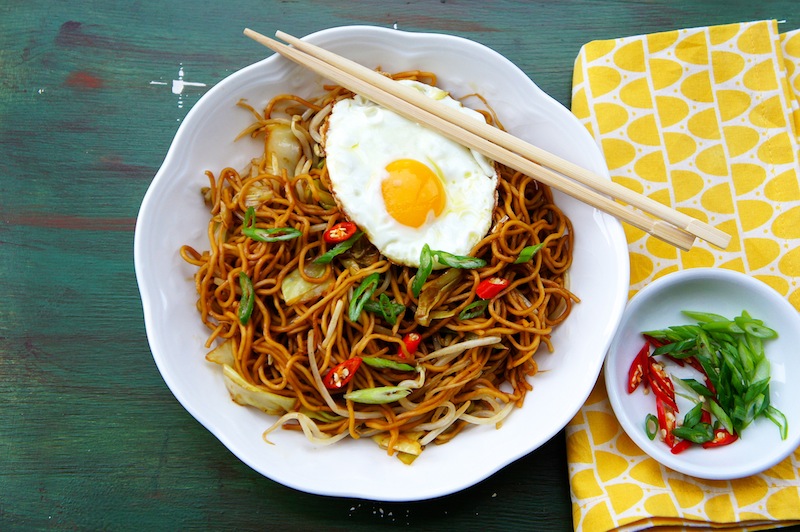 This is my favorite home-style Vegetable Chow Mein or fried noodles recipe. Delicious stir-fry noodles with cabbage and bean sprouts, tossed with some seasonings. All ready to be enjoyed in less than 20 minutes! Another simple fried noodles dish that's just a perfect, quick, lunch-time meal.
1 Packet/300g Chinese-Style Noodles blanched and drain in a colander
2- 3 Tbsp Peanut Oil
2 Cloves Garlic, chopped
½ (about 4 cups) of a Small Cabbage, shredded
1 Packet/454g/16oz/1 lb Bean Sprouts, washed and drained
2 Tbsp Light Soy Sauce
1 Tbsp Dark Soy Sauce, preferably Dark Caramel
1 Tbsp Oyster Sauce
1 tsp Sugar or Maggi-brand Seasoning
2 to 3 Tbsp Water
1 tsp Sesame Oil
Freshly Ground White Pepper
Sea Salt to taste
In a large wok over medium heat, mix in the oil and cook the garlic until light golden in color. Toss in the noodles, cabbage, and give it a good stir. Then add soy sauce, dark soy sauce, oyster sauce, sugar or seasoning, water, and sesame oil. Turn the heat on high, stir well and mix in the bean sprouts. Continue to stir-fry until all the ingredients are well mix and the bean sprouts are just cooked, and adjust the seasoning with pepper and sea salt.
Related