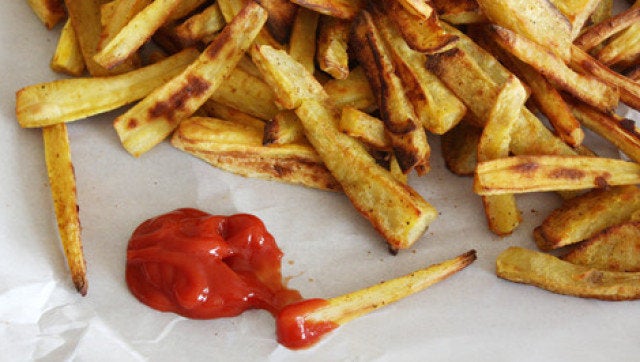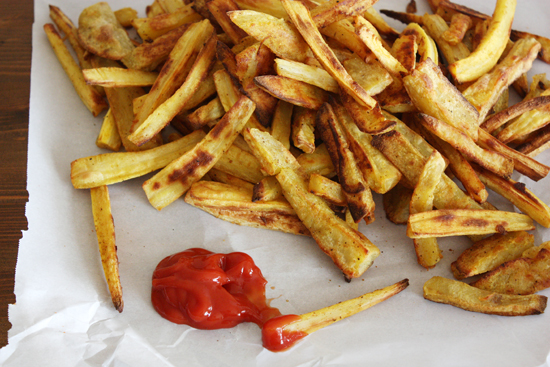 I do my best with this thing they call seasonal eating. I try not to buy raspberries in the dead of winter, just as I try to avoid eating oranges in the summer. Generally, my taste buds naturally direct me to what is at its peak (have you ever tasted a watermelon in February? Blech). That being said, it's still a mighty challenge to find what few fruits and vegetables are in season in the deep, dark heart of winter, take the raw forms and turn the sum of their parts into something tastier. That's why we invented canning.
But alas, I am no canner or preserver. Instead, I try to make some semblance of a meal with the ruffage available at the grocery store -- and generally, I'm ashamed to say, these things come from the frozen section. That doesn't change the fact, however, that my taste buds crave something fresh and from the ground. And when that happens, I am forced to use my creative brainpower to transform a root vegetable into an acceptable dish.
In those instances, roasting has become my best friend. You can cut a hearty vegetable into bite-size pieces, drizzle it with olive oil and sprinkle it with salt and pepper, bake it for a few minutes and it magically becomes something sweeter, softer -- better. And then, suddenly, winter doesn't seem so dreary and desolate after all.
I made these curry-spiced parsnip and sweet potato fries on a whim one chilly afternoon. We were planning to make burgers that night (black bean ones, I confess, from the frozen section) and I wanted something with a little more oomph, more spunk, more flavor and nutrition than French fries from -- where else? -- the frozen section. So I turned to my stash of root vegetables I had purchased earlier that were waiting patiently for my moment of inspiration and got to work.
A few peels there, a few chops there, a glug and a sprinkle, a turn under the hot oven and then, my work was finished. I had created a delicious side dish -- and a fresh, seasonal, healthy one at that -- in less than an hour and with no more effort than it took to heat the frozen black bean burgers in the microwave.
Suffice it to say, when we sat down to dinner that night, these fries stole the show.
Curry Parsnip & Sweet Potato Fries
Yields: About 4-6 servings
1 pound parsnips, peeled and cut into fries
1 pound sweet potatoes, peeled and cut into fries
Olive oil
Curry powder, to taste
Ground cumin, to taste
Ground ginger, to taste
Salt and pepper, to taste
Heat oven to 425 degrees F. Place parsnips and sweet potatoes in a single layer on two ungreased rimmed baking sheets. Drizzle liberally with olive oil, then sprinkle with curry powder, cumin, ground ginger, salt and pepper to taste (generally I am most liberal with the curry powder, then a little less with the cumin, a little less with the ginger and so on). Lightly toss everything to combine.
Bake fries, tossing every 10 minutes or so until crispy and brown, about 30-40 minutes. Remove from oven; serve warm.
Popular in the Community