With over 35 years experience as a vegetarian chef I have, in recent years, been asked many times by aspiring culinary students to recommend a culinary school that can deliver a professional education on vegetarian cuisine. These requests are emerging as the result of its increased popularity due to healthy dining consumers, approximately 47 percent of Americans, who are trying to reduce meat consumption and will not sacrifice taste for nutrition . Combined with the upsurge in vegetarian restaurants in the U.S., culinary schools are trying to address the demand for vegetarian cuisine through their schools curriculum but have, to my knowledge, no strategic direction beyond vegetable preparation. Combined with today's chefs generally having little or no formal education in vegetarian cuisine, the mainstream food service industry is struggling to cost effectively address vegetarian cuisine on their menus with perceived value and protein innovation.
Knowing Your Customer Base
Before creating a vegetarian menu component, the chef needs to know their vegetarian customer which is a diverse consumer category. Approximately 3.2 percent of Americans are vegetarian and only .5 percent of the 3.2 percent are vegan. Within the vegan market are PETA vegetarians supporting meat analogues to wean Americans off meat, and esoteric vegetarians who will not consume meat analogues because they taste like meat. One would think that vegan is a niche market within the vegetarian market based on those stats but not so. About 30 to 50 million Americans are lactose intolerant; 27.1 million or 11.8 percent of Americans are adults diagnosed with heart disease (vegan cuisine is cholesterol free). Knowing the vegetarian customer is crucial to launching a successful menu item.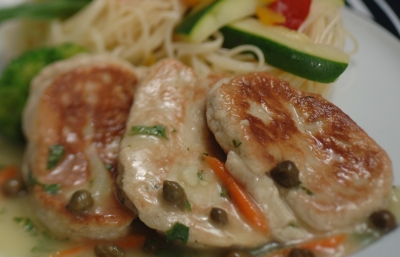 Think Vegan And Cook With Perceived Value
While vegan is a niche market within the vegetarian niche market, logistically it covers all categories of vegetarianism, certain special diets and healthy dining consumers with one broad stroke. Focus on vegan leaving end user options for diary and eggs. Give the consumer the option. As a culinary artist, one of the major challenges chefs face is keeping a lid on their creativity. The menu item has to interface with the existing menu for efficiencies of production and inventory control. It is a constant challenge for the executive chef to balance creativity with good business sense in addressing their patrons and why it is imperative they understand both vegetarian cuisine and the disciplines of menu development to maximize their creative talent within sound culinary business practices.
Perceived value of center plate protein is important in menu development. Be it classical French or modern American cuisine, chefs continue to dance around center plate proteins, not dive into the challenge of equating it to meat. In one fine dining experience my vegan entrée was about four ounces of mushroom risotto poorly presented costing $16.95. Even a simple gremolata, normally served with ossobuco, and roasted pignoli nuts would have significantly improved the entrée. Chefs have the classical culinary skill sets but lack knowledge of the medium. Tofu, for instance, can be converted to a protein medium similar to a classical French force meat as a building block to create an entrée protein with inclusions to give it perceived value.
Addressing Culinary Education
The educational solution is integrating the vegetarian module into the school's curriculum. The skill sets for vegetarian cuisine build on the classical French skill sets currently taught in culinary schools. Even Escoffier, the Father of Modern French Cuisine, had developed a vegetarian espagnole mother sauce based on the original version. In response to the need for integrating vegetarian cuisine into culinary schools, I approached the World Association of Chefs Societies (WACS) to develop a Global "Certified Vegetarian Cook" (CVC) program and they agreed. WACS has 10 million chef members in 36 nations and are the International Gold Standard for culinary education.
The Auguste Escoffier School of Culinary Arts with campuses in Boulder Colorado and Austin Texas www.escoffier.edu will be assisting the ANF on this project and have contracted my services to develop their Vegetarian curriculum and teach at their campuses. Their Boulder Campus will formally be WACS Certified in February 2012. The CVC will be a global educational tool supporting chefs in their quest to learn about vegetarianism, the emerging 21st century cuisine.
Calling all HuffPost superfans!
Sign up for membership to become a founding member and help shape HuffPost's next chapter