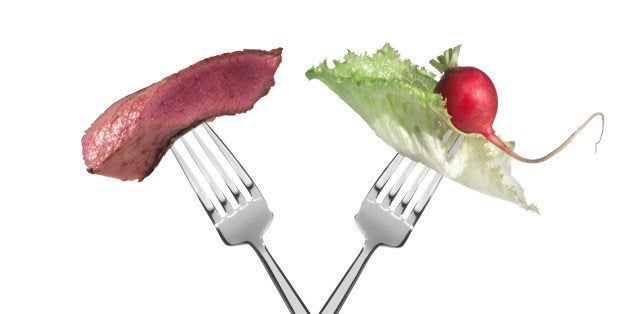 Bacon, steak and more bacon is often associated with the much-hyped Paleo Diet, which is undoubtedly having a moment. Can vegetarians take part in a diet that puts so much emphasis on meat?
It is possible. Our Paleolithic ancestors were very much about the meat, yes, but vegetables, nuts and seeds were also part of their whatever-we-can-get-our-hands-on meal plan. The basic premise of this stone-age eating is to eat like hunter-gatherers did 10,000 years ago. They didn't have farms, which made it impossible to eat wheat or dairy. Proponents of the lifestyle argue humans were genetically predisposed to consume food the way our ancestors did, and that mimicking those ancient eating habits can help decrease chronic disease and support a healthy weight.
The millennial version gets specific: You can eat meat, poultry, fish, eggs, fruit, vegetables and nuts. Nixed from the list? Grains, legumes, dairy, refined sugar and vegetable oils.
It's not surprising that vegetarians are among those eager to give Paleo a go; it was the most Googled diet of 2013 and hasn't lost much traction. For some, it may be impossible to imagine quitting staples like pizza, sandwiches and ice cream, but thousands have tried. There are hundreds of books and blogs on the lifestyle along with millions of food porn-esque hashtags.
Whether vegetarians should go Paleo is a more complicated story.
"The most quality sources of protein for vegetarians are prohibited on the Paleo diet," Alexis Joseph, a registered dietician and the author of Hummusapien blog, told The Huffington Post. No peanuts (they're legumes). No dairy. No soy. No quinoa. All of these "nos" can make it really tough to get the body the nutrients it needs. Nuts, which are permitted on the Paleo plan, are problematic. "They're a really good protein, but they're extremely high in calories," Joseph says.
Joseph is also skeptical of the entire diet. "We can't mimic cavemen. They had to hunt and gather for their food -- which was physically taxing. Their meat wasn't factory-farmed and saturated with antibiotics, pesticides and chemicals." Plus, she says, many of the animals hunted by our cave-dwelling ancestors are now extinct. Paleo diets often emphasize a meal plan low in carbohydrates, but the body and the brain run on carbs, Joseph says. "Low carbohydrate, high protein diets can be dangerous for the body. Eliminating legumes and whole grains reduces fiber and nutrients like B vitamins, which are proven to promote healthy weight, reduce the risk of cardiovascular disease and lower blood pressure."
For those vegetarians who are determined to dip their toes into the Paleo fad pool, Joseph suggests making a few modifications to the diet. Incorporate quality vegetarian sources of proteins like lentils, quinoa and beans. The changes will make the diet resemble more of a gluten-free vegetarian meal plan but still promote the essential qualities of the Paleo diet, which can support certain healthy habits, like eating fewer processed foods and hydrogenated oils.
If you're curious what an entirely Paleo and vegetarian dish might look like, Joseph does have one recipe to share:
Joseph says this recipe boasts the good stuff: The sweet potato is made up of complex carbs and beta-carotene, the egg provides some protein and the avocado cubes are full of healthy fat. To make it, scrub a medium sweet potato, stab it with a fork and bake it in the oven at 400 degrees for about an hour. Once it's cooked, take it out and slice it in half and fill it with cubed avocado and salsa. Cook up your egg however you like (consider prepping it sunny-side up in a bit of coconut oil) and add it to the stuffed potato.
Related
Before You Go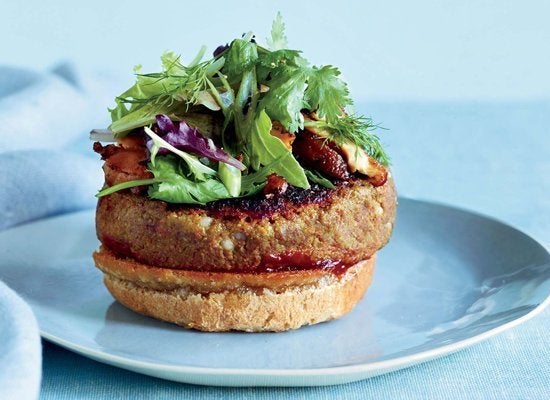 Vegan Recipes