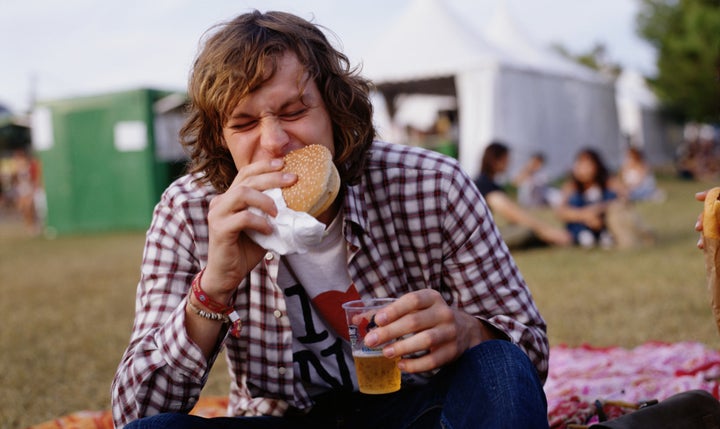 "When it comes to meat consumption, I think our obsession with perfection and purity hinders us from making sustainable and meaningful behavioral change," Brian Kateman, co-founder and president of the Reducetarian Foundation, told The Huffington Post. "Small changes lead to big impacts, and it's not all or nothing. It's foolish to discount the benefits of all the meatless meals and to instead focus on the occasional meaty meal."
Kateman's organization educates the public about the benefits of reducing meat consumption, while emphasizing that someone does not have to give up meat entirely to make an impact. Criticizing those who mostly eschew meat but occasionally indulge in a carnivorous meal is missing the point, he said.
"Why should we criticize the growing number of individuals who occasionally eat meat, say, 10 pounds per year, when many of us are eating way too many hamburgers and drumsticks? The difference between 200 and 10 pounds of meat per year is far greater than the difference between 10 and zero pounds of meat per year," he explained.
Kristie Middleton, senior director of food policy at the Humane Society of the United States, said she sees a growing number of people who choose to cut back on animal products to some degree, noting that the trend applies to both the United States and some European countries.
"Whether going vegetarian or vegan, eating vegan before 6 p.m., or simply enjoying Meatless Mondays, meatless eating is undoubtedly on the rise," she said.
And she agreed that self-described vegetarians who occasionally make exceptions should not be booted from the movement.
"Being a vegetarian isn't a personal purity test," she said, adding, "The meat industry isn't concerned about whether self-described vegetarians choose vegetarian 99 percent or 100 percent of the time."
And while the survey, which was conducted by U.K. deal-hunting website VoucherCodesPro, certainly suggests that at least some portion of "vegetarians" are opting to eat meat when drunk, it's tough to say how representative the findings are of the general population.
VoucherCodesPro PR account executive Scott Salter explained to HuffPost that the 1,789 respondents came from a database of VoucherCodesPro newsletter subscribers who had opted in to participate in surveys. The company contacted folks in the database via email and gave them the option of anonymously participating in the survey. Respondents who had identified as vegetarian were then chosen at random, Salter said, but the company didn't collect any other demographic data.
Calling all HuffPost superfans!
Sign up for membership to become a founding member and help shape HuffPost's next chapter