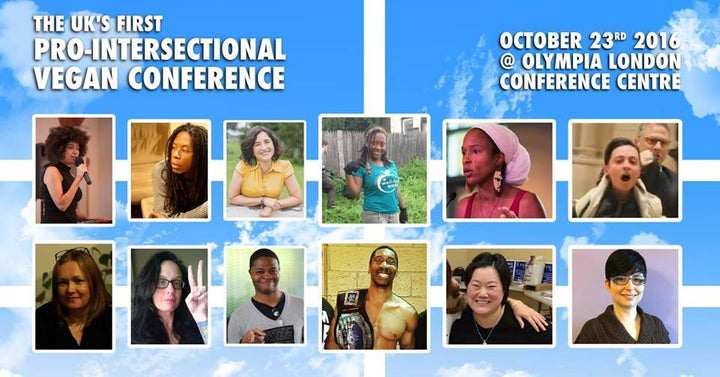 VegfestUK hosted its very first Pro-Intersectional Vegan Conference on October 23rd. The London event brought some of the most renowned speakers from across the globe to discuss a pro-intersectional approach to veganism.
Speakers showed how racism, sexism, ageism, homophobia, and other forms of conscious and unconscious discrimination keep non-vegans from being welcomed into the vegan movement. The conference highlighted where our focus on animals negatively impacts other causes and what vegans can do to improve.
"There's a big problem in the mainstream vegan movement of being single-issue and advocating for veganism while disregarding other social justice issues," says Marine Janine, a popular vegan YouTube personality and conference attendee.
"Learning to think intersectionally helps you realize it isn't good for the animals to ignore things like racism and poverty because it's all so linked."
The event hosted talks titled "Race, Class, Species: An Introduction to the Intersections of Relative Oppressions" from Christopher-Sebastian McJetters, "Food Justice: Your Food Choices Can Change the World" from lauren Ornelas, "A Comprehensive Intersectional Approach to Vegan Activism" from Brenda Sanders, and many more.
"I wanted to share my experience as a queer immigrant and how that ties into animal rights," says conference speaker Raffaella Ciavatta, a Brazilian activist and founder of Collectively Free.
Intersectionality was coined in 1989 by American civil rights advocate Kimberlé Crenshaw to address how different forms of discrimination overlap. The intersectional vegan community has been criticized for putting human issues over animal rights, but there was incredible positivity despite the diversity of ideas.
"The feedback has been really warm," says Tim Barford, long-time organizer of VegFest UK. "We wanted a friendly, tolerable, respectful, dignified call for universal love and support [and] you can see there's a real warmth in the audience."
Visit VegfestUK for more information and upcoming events.
Related
Popular in the Community