Frozen veggie burgers are convenient, yes. But healthy? Not always. In the above #OWNSHOW video, registered dietitian Sharon Palmer shares her wholesome burger made with ancient farro grains and protein-packed white beans. The entire burger, including bun, lettuce, tomato and avocado, is only 350 calories. In comparison, Palmer says the average hamburger can run anywhere from 500 to 1,300 calories.
Farrow and White Bean Veggie Burgers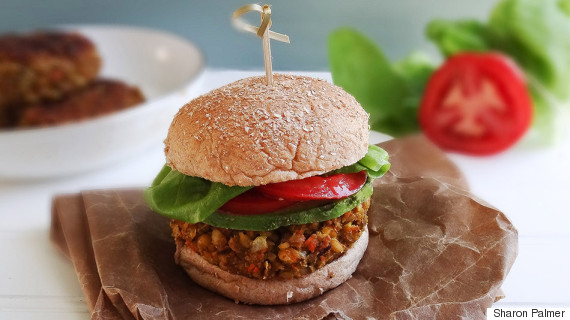 Ingredients
¾ cup (156 g) uncooked farro
3 cups (711 ml) water
1 teaspoon reduced sodium vegetable broth base
One 15-ounce (425 g) cannellini beans, no salt added, rinsed and drained (liquid reserved), or 1 3/4 cups cooked
1 medium onion, finely diced
1 cup (70 g) finely chopped mushrooms
1 cup (110 g) grated carrots (2 medium)
1/4 cup (29 g) chopped walnuts
1/4 cup (15 g) chopped fresh oregano, or 1 teaspoon dried
2 tablespoons minced fresh chives
1/3 cup (52 g) uncooked old-fashioned oats
1/2 cup whole grain bread crumbs
1 teaspoon low-sodium herbal seasoning blend
1/4 teaspoon freshly ground black pepper
1/4 teaspoon turmeric
Pinch of sea salt, optional
3 tablespoons extra virgin olive oil
Ten 1 1/2-ounce (43 g) whole grain buns
10 lettuce leaves
3 medium tomatoes, sliced into 20 slices
2 avocados, sliced into 20 slices
Instructions
1. Place the farro in a pot with the water and broth base. Stir well, cover, and bring to a boil over medium-high heat. Reduce the heat to medium, cook for 35 to 40 minutes, and drain any leftover liquid.
2. Place the cannellini beans in a mixing bowl and mash slightly with a potato masher, until thick and lumpy. Mix in the cooked farro, onions, mushrooms, carrots, walnuts, oregano, chives, oats, bread crumbs, herbal seasoning, black pepper, turmeric and sea salt, if desired. Combine the ingredients using clean hands, then add 2 to 3 tablespoons of the reserved bean liquid to make a thick yet moistened mixture that sticks together. Chill for about 1 hour.
3. In a large skillet, heat 1 tablespoon of the olive oil over medium heat. Form patties out of 1/2 cup of the bean mixture with your hands, mashing the ingredients together so that they do not crumble. Carefully place 3 to 4 patties at a time into the hot oil and cook for 6 minutes on each side, turning carefully. Repeat, adding 1 tablespoon of olive oil to the skillet with each batch of patties, until all the patties are done.
4. Serve each patty with 1 bun, 1 lettuce leaf, 2 tomato slices and 2 avocado slices.
For variations and nutrition content, view Palmer's recipe here.
REAL LIFE. REAL NEWS. REAL VOICES.
Help us tell more of the stories that matter from voices that too often remain unheard.