For the past couple of years, whenever I've tried another one of the approximately four gazillion vegetable-based cocktails that have surfaced in finer watering holes across New York, I've said to myself, "Self, you've gotta write about your favorite veggie cocktails." And then I get sidetracked by another assignment to write about how pickled kumquats are the new maraschino cherries, or the meteoric rise of Pop Rocks-infused absinthe. (OK, I haven't written about those things yet, either -- put 'em on the teetering "To Do" pile.)
But a few weeks ago, at the NYC finals of the USBG/Bombay Sapphire "Most Imaginative Bartender" competition, I tried what turned out to be the winning drink, and it was absolutely delicious. And it was made with endive. Endive. The stuff I usually shove to the side of my plate when it's in a salad. And I thought, jeez, if there was ever a time to write about veggie cocktails, it's now.
I mean, what's not to love? Freshly squeezed/smashed/pulverized/otherwise-liquefied vegetables mixed with spirits, liqueurs, juices, etc. It's like having a liquid salad with booze dressing. And if it's not exactly the same thing, please don't bother telling me. I'd like to maintain the illusion that I'm being healthy while I quaff my fourth eggplant daiquiri of the night.
So without further ado, here are recipes and taste-bud-tempting photos of a few of the best veggie cocktails it's been my pleasure to drink. Oh, and if you're wondering, eggplant daiquiris don't really exist. Not as far as I know, anyway.
I can't say this is the only cocktail with endive juice I've ever tried, but I have a feeling I'd remember if I had another. Vincenzo Cangemi of Ovest Pizzoteca and Bar won the NYC final of the Most Imaginative Bartender competition with this amazing concoction, and he'll be making it for the national finals later this week.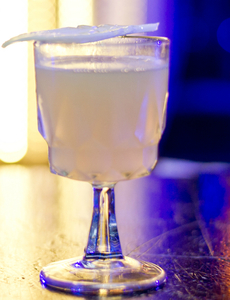 Ingredients:

1.75 oz Bombay Sapphire gin
0.5 oz Solerno blood orange liqueur
0.75 oz Reduction of fresh chamomile flowers & ginger beer
0.5 oz Lemon juice
6-7 Yellow Endive leaves
1 barspoon Coriander seeds
Pour into a shaker .5 oz of lemon juice, a bar spoon of coriander and .75 oz of the chamomile flower and ginger beer reduction. Muddle until the seeds are broken, then add 7 leaves of yellow endive and muddle over the coriander seeds. Add 1.75oz of Bombay Sapphire and .5 oz of Solerno. Shake and double strain into a coupette. Garnish with endive, reduction, orange wheel and coriander.
Created by Jason Mendenhall at the Wayland -- a place that makes schlepping to Ave. C from my super-unhip Upper West Side pad worth the effort -- this drink blew my mind when I first tried it a couple of years ago, and it still manages to short-circuit a few neurons with every return visit. The kale-ginger juice and the tequila are a veritable Felix Unger and Oscar Madison of deliciousness. I recommend buying your kale-ginger juice from a place that juices professionally, but that's because I'm lazy.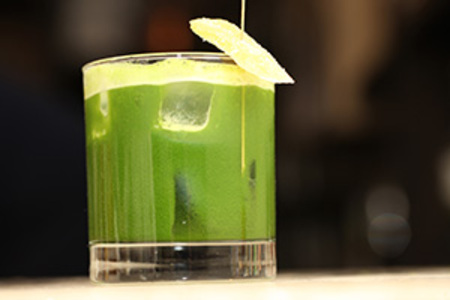 2 oz blanco tequila
.75 oz kale-ginger juice
1 oz fresh squeezed lime juice
1 oz agave nectar
Directions:

Combine all ingredients in a shaker with ice. Shake vigorously and strain into a rocks glass over fresh ice. Garnish with candied ginger. Salt rim for the glass is optional.

For the ginger-kale juice: Put three large kale leaves and a one-inch knob of ginger through a juicer.
A featured drink at the acclaimed newbie Chalk Point Kitchen, this stunning melange of juiced veggies isn't so easy to make at home, but it's worth the trip to Broome St. to have someone make it for you. (The eats there are mighty fine as well.)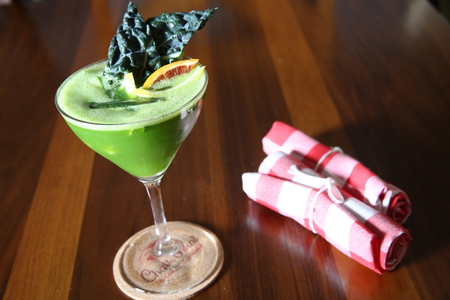 1.5 oz Absolut Orient apple vodka
1.0 oz Fresh pressed cucumber juice
.05 oz Fresh pressed celery juice
1.0 oz Fresh pressed lime juice
.05 oz Fresh pressed lemon juice
.05 oz Fresh pressed kale juice
.5 oz Ginger beer
Pour all ingredients except ginger beer into an ice-filled shaker. Shake well and strain into a chilled cocktail glass. Top with ginger beer. Garnish with a kale leaf.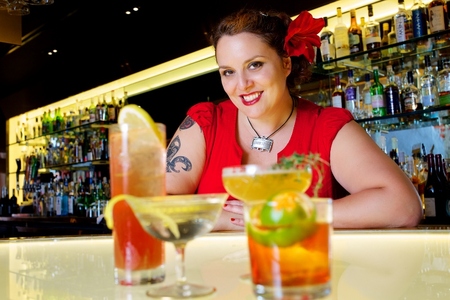 (Didn't have a pic of the actual drink, so here's a glamour shot of its creator, Abigail Gullo)
The brainchild of the great Abigail Gullo, who made her mark at NYC bars like Red Hook's Fort Defiance and the late lamented Beagle in Manhattan before decamping to New Orleans, where she's now wowing the masses as the head bar chef at SoBou. This drink, which I like to call Beeter LemonGullo, utilizes the beet's sweetness, which makes it one of the most cocktail-friendly veggies. Miz Gullo herself pronounces it "delightful," and I agree. It isn't on any restaurant or bar's menu to the best of my knowledge, but thankfully it's simple enough for you to make at home.
2 oz gin
1.5 oz fresh squeezed lemon juice
.75 oz simple syrup (equal parts sugar and water, boiled until the sugar dissolves)
.5 oz beet juice
Club soda
Combine all ingredients except soda in an ice-filled shaker, shake vigorously. Strain into an ice-filled Collins glass, top with soda.
2oz gin, 3/4 oz simple 1 1/2 oz lemon, 1/2 oz beet juice. Shake and top with soda in a Collins glass.
Related