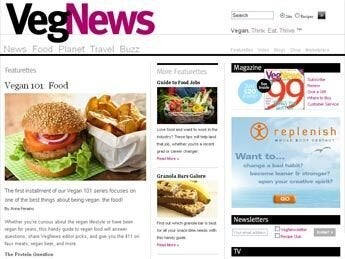 The most recent example of that old adage "with friends like this, who needs enemies" has come in the form of what I would have called a silly controversy, except that the controversy has had a measurable negative impact.
You may have heard about a "scandal" that rocked the vegan community this past week when it was reported that VegNews Magazine was using stock photos with actual meat to represent some of its vegan recipes. The story spread across the Internet and social media sites like a California wildfire. The fine folks behind VegNews, who have always been highly regarded in veg circles (with good reason; theirs is a labor of love), were blindsided.
The vegan movement has made great strides forward in recent years, with wonderful books by Rory Freedman, Kathy Freston, Tal Ronnen, Alicia Silverstone, and currently Wayne Pacelle all hitting the New York Times bestseller list. In just the last few months Oprah, Ellen DeGeneres, and Martha Stewart have all devoted episodes of their shows to veganism, and it seems every week the mainstream media reports on someone who has become vegan or is flirting with it, from President Bill Clinton to business mogul Steve Wynn to sports stars like Prince Fielder to, in the "most unlikely vegan" category, Mike Tyson.
Fortunately, many rational and seasoned minds came to VegNews' defense, including Ecorazzi Senior Editor Michael Parrish Dudell who blogged, "the mass hysteria that has occurred throughout the vegetarian community ... is nothing but flagrantly obscene."
Matt Ball, co-founder of Vegan Outreach, also put the matter of priorities into perspective in his blog.
"Everyone at VegNews is in shock over what transpired. A very small number of photos somehow morphed into a much larger issue. What hurt most, I think, is that we were never contacted about this except for one anonymous exchange on our website that appeared to be from a troll and was therefore deleted, as is our policy. The blogger did not call or email, did not attempt to contact us in any way, did not seriously attempt to get both sides of the story."
Connelly's reflection raises a few issues for me:
1) Where is the integrity in attacking VegNews without getting their side of the story? If we do think they've done something wrong, why not contact them privately?
2) Why (on earth) would we waste precious time and resources publicly attacking VegNews at all; haven't they earned the benefit of quite a few doubts with their nonstop excellent focus on the full range of arguments for veganism?
3) Most critically: Veganism is supposed to be about reducing suffering. How does attacking VegNews accomplish anything good? I can see how it harms animals (clearly), but what other than self-righteous self-satisfaction comes from attacking them?
VegNews has thrived as an independent magazine during a down economy and while masses of people migrate toward electronic media. The magazine has won numerous industry awards, and has given veganism both mainstream exposure and legitimacy like no other magazine in history. It operates in an industry that spends tens of thousands of dollars on photo shoots, where the use of stock photography is a common practice, and where the quality of images required for print is nearly impossible for the average individual to understand. It competes on the newsstand against thousands of other magazine titles, yet is the singular mainstream voice for a vegan lifestyle--and an incredibly effective one.
VegNews apologized in this letter, which was posted on its website a few days after the news broke, yet the castigation continued (hell hath no fury like a vegan scorned, apparently), multiplying the negative effect of what was already misplaced wrath.
And in the "truth is stranger than fiction" department, it turned out that the photograph of a burger that was purportedly meat (the photo that launched the controversy), from this VegNews.com article "Vegan 101," is actually a vegan pattie.
The staff and publishers of VegNews have shown class and integrity throughout this whole absurd affair, even though, according to Connelly, "Nearly everything else that has been said, such as that we censor legitimate comments, or that we had staff dissension over the use of symbolic images, is simply not true. Still, our readers have spoken, we've apologized, and have changed our photo policy moving forward."
To not support VegNews is counter-productive if you care about animal suffering. It's time to put this issue behind us and focus on areas where animals are suffering.
And if you didn't previous subscribe to VegNews, show them some love by visiting their Web site and signing up. If you already subscribe, buy a friend a gift subscription.
Support HuffPost
A No-B.S. Guide To Life
Related
Popular in the Community