Authorities in Texas have allegedly connected a vehicle used in the violent slaying of Kendra Hatcher to her boyfriend's former girlfriend.
According to newly released court documents obtained by CBS 11 News, the owner of the Jeep Cherokee that was allegedly used in the commission of Hatcher's murder told Dallas police he had loaned his vehicle to a woman, identified in court documents as Brenda Delgado, prior to Hatcher's slaying.
The man, who has not been identified, placed the call to police on Sept. 4, the day he recognized his vehicle in surveillance video footage authorities had released of the suspected getaway vehicle.
Delgado's connection to the case also allegedly extends to Hatcher's boyfriend.
According to the court documents, Delgado had dated and "ended a two-year relationship" with Hatcher's boyfriend earlier this year.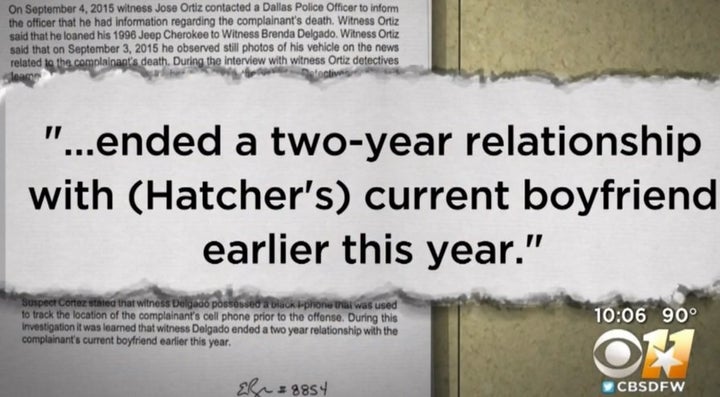 Delgado allegedly admitted borrowing the Jeep Cherokee, but told police she had lent it to 23-year-old Crystal Cortes, the court documents maintain.
Cortes, an unemployed dental assistant, voluntarily went to the Dallas Police Department on Friday, at which time she allegedly confessed to her role in Hatcher's slaying. Cortes also allegedly provided "information that other unidentified suspects may have been involved," police said.
Cortes allegedly told detectives that she was offered $500 to drive a male accomplice to the parking garage of Hatcher's upscale Dallas apartment building on Sept. 2. Cortes said she was told the man was going to rob Hatcher, police said.
A young man allegedly witnessed the shooting.
"My son, he was telling me that a black Jeep Cherokee drove by [and] a guy with a mask put a bullet in her and just drove off," the boy's father, who did not wish to be identified, told WFAA.com.
Cortes told investigators the gunman stole several items from Hatcher after he shot her, according to the arrest affidavit.
Hatcher died at the scene. Her body was found next to her white Toyota Camry. Investigators found a single .40-caliber shell casing on her passenger seat, police said.
Court documents allege Cortes made additional statements about Delgado. However, when contacted by The Huffington Post on Wednesday, Dallas police declined to comment on the validly of those statements.
According to The Dallas Morning News, police recently searched the apartment of a woman who had once dated Hatcher's boyfriend. During the search, authorities allegedly seized a laptop. The newspaper did not identify the woman.
Cortes has been charged with capital murder. She is being held in the Dallas County Jail in lieu of a $500,000 bond. Jail records do not list an attorney for her.
Police have yet to say whether Cortes knew Hatcher, who worked as a children's dentist. Authorities have also not named anyone else as a suspect or person of interest in the case.
The Dallas Police Department is asking anyone with information on the case to contact its homicide unit at (214) 283-4818.
Calling all HuffPost superfans!
Sign up for membership to become a founding member and help shape HuffPost's next chapter