When there's no time to run to the salon or squeeze in a session at the gym, those services can now come to you.
Veluxe is an app that brings beauty and fitness services directly to your home. It launched in January and is only available in Washington, D.C., so far. You can use it to book blow-dry appointments, updos, makeup applications, massages, personal training, yoga and mens' haircuts. Manicures and pedicures are coming soon.
Veluxe's personal training sessions start at $95. This isn't cheap, but if you'd like to share the session, you can split the price with up to three family members or friends. You'll just need to provide a yoga mat, towel and adequate space. The trainer will provide any equipment you need.
A personal training session at a nice gym in D.C. is significantly more expensive than that. At Equinox, for example, they cost between $105 and $165, a customer service representative from the gym chain told The Huffington Post. That price is on top of the $171 monthly fee and the $300 initiation fee, which is occasionally waived during special promotions.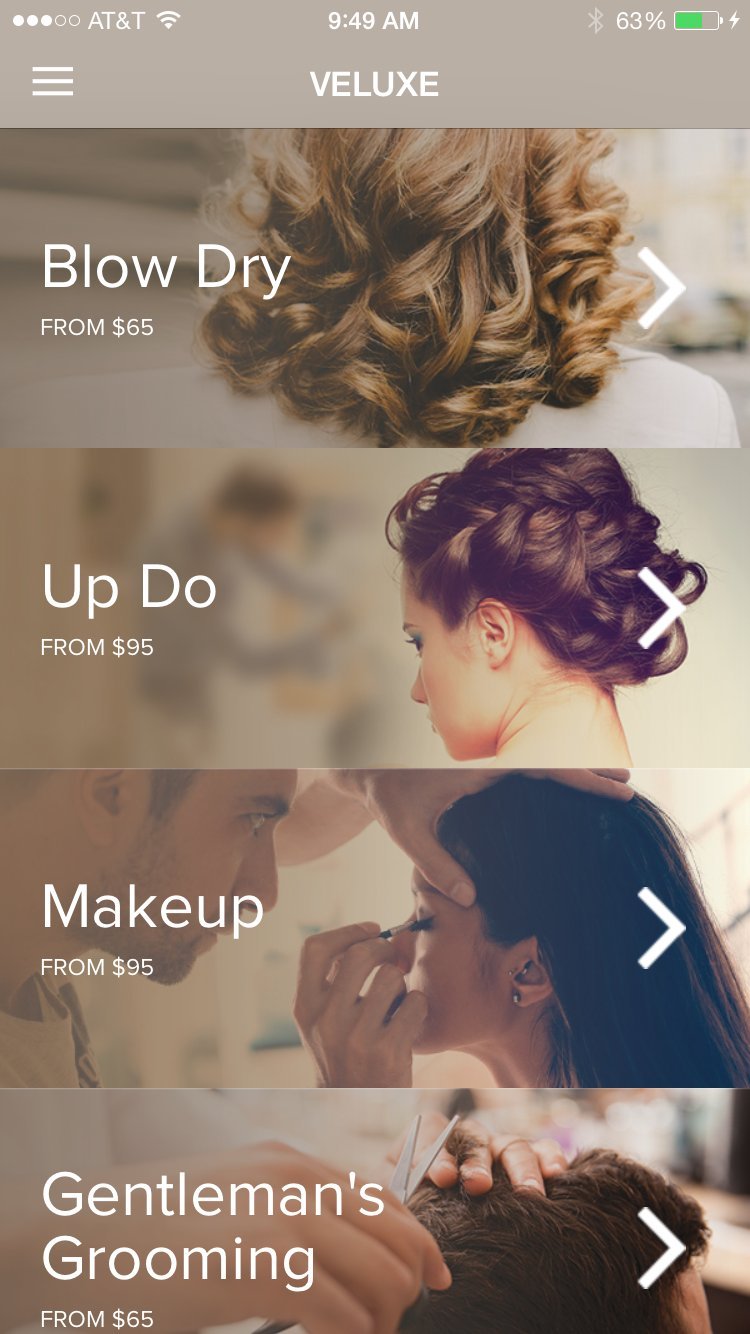 The app's creator is D.C.'s Susanna Quinn. Quinn was recently characterized as a "socialite" by The Washington Post, a label that she rejects.
"I'm a wife, a mom and an entrepreneur," she told The Huffington Post in an interview.
Before she created Veluxe, Quinn built a real estate business as a single mother. The idea for the app came from her attempt to save time in her own life.
"I didn't have the time to get all of the things done that I wanted to get done," she said.
So instead of going to the salon or the gym, Quinn started to ask the providers, as she calls them, to come directly to her home.
"One of the very first people I met with for advice said, 'I don't know if people will let strangers into their home,'" Quinn told HuffPost. "Airbnb has proven that wrong."
Still, to give users extra peace of mind, all of the providers go through a rigorous background check, and their skills are tested by the company's staff (often by Quinn herself).
Quinn hopes to expand the app to other cities in the next few years. The app works with 42 service providers so far, and that number is growing, she said.
Veluxe doesn't work with gyms or hair salons, which sets it apart from apps like ClassPass, a fitness class subscription service. Instead, Veluxe works directly with the hairstylists, trainers and other professionals. That way, Quinn told HuffPost, "the providers make more and the customers pay less." Veluxe takes the payments directly from the users and gives the providers the majority percentage, she added.
"I have a lot of single moms who are hairstylists and makeup artists," Quinn said. "I was a single mom, and I understand the need for a flexible schedule and the need to make money."
Quinn says that Veluxe is targeting two main types of people: those who are already paying for these services but would like to make the process simpler, and the people who weren't paying for these services because they didn't have time to drive to the salon or the gym on a regular basis.
Veluxe isn't the only app of this type on the market. The popular GlamSquad brings hair dressers and makeup artists to users' homes in New York, Los Angeles and Miami and charges $50 for a blowout and $75 for makeup, a bit cheaper than Veluxe.
The original (and most successful) blow-dry bar, Drybar, is also about to explore the space. This month, Drybar will release an app that lets you call a hair stylist to your home and blow-dry your hair for $75.
Quinn says she thinks it's a good sign that there are similar apps around, since it means her idea is a good one.
"People say that the most defensible asset a company has is intellectual property, but truly, the biggest barrier to competition and the most defensible company asset is human capital," Quinn told HuffPost.
Another aspect of Veluxe that distinguishes it from other apps is its commitment to philanthropy. Whenever someone books a service, a portion of the money goes to Share Our Strength, an organization that feeds hungry kids throughout the U.S. The goal was to donate 10 cents for each service rendered, but Quinn says she's been giving one dollar per service in these first few months.
"You're doing something for yourself and you're also doing something for a hungry child in America," Quinn said.
Calling all HuffPost superfans!
Sign up for membership to become a founding member and help shape HuffPost's next chapter