When we say "boxing," the first thing you think of may not be a gay guy going 10 rounds in the ring.
Based in New York City, the group, which meets every other week and welcomes everyone from beginners to experts, functions as both a conditioning and technique class and a social gentleman's club specifically for gays.
The Huffington Post chatted with Vance Garrett, who started the group with Francisco Liuzzi, to learn more about how Velvet Gloves started, what participants can expect and more.
The Huffington Post: Where did the inspiration for velvet gloves come from?Vance Garrett: I had been working out with a straight trainer, Francisco Liuzzi of Innervation Fitness, for about a year and a half when he introduced me to conditioning and learning technique for boxing. I was getting stronger, leaner, and had more endurance than before, and I was wondering why I had never seen gay guys box. It was the best workout of them all. And fun. Cisco and I bonded over it.
I also noticed there was nothing as "raw" as this in the gay community. That is, there is Soul Cycle, Barry's and others that attract gay guys but nothing like learning and training for the sport like a real boxer trains. I asked Francisco one day if he would be interested in leading a whole group of gay guys and teach a "gentleman's boxing" class, and he didn't hesitate. Velvet Gloves was born. Why did you want to start a boxing club exclusive for gay men?I've wanted to do something with and for my group of friends outside of the typical scene for a long time. All of us have been to the parties and clubs, and that can be great, but I think we collectively have wanted something else to do that's fun -- but won't leave you with a hangover -- and fits with our current lifestyles. Working out and wellness in general is important to many of them, and while conditioning for boxing requires being in the best shape possible, I don't think many would want to step into a traditional boxing gym. Also, boxing has always been a tough man's sport. It has been marketed as gruesome and intimidating yet it is one of the most beautiful sports to watch. The athletes are as graceful as dancers. It allows you to develop self-defense skills, builds confidence, and is physically AND mentally challenging. So I wanted a club that was tailored just for them-for fun, social guys who want the best workout possible in the best environment possible. Aside from being full of gay guys, is the club different from straight boxing clubs in any way?Training with Francisco for a while now, it's all built on a culture of mutual respect for one another as well as trust, acceptance and encouragement. There's no machismo or attitude in the room. Francisco is as friendly as they come, as are his co-trainers (guest straight pro boxer) Jason Quick and (model) Parker Gregory. The environment itself is beautiful; Clay Health Club + Spa is currently hosting us. Each class is comprised of 23 3-minute rounds with a seamless music set and hit conditioning, technique, footwork, and partnering with gloves and mitts. And after class, you're likely to get some single malt Scotch, homemade protein bars from Chef Andrew Engle, a complimentary massage, or something else gentlemanly. What should guys who are intimidated or wouldn't normally think of themselves boxing know about the club?The hardest part is just showing up. The room is full of beginners, so many of the guys are in the same boat. We're all in it together. You will get in the best shape of your life. Your taste for Scotch, homemade protein bars, and hand wear will improve drastically. And you'll find your husband. You will NOT get hit in the face. What do you hope members take away from being a part of Velvet Gloves?Every man needs to learn how to throw a jab, hook and uppercut, even if he never uses them. I hope each participant at a minimum learns those skills. But I also hope that each guy who comes into the room gets to connect with someone else there, on one level or another, and that each finds he's stronger when he leaves than he thought he was when he walked in.
For more information, contact info@velvetglovesboxing.com.
Interested in joining the Velvet Gloves? RSVP for an upcoming class here. And be sure to check out their Twitter page at @velvetglovesnyc, their Instagram account and Tumblr page. Head here for more info.
Before You Go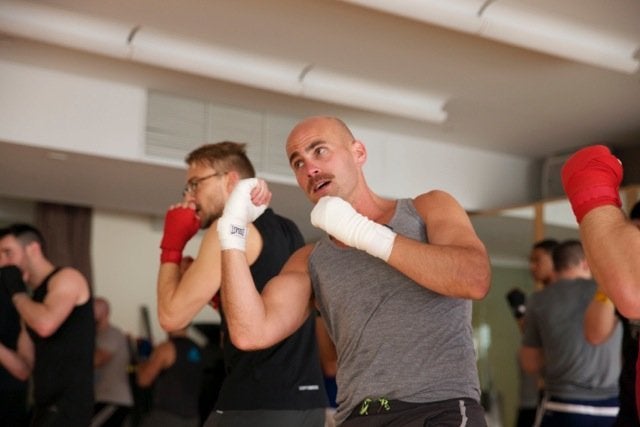 Velvet Gloves
Popular in the Community