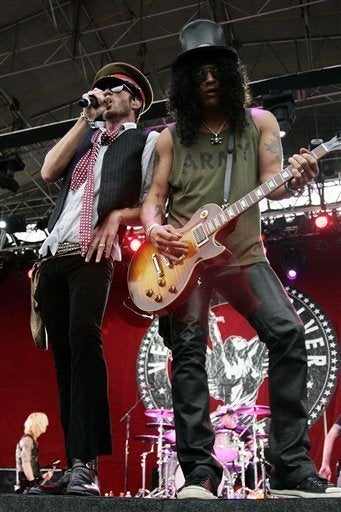 The orginal report from Reuters, scroll down for Weiland's response:
Four founding members of the rock band Velvet Revolver said on Tuesday they were splitting with the group's troubled singer, Scott Weiland, citing his "increasingly erratic" behavior.

The announcement came in a terse statement from the group's management company as Weiland, 40, and his recently reunited original band, Stone Temple Pilots, were set next week to announce plans for a highly anticipated summer tour...

Following the breakup of STP, Weiland was welcomed as lead singer for Velvet Revolver, the newly formed grunge rock band founded by three former members of Guns N' Roses -- guitarist Slash, bassist Duff McKagan and drummer Matt Sorum -- along with second guitarist Dave Kushner.

Velvet Revolver was confronted from the start with Weiland's drug and legal problems as it juggled performance schedules, recording sessions and promotional work to accommodate his court dates and rehab...

"This band is all about its fans and its music, and Scott Weiland isn't 100% committed to either," Slash was quoted as saying. "Among other things, his increasingly erratic on-stage behavior and personal problems have forced us to move on."
"The truth of the matter is that the band had not gotten along on multiple levels for some time.... I choose to look forward to the future and performing with a group of friends I have known my entire life, people who have always had my back. This also speaks to my commitment to my music and my fellow band mates in [Stone Temple Pilots] and to the fans who I feel would much rather watch a group of musicians who enjoy being together as opposed to a handful of discontents who at one time used to call themselves a gang."
Popular in the Community