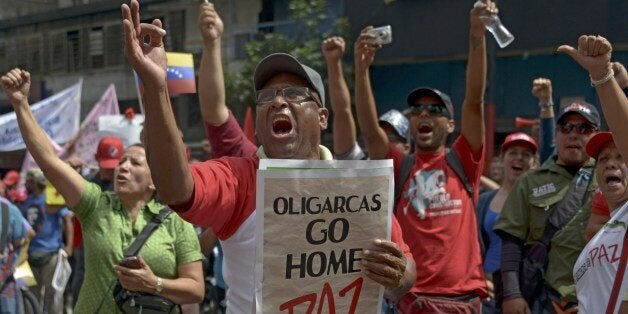 The survey, released amid a government crackdown on protests that have left at least 15 Venezuelans dead, charted Venezuelans' responses from 2006 to 2013 on a series of questions related to health and stability. The dismal findings suggest long-term suffering bubbled over into the ongoing crisis.
"Recent protests in Venezuela seem to be the result of various deteriorating conditions, including a struggling economy and one of the highest violent crime rates in the world," the study said. "The reasons for [protesters'] persistence are clear from Gallup's 2013 World Poll data - they see their lives and the economy getting worse, and they feel less secure than ever in their own neighborhoods."
Since 2006, Gallup has asked Venezuelans to measure several aspects of their lives, including whether the respondents found themselves to be "thriving," "struggling" or "suffering." The total of those who answered "thriving" in 2013 was 44 percent, the second-lowest score since 2006. Seven percent of respondents perceived themselves to be "suffering", which equalled the worst score since 2006 and represented a 5-point increase from 2012.
Gallup also measured Venezuelans' feelings on the state of the nation's economy. A whopping 62 percent of respondents found economic conditions to be worsening, by far the the highest number since Gallup began asking the question. Only 12 percent of respondents said conditions were getting better, which represented a 29-point drop from 2012 and the lowest score since the survey's inception.
The number of Venezuelans reporting a better standard of living also hit a record low in 2013, with 35 percent saying their standard of living had improved, a 19-point drop from 2012, while 33 percent said their standard of living had declined.
Finally, when respondents were asked whether or not they felt safe walking home at night, a staggering 80 percent responded that they did not. Only 19 percent responded that they did indeed feel safe. These particular findings come as little surprise, given Venezuela's murder rate has soared to 45 deaths per 100,000 people. In comparison, the murder rate in the U.S. was just 4.7 per 100,000 residents, based on the most recent statistics.
The Gallup study was conducted in 2013 from Sept. 26 to Oct.25 through face-to-face interviews with about 1,000 adults, aged 15 and older.
REAL LIFE. REAL NEWS. REAL VOICES.
Help us tell more of the stories that matter from voices that too often remain unheard.
BEFORE YOU GO
PHOTO GALLERY
These Images Beg You To #PrayforVenezuela